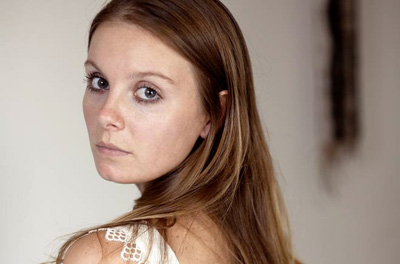 KEEP AN EYE OUT FOR UP & COMING MELBOURNE BAND WREN
Up & coming Melbourne outfit Wren will be supporting electronic duo Jackson Jackson at The Evelyn in Melbourne on Friday 23rd April.

Think heavy synth and dark beat driven electro indie rock and you've got Wren. The band members are no strangers to the music industry; Wren is the brain child of Melbourne songstress Tess Henderson teaming up with renowned Melbourne producer and musician Jan Skubiszewski (Phrase/Jackson Jackson), along with bandmates Tarko Sibbel (synths), James Tudball (drums) and Jules Pascoe (bass).

"There's an emotional and musical fragility to the acoustic pop of this 23 year old Melbournian that reminds me of Angie Hart. They also share a thing for classy British pop- while Hart once stripped New Order's Bizarre Love Triangle to its bones, Henderson does likewise on The Psychedelic Furs' Love My Way" JEFF APTER on Tess Henderson, Sydney Morning Herald (2008).

"Wren is about finding a musical balance between light and shade and exploring more challenging themes. Jan and I have been attempting to contrast and balance my fragile voice with darker undertones; beats, instrumentation, lyrics. I am so fortunate to have such phenomenal musicians/writers involved in this new project. I'm absolutely loving working with them." Says Tess Henderson.

Wren is a band to keep an eye out for in 2010. Check them out at www.myspace.com/musicwren


Tess Henderson Bio
Tess Henderson is an electro/folk singer-songwriter from Melbourne. She has been invited to appear on electronic/dance duo Duossedo's 2008 release "We Are One" (Creative Vibes), to perform at World Aids Day at Federation Square, at the Melbourne Spring Fashion Week for Breast Cancer research, Melodica festival, Darebin music festival and has performed numerous support and headline shows around Melbourne and the East Coast.

After releasing an independent indie-folk album entitled "Handmade by Thread" (Creative Vibes, 2007) under her own name, Henderson wanted to push some more boundaries lyrically, instrumentally and in terms of her performances.

Jan Skubiszewski; Producer, Engineer, Composer.
Jan was the Assistant Engineer on Australian band The Cat Empire's debut album, which went on to achieve double platinum + status (EMI Virgin Records). He produced and co-wrote the album "Talk With Force" for the artist Phrase, (Universal Records), and was brought in to produce, co-write and arrange Phrase's second album "Burn It Down". Jan also Produced and co-wrote songs for Daniel Merriweather (Warners, Allido Records).

Jan has worked in various capacities of engineer, producer and composer with many other artists such as Wendy Mathews, Kram (Spiderbait), Ian Kenny (Karnivol, Birds of Tokyo), Mystro, Saigon, Mark Ronson, Jade Macrae, ILLY, Brad Strutt, Bliss n Eso, The Melodics.

Jan Skubiszewski is one half of the the band Jackson Jackson, along with front-man Harry Angus. Jan produced, engineered and co-wrote Jackson Jackson's debut album "The Fire Is On the Bird" in 2007 (Emi/Virgin) which was nominated for two Urban Music awards "Best Hip Hop Single" and "Best Video", and ARIA award for "Best Urban Release." Their second album "Tools For Survival" was released late last year to critical acclaim.

Jan's film and television credits include composing and arranging music for the Australian Defence Forces 2007 advertising campaign, and for the Yellow Pages 2006 advertising campaign. He also won an APRA award in 1999 for contribution to the original music score for the movie "Two Hands" starring Heath Ledger. He has also written for Mazda, Holden, Panasonic to name a few. He has also scored television series Carla Cametti PD, Short Cuts and Last Man Standing. Most recently he has finished working on a score to the Australian movie "Bran Nue Dae" starring Jeffery Rush and Missy Higgins.