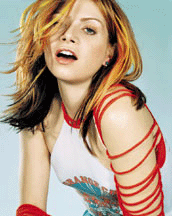 As we go on
We remember
All the times we
Had together
And as our lives change
Come whatever
We will still be
Friends Forever ...
Tune into any music station right now and chances are these sentimental lyrics will be soothing your way. Performed by America's latest 'It' girl, 'Friends Forever' is set to be the song of the summer. Yes, Vitamin C is singing to us about a phase of life that is perfect for this time of year- Graduation - and all of us I'm sure, have had to go through at some point in our lives (maybe even, in a not-so-literal sense as Vitamin C herself would explain).
Friends Forever features on Vitamin C's upcoming album 'More', and is of course, an ode to our fabulous friends. And even if they are not the cherubs that we exited Year 12 with, dus'n'madda, as long as they are true blue buddies that's what counts! So on that overly gushy note, indulge in the nostalgia, and be sure to hug all your friends and tell them you love them all when 'Friends Forever' comes on at your riotous Christmas cocktail party!
This balmy summer daze single, also features the upbeat bonus track, 'Not That Kind Of Girl, and it's here we start to see why VC has been coined as a new-wave "Blondie meets the Beastie Boys".
-
Louise Buckingham