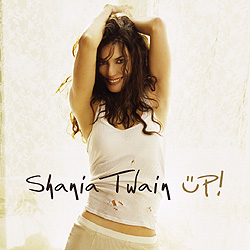 The only way is UP! for Shania Twain!
The Shania Twain story has opened on a new and exciting chapter, and the only way is
UP!
That's the title of the much anticipated follow-up to
Come On Over
, the most successful female solo artist album of all time with world-wide sales of an astonishing 34 million.
The great news for Shania fans across the globe is that she's completed one of the most exciting and ambitious recording projects of the new millennium. Not to mention that she's totally energised by a fresh creative momentum that has led to her completing a spectacular new record, co-written with her husband and producer Robert John "Mutt" Lange.
"The whole record has been made differently, we travelled around a lot more, we used musical influences from all over the world. We used Indian musicians recorded directly in Mumbai, India, some of the American musicians were recorded in the Caribbean, a 40 piece orchestra recorded in Ireland, other musicians in Italy, and we literally hopped from city to city song-writing, including Vienna, Paris, Berlin, Milan, Rome, Provence and The Grenadine Islands. This music came together in smaller pieces over a longer period of time." - Shania Twain
Leading the way as the first single from this extraordinary new project is the absolutely irresistible
I'm Gonna Getcha Good!
It's all about a girl who knows what she wants, she not only knows how to get it, but she's going to get it good.
Other highlights on the album include
Ka-Ching!, In My Car (I'll Be The Driver), the title track UP!, Jealous and the deeper Juanita.
Shania plans to start pre-production for a new tour early in 2003, eager to make the same personal connection with her fans that produced such sensationally successful results on the
Come On Over
world tour.
CLICK ON THE SHANIA TWAIN LINKS BELOW:
Speed (56KB/S) -
http://213.248.114.91/shania_twain/au/iam_gonna_getcha_low.asx
Speed (128KB/S) -
http://213.248.114.91/shania_twain/au/iam_gonna_getcha_med.asx
Speed (300KB/S) -
http://213.248.114.91/shania_twain/au/iam_gonna_getcha_high.asx