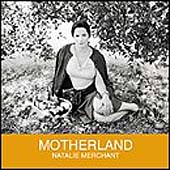 NEW Single: "Just Can't Last"Natalie Merchant
, who began her recording career in 1981 as the lead vocalist and lyricist with the folk art rock band '10,000 Maniacs', made six albums with the group before setting out on her own successful solo career - Tigerlily (1995), Ophelia (1997), Natalie Merchant Live In Concert (1999).
She has sold well over six million units and has become one of pop's most acclaimed and intriguing artists. Her thought provoking lyricism has earned her more comparisons to literary figures than musical - "The Emily Dickinson or Flannery 'O Connor of Pop". This reputation as a songwriter of quality and her sweet, distinctive voice has captivated a loyal audience over the past 20 years. Those who have followed Merchant's evolution as an artist will appreciate her newest offering.
The first single from the new album,
'Motherland'
is
"Just Can't Last"
. This track is everything you love about Natalie and more. It is accompanied by a very creative video clip that was serviced to TV at the end of last year.