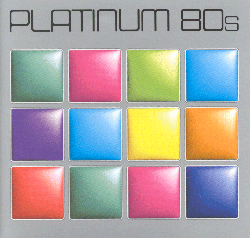 The
PLATINUM 80s
album is 40 of the Greatest Songs from the 80s!
This double CD features 26 Top 10 Hits and is the ultimate 80s Party Album!
Relive your memories of the decade that gave the world the sound of pop, the unforgettable 80s!
Blondie
and
Duran Duran
usher in the new wave with electronic sounds and pop hooks. In the stadiums,
Foreigner
and
Van Halen
forge a combination of power chords and sweet melodies that will soon be known as arena-rock.
For those with dancing feet,
Madonna
got you into the groove.
Meanwhile the suburbs are filled with the sounds of everything from the danceable teen-pop of
Kim Wilde
and
Bananarama
to the pop-flavoured guitar rock of
Madness
. Outside the mainstream,
Depeche Mode
and
The Smiths
bring an artsy, moody quality to pop, thereby paving the way for the rise of indie rock.
Other artists to feature on this double CD include
Kate Bush, Simple Minds, Prince, Fleetwood Mac, Crowded House
and many more!
This fantastic CD features rare clearances from
Madonna, Pink Floyd, Van Halen, John Lennon, Queen & David Bowie
amongst others.
Approximate RRP $29.95