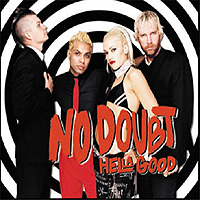 At the heart of
NO DOUBT'S
fifteen-year musical journey is a style, a sound that celebrates their enduring bond with their millions of fans, worldwide. The sound that gives the pleasure of pure pop: danceable, hummable, instantly accessible songs.
Their latest single is no exception.
HELLA GOOD
is the follow up single to the Top 10 hit
HEY BABY
and is currently receiving a thrashing on commercial TV and radio stations throughout the country.
Upon it's release HELLA GOOD was the Number One most added song at U.S. radio in it's first week and here in Oz, it has been the most added track for two weeks running.
Co-written by The Neptunes, HELLA GOOD is an upbeat, funky track and is great to boogie down on to in the car or in your lounge room!
No Doubt continue to surprise and delight audiences worldwide with their fabulous sound, ensuring they'll remain on the music scene long after the Britney's of this world crash and burn.
- Annemarie Failla