Dreambaby Adjustable Backseat Mirror
Dreambaby® add to their 'on the go" range with the launch of two new backseat mirrors, both perfect for long (or short) trips in the car, to keep an eye on your most precious cargo - without the need for the driver to (dangerously) turn their head whilst behind the wheel!
The NEW Dreambaby Adjustable Backseat Mirror is a must-have travel product for all new parents and carers, to keep a safe eye on their little ones, each and every time car travel is planned. Simply strap on the Dreambaby® Adjustable Backseat Mirror to the headrest, then swivel and adjust the angle to see your rearward facing child in the backseat, via your rear-view mirror. The Dreambaby® Adjustable Backseat Mirror will stay safely in place, to ensure your line of vision is accurate and not in need of adjustment each time you travel.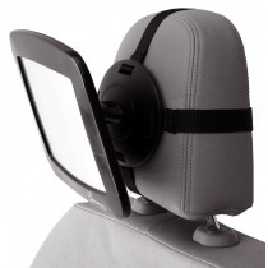 Featured and benefits:
Rotating swivel arm makes it easy to adjust the mirror for maximum visibility.
Provides a full view of your rear facing child.
Fits most headrests.
Safe shatter-proof mirror.
RRP $24.95

Another option launching this season is the Dreambaby® Backseat Mirror, which again provides a full view of your rear-facing child and is easily secured to your car's headrest and then easily removed when not needed!

Features and benefits:
Allows full view of your rear-facing child.
Extra-large mirror with a wide-angle view.
Safe shatter-proof mirror material.
A variety of attachment options to fit most vehicles.
RRP$19.95

Remember to always ensure children are properly harnessed into appropriate restraints while in a vehicle.

For more information about the Dreambaby® On the Go range, please visit the Dreambaby® web site at www.dreambaby.com.au or call (02) 9386 4000