Dreambaby's Microwave and Oven Lock
Dreambaby®'s now has 27 different locks & latches all designed to help protect little ones in and around the home – especially important once they start to move, crawl and become increasingly inquisitive!

Keeping children safe and out of harm's way at home is a must! Dreambaby® offers a huge range of easy-to-install and affordable locks & latches to ensure your cabinets, drawers, cupboards AND appliances are kept securely closed, locked and blocked off from toddlers and young children. Accidents do happen, and unfortunately many of them occur in the family home, in areas such as the kitchen and laundry. The latest statistics from Kidsafe show that in Australia, each year about 58,000 children are hospitalised due to accidents, many of them preventable. As the leading care and safety brand in Australia, Dreambaby® is committed to helping prevent accidents in all Australian homes.

The Dreambaby® Locks & Latch range comprises over 27 various products. Because children learn by watching and copying, you keep children guessing longer by using a variety of different locks and latches around the house. The Dreambaby® range includes:

Dreambaby® Slide Away Catch: Secure drawers, one at a time with the Dreambaby® Slide Away Catch. This self-locking catch includes a template for easy installation, and won't alter the look of your cupboards. Perfect for use on laundry and kitchen cupboard, where cleaning products or solvents are stored.
RRP $5.45

The Dreambaby® Adhesive Double Lock-Dual Action Locks are installed with adhesive tape so no drilling required! Great for renters and the non-handy. The dual action help prevent opening and closing of cabinets and drawers. Perfect for use under the kitchen or laundry sink.
RRP$5.95

Secue cabinets with the Dreambaby® Cabinet Sliding Lock RRP $3.95 and the Dreambaby® Flexi-Loop Lock RRP $5.95. Both are perfect for use on mushroom shaped knobs or D-shaped handles and are particularly challenging for curious children!

Other areas of the family home, which are dangerous and often not thought about until accidents occur, are appliances – big and small! For instance the family refrigerator can often house dangerous medicines, prescription drugs and alcohol.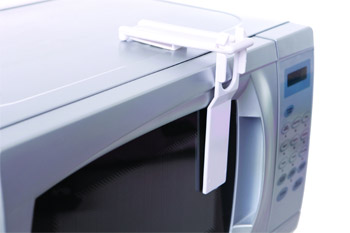 Secure your refrigerator, cabinets and more with the Dreambaby® Strap Latch. Easy to install, adjustable and very flexible, this latch is ideal for use on gloss and laminated surfaces including refrigerators, freezers, metal cabinets, even mirrored surfaces.
RRP $4.95

Another ideal little latch for your kitchen is the easy-to-use hook and loop Dreambaby® Appliance Latch which is perfect for refrigerators cabinets and more. Again, so easy to install with an adhesive backing. Attach up high, to prevent curious fingers from fiddling!
RRP $5.45

Dreambaby®'s Microwave and Oven Lock is a must-have! This heat resistant lock will ensure peace of mind once installed – ever so easily!
RRP $6.95

The Dreambaby® Multi-Purpose Latch is a stylish, clear and flexible strap, perfect to use all around the house from the kitchen to the bathroom, and even the home office. Easily applied to most surfaces, this latch will be a favourite!
RRP $5.95

An alternative to the Dreambaby® Multi-Purpose Latch is the Dreambaby® General Purpose Lock. With the handy push and twist action to open, this attractive latch is ideal for keeping cupboards latched, locked and safe.
RRP $6.95

Keep your toilet safe and off limits with the Dreambaby® Toilet Lock. This lock easily attaches to all designs of toilets and will prevent children from accessing the toilet bowl, often an area of great fascination!
RRP $6.95

Dreambaby® aims to ensure that a child's home is a safe environment, working in response to the growing needs of today's busy parents and carers. Dreambaby® ensures this by their on-going product research, design and development.

Visit the Dreambaby® web site at www.dreambaby.com.au or call (02) 9386 4000 or in New Zealand, call (09) 274 8788.

Become a Dreambaby® fan: http://www.facebook.com/Dreambabysafety. For useful safety tips & advice from Dreambaby®, check out http://www.youtube.com/dreambabytv