Childproof your Home with Dreambaby
Accidents within the home are often under reported, especially in home with babies, toddlers and small children. Dreambaby®, the market leaders in children's safety products, are urging parents and carers to check their homes with the '10 Easy Ways to Childproof your Home' Dreambaby® mini poster.
This poster is designed to give families a quick and concise reference to child proofing their homes and also acts as a vigilant reminder about all aspects of child safety. The mini poster is easy to download from the Dreambaby® website:
www.dreambaby.com.au/scripts/openExtra.asp?extra=19
You can then simply print off the mini poster and place prominently in your home. It gives a fuss free, step-by-step guide on how to help protect your family by outlining the minimum precautions parents can take to secure their small children at home. It's that simple!
Step one - Safe with Gates
The easiest and most effective way of keeping little people away from danger areas, such as kitchens, laundry rooms and stair wells is with a safety gate. Dreambaby® offers a large range of gates and extension solutions to fit your home, décor and lifestyle, in a range of heights and colours.
Dreambaby® Hallway Gate 1M High Black (F191B) RRP $149.95
Step two - Bathroom Safety
The bathroom can be a hazardous domain for little children. Ensure hot water levels are set correctly, and avoid slips and spills with Dreambaby®'s Colour Changing Non Slips (F128) RRP $9.95. Non-Slips feature safety COLOR CHANGING pads to help prevent accidental scalding as well as slips and falls in the tub. They are easy to use in a regular or baby bath.
Step three - Curtain and Blind Safety
Dangling blind and curtain cords present a potential strangulation hazard for small children. Keep your living and bedroom areas safe and "cord free", ensuring all cords are safely out of reach from inquisitive little fingers with the Dreambaby® Blind Cord wind-ups 2 PACK (F131) RRP $4.45.
Step four - Cabinets, Cupboards and Drawers
By installing a range of Dreambaby® latches, catches, locks and Mag Locks® on cabinet doors and drawers, you will help keep areas safe and out of reach from determined children and crawling babies! A good start is to invest in some Dreambaby® Sliding Locks 3 PACK (L183) RRP $9.95.
The Dreambaby® Cabinet Sliding Lock fits easily to cabinet knobs or handles. With a simple sliding action, it closes tight, helping keep children out of cupboards! An alternative is the Dreambaby® Safety Catches 6 Pack (F101) RRP $5.45. Easy to use and install, these can be used to safely secure cupboards and drawers.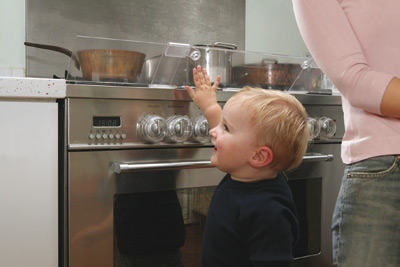 Step 5 - Stove Top Safety in the Kitchen
Help protect children from accidental scalds and burns. The Dreambaby® Stove Guard (F195) RRP $29.95 helps prevent little hands from touching and grabbing at hot plates and burners, or even hot pots and pans. Also suitable for preparation counters and bench tops.
Step 6 - Window safety
The NEW Dreambaby® Sliding Door & Window Lock (F806) RRP $5.95 helps you keep your curious children safe around sliding doors and windows inside your home. You can also prevent serious falls with the Dreambaby® Window Latch (F168) RRP $5.95. The Window Latch helps secure and limit window openings. Easily fitted to most outward opening windows. Perfect for parents with a budding Super Hero!
Step 7 - Corner caution!
Tables, fish tanks, and any sharp corners in your home can potentially hurt. Protect against the sharp corners in your home with Corner Cushions 4 Pack (F104) RRP $3.95 It's time to stop baby (and mum and dad) getting scratched on those "careless" sharp corners!
Step 8 - More Bathroom safety
This time it's the toilet! Keep toddlers fascination at bay and fingers safe with the Dreambaby® Toilet Lock (F123) RRP $6.95. This lock will prevent children from opening toilets. Also suitable for use on appliances, cupboards and cabinets. Not recommended for use on wooden toilets.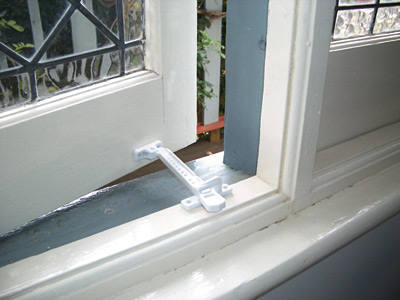 Step 9 - Keeping Refrigerator Safe
The refrigerator seems to be another area of intrigue, and danger, with reaching arms potentially pulling out the contents of your refrigerator including medicines. The Dreambaby® Refrigerator Latch (F121) RRP $5.45 prevents children from opening fridges or freezers, keeping your kitchen safe.
Step 10 - Door Safety
Doorways can often prove very unsafe, potentially catching fingers as they shut- ouch! Dreambaby® solves your slamming situations with Stop Slam (F164) RRP $6.95 by preventing doors slamming shut, helping avoid jamming fingers. Easy to install and uninstall when needed. The Under Door Gripper (F144) RRP $5.95 is also perfect for preventing children from slamming doors and pinching fingers. Just slip it under the door; it assists in holding the door in an open position. Suitable for use on most floor surfaces. Last but not least, avoid finger pinch and prevent children from accidently locking themselves into a room with the Dreambaby® Door Stopper Foam 2 Pack (F172) RRP $8.95 This device simply grips onto doors and is easily removed, making it great for use at home or when travelling.
Visit the Dreambaby® web site at
www.dreambaby.com.au
or call (02) 9386 4000 or in New Zealand, call (09) 274 8788. Become a Dreambaby® fan:
www.facebook.com/Dreambabysafety
.