Katie Williams Australian Men to Step Up and Tackle Physical Inactivity Interview
Less than half of Australian men aged between 25 – 75 years old are classed as 'sufficiently active' and Exercise & Sports Science Australia (ESSA) is challenging them to break the cycle.

"The Australian Bureau of Statistics show that only 44.6% of men surveyed are sufficiently active, that's a pretty dismal result considering Australians pride themselves on being an active and sporting nation," says ESSA Accredited Exercise Physiologist Katie Williams.

"When you break down the results the worst offenders are those aged between 55-75 years old where there is a clear drop off inactivity levels. This goes to show that as we get older, we start to lose focus on our physical activity levels and health."

According to the Australian Psychological Society, Aussie men's health and life expectancy has improved significantly when looking over the last five decades. However, there is one alarming fact that still remains in that 'men's average life expectancy remains substantially lower than that of women'.

"The same research shows that not only do men not seek support of healthcare professionals but as the get older they lack the strong social networks that provide them with support for their physical activity needs," says Katie.

The main offenders in terms of causing men physical health problems in Australia include heart disease, type 2 diabetes, stroke, chronic lower respiratory disease, prostate cancer and colorectal cancer.

"Many of these conditions can either be prevented or managed with physical activity under the supervision of an expert accredited exercise physiologist, so why aren't men moving as much as they should?"

"Exercise can enhance your health, happiness, productivity in the workplace and energy levels – so why not build more movement into your day for both your own benefit and for those people most important to you."

The Australian Physical Activity and Sedentary Behaviour Guidelines for Adults (18-64 years) suggests that to be sufficiently active you must accumulate 150-300 minutes of moderate exercise or 75-150 minute of vigorous physical activity a week, or a combination of these types of activity.

"With these numbers in mind, men need to take control, get off the couch and get out and about. Let's get the idea started that real men exercise!" says Katie.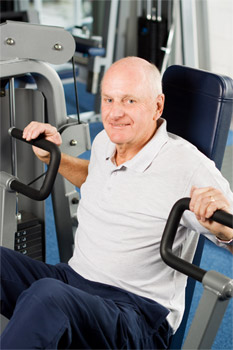 Katie's advice for those new to physical activity:
1. Seek the advice of an expert: If you have any concerns about your health or where to start, talk to your GP or your local accredited exercise physiologist.
2. Connect with local sports teams: Get online or use community noticeboards to see if there are any sports teams to join. Whether it's soccer or bowls, there is always some fun way to get moving with others.
3. Treat yourself to the latest technology: If you have a love for gadgets, buy yourself a gift that will get you off the couch. Perhaps a portable music player to listen to your favourite artists or a fitness tracker to count your steps and distance.
4. Connect with the family: Why don't you use your children or grandkids as an excuse to get moving. Organised catch ups at the local park for a game of cricket or footie.
5. If it hurts, stop: One of the most important things to remember is, if you feel like your body is hurting more than it should – stop! It is far better to build up your fitness levels rather than going too hard and giving up.


Interview with Katie Williams, Accredited Exercise Physiologist at Exercise & Sports Science Australia
Question: Where you surprised to find that "less than half of Australian men aged between 25 – 75 years old are classed as 'sufficiently active'"?

Katie Williams : Unfortunately, Australia is facing an inactivity epidemic resulting from a combination of factors such as sedentary workplaces and the convenience offered by modern technology.


Question: How important is exercise to disease prevention?

Katie Williams : Leading a healthy lifestyle consisting of regular physical activity and good nutrition plays a key role in preventing a myriad of chronic diseases such as diabetes, cardiovascular disease, some cancers and mental illness. In fact, appropriately prescribed exercise can also help manage many chronic diseases and illnesses.


Question: How do you hope to break the cycle of inactivity in males?

Katie Williams : Simply looking for opportunities to move more in your day can significantly improve your health and prevent or delay the onset of chronic disease. Recent research has shown us that breaking up long periods of sitting with intermittent periods of standing has a significant and positive effect on your health. Simple strategies such as walking to your colleagues office desk rather than emailing, placing your rubbish bin on the opposite side of the room so that you need to stand up to remove rubbish, standing when talking on the telephone or holding office 'walk and talk' meetings can easily be implemented into your day yet will have long lasting positive health benefits, not to mention your productivity at work.


Question: What sport suggestions do you have for Australian men aged between 25 – 75 years old?

Katie Williams : Engage in physical activity that you enjoy as this will increase the likelihood of building it into your daily life with ease. It does not have to entail daily vigorous exercise to have a positive impact on your health (although vigorous exercise does confer extra health benefits). Playing a fun social team sport, outdoor play such as backyard cricket with your children, or catching up with a friend over a walk are all enjoyable activities that can increase your physical activity levels.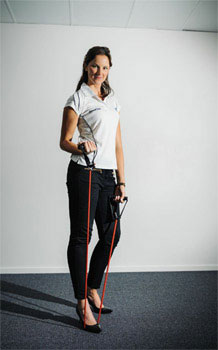 Question: How can we help ease these inactive men into exercise?

Katie Williams : If you have a health condition or are returning to an exercise program after a break it is best to see a GP or an Accredited Exercise Physiologist to ensure that you are doing the right type of exercise for your specific needs.

Take it slow and steady when easing back into an exercise routine.


Question: Can you talk us through the main advantages of being physically activity throughout our entire life?

Katie Williams : No matter what your age, physical activity reaps many health benefits. This ranges from preventing the onset of chronic disease, aiding in management of chronic disease, and even reversing some conditions. People who regularly exercise also tend to be happier, more socially connected and are more productive in the workplace.


Question: What is the correct amount of exercise, per week an Australian men aged between 25 – 75 years old should be doing?

Katie Williams : Accumulate 150 to 300 minutes (2 ½ to 5 hours) of moderate intensity physical activity or 75 to 150 minutes (1 ¼ to 2 ½ hours) of vigorous intensity physical activity, or an equivalent combination of both moderate and vigorous activities, each week. Do muscle strengthening activities on at least 2 days each week.


Question: How can women encourage their partners to become active?

Katie Williams : Provide support by exercising together, reducing temptation to be inactive, joining a sporting club or entering a fun run or charity walk together.


Question: What are your all round top tips for exercise encouragement?

Katie Williams : Doing some physical activity is better than none. If you currently do no physical activity, start by doing some, and gradually build up to the recommended amount.


Interview by Brooke Hunter