Post-workout percussive massage gun that's newly available in Australia, and that's used by a growing community of Aussie Olympians, pro athletes, and sports and fitness enthusiasts.

Percussive massage guns used to be a costly niche option for treating DOMS (delayed-onset muscle soreness), with consumers shelling out up to A$899 per unit. The Hydragun, which arrived in Australia this October, is making this compelling new sports recovery technology available to a wider market.

Unlike cheap massage guns that only vibrate at the surface, percussive guns push into the muscles to deliver an effective deep-tissue massage. At A$399, the Hydragun strikes an optimal balance between quality and accessibility.

Its hard-wearing, high-torque brushless motor runs at 11amps-- powerful enough for even serious lifters and pro athletes. And it's as solid as they come, with premium components and materials like an aerospace-grade aluminium casing and a comfortable, nanoscale silicone-wrapped handle. Full compliance with Australian quality assurance standards, a 1.5-year warranty, and a generous 30-day love-it-or-return-it policy offer further peace of mind.

The Hydragun has quickly gained fans amongst Aussie sports legends like the country's most successful Winter Olympian, snowboarder Torah Bright, and ten-time Muay Thai World Champion John Wayne Parr, who uses it to get through fight cramps. Olympic swimmer Bronte Campbell loves that it "gets to those hard-to-reach places that rolling and stretching just don't hit", and five-time Paddleboard World Champion Matt Mbevilacqua calls it "without doubt the best recovery tool I've tried".

The Hydragun gets five stars from home users and ordinary fitness fans too. It more than replaces the bulky foam rollers traditionally used in sports recovery sessions, and it's thoughtfully designed with the user's needs in mind.

Reviewers like that it's quiet enough to use while watching TV, and that it can be cleaned with a simple wipe-down. The 6 speeds and 6 different attachments make it versatile enough for different muscle-groups and body types. And, at only 1.04 kilos, you don't have to be a power-lifter to enjoy it.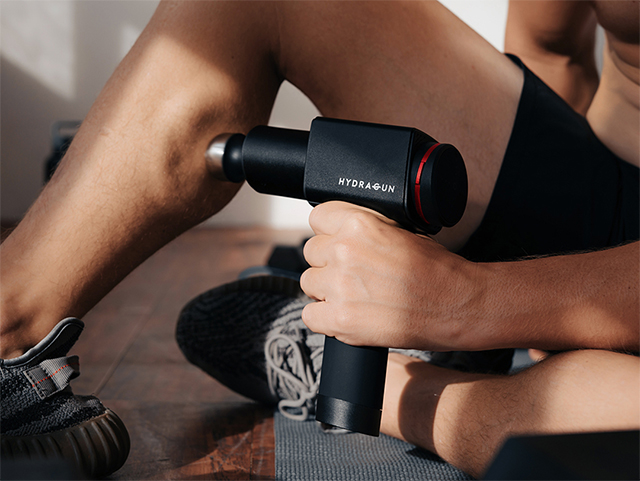 WHY HYDRAGUN IS ONE OF THE BEST MASSAGE GUNS ON THE MARKET
• It delivers effective and soothing percussive massage therapy, with high power and speed settings, such as a maximum RPM of 3,200 - the highest on the market
• It's quiet, with noise level ranging from 30 to 50 decibels - the device with the highest recorded noise on the market sounds off at 75 decibels (equivalent to the sound of a loud vacuum cleaner)
• It has amazing, industry-leading battery life of up to 6 hours, compared to other guns at 1-3
• It's one of the lightest massage guns around, weighing a little over 1kg. A competitor's device could weigh as much as 40% more
• It's affordable and competitively priced at S$399; other devices on the market could cost upwards of $800
• It's durable, made of high-quality aerospace-grade aluminium alloy; other devices are typically made of plastic
• It's versatile and comes with 6 different massage heads and 6 speed settings, the most among comparable devices
Hydragun.com
RRP: $399.00
Review:
This year we've had to take our health and fitness into our hands more than ever. With lockdowns and restrictions we've had to make a few changes, and some of them are for the better. While home fitness has it's own challenges in staying motivated, we've seen a surge in the market for self maintenance tools like massage guns, but how do you know what works and is the best value?
While I'm no sports fanatic like my daughter; football, lifesaving, dance (interesting combination I know), we have both really missed the gym this year, and trainer Ryan, pushing (correcting me) in boxing, pilates and circuit workouts. For athletes (like my girl) recovery time is important so she can move onto the next activity. She never really found much relief with physical massages, turning to expensive myotherapy for deeper tissue pressure, the Hydragun has given her the same relief with a lot more convenience.
"An important part of being a dancer is the 15-20 minute warm up, using the Hydragun I'm ready faster and I've noticed an increase in my flexibility. I've tried using the Hydragun before Football and Lifesaving training to loosen up and I feel stronger, faster and more mobile" says Steph.
"I'm always on the move so the Hydragun's really helpful to keep my muscles in check so I don't cause damage". A combination of "using the Hydragun before and after training has meant a faster recovery time" continues Steph. She is looking forward to see how the massage tool holds up (over a hand roller) in football games, lifesaving carnivals and dance workshops once these activities return. "If it helps me recover faster, I can push harder" increasing performance.
What other
professional athletes say
The Hydragun is not limited to athletes, I find it extremely useful to elevate chronic pain (TMJ) from using the computer all day, particularly in my shoulders and neck. Having tried other massage guns on the market, I was surprised by how light the Hydragun is, and how easily it molds into your hands, making it that much easier to maneuver around your body. Unlike a masseur or partner, Hydragun is ready to eliminate sore & tight muscles anytime.
With 6 powerful speeds and 6 different heads to choose from, Hydragun offers plenty of flexibility to target my muscles perfectly. Starting on lower speeds so as not to cause damage, I found my sweet spot on speed 4 with the largest head, which provided enough power, without too much discomfort to release the tension in my neck & shoulder area (deltoids & trapezius), all while being quiet enough not to disturb my co-workers. Applied daily, I have less pain by the end of the day and no more headaches.
While I haven't been able to return to boxing just yet, long catch up walks have become the new norm. The Hydragun is brilliant on the legs giving quads, hamstrings and calves, a quick release so I can get on with my day. I enjoy the strongest setting to really pound out the tension, and it's so quiet I can even do it while watching Netflix.
The Hydragun has become a fixture of our living room/home gym and is in constant use. We both recommend the product for athletes, sports enthusiasts and walkers alike.
Michelle Warmuz