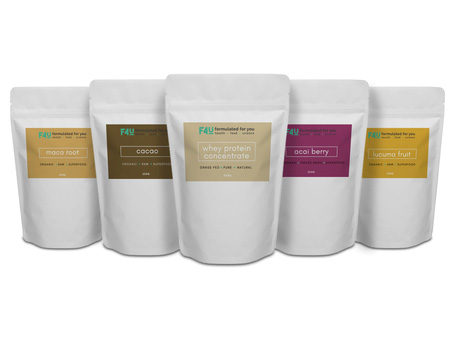 Formulatedforyou is a small Gold Coast business that formulates their own range of nutritional & protein shakes and smoothie booster powders made from organic ingredients. They're also 100% gluten-free. Their focus is on nutritient-density and high quality ingredients. Unlike other protein shakes that are filled with nasty additives, we keep ours as pure as possible.
They're free from many common culprits including:
Milk Solids/Full Fat/Skim Milk Powders, Fructose, Glucose Syrups/Corn Syrups, Maltodextrin, Dextrose
F4U also have a range of vegan protein powders and smoothie booster powders.


The F4U Smoothie Stack Pack includes the following:
Whey Protein Concentrate (10 serves)
Organic Raw Cacao Powder (25 serves)
Organic Maca Root Powder (50 serves)
Organic Lucuma Fruit Powder (50 serves)
Organic Acai Berry Powder (50 serves)
Take your morning breakfast shake to the next level with this value for money protein & superfood powder bundle!

View the F4U range here: https://formulatedforyou.com.au