Half of Aussie Women Don't Get the Recognition They Deserve
Over half of Australians (58%) admit to sacrificing family time as lives get busier and working hours lengthen, with most of the nation (92%) wanting this to change, reveals research from Steggles.

It is women in particular that people feel are making the greatest sacrifice (77%), sadly having to forgo family time for long days at work.

Almost all of the nation (89%) stated that the women in their lives deserve greater recognition, with the majority of those (86%) believing more can be done to celebrate the hard-working women in their lives.

Like many women in this country, Sydney Roosters NRLW captain Simaima Taufa knows the hard work that goes into juggling home and work life.

"It was hard to get my break in NRL. Like many women, juggling work, family, community commitments and exercise can be tough. I had to spend a lot of time away and sacrifice important family moments, which is one of the hardest things I've had to do," Taufa said.

Steggles, a key sponsor of the Sydney Roosters NRL and NRLW teams, brought Simaima and her family together to highlight the importance of quality time with loved ones.

"We're a close family, and I wouldn't be where I am today without their support and guidance. It really lifted my spirits to see us all enjoying a meal together around the table and it meant the world to them too," Taufa said.

Australians agree, with 94% acknowledging shared meals bring us closer together, yet an astounding 4.3 million confess their family has not eaten a meal together in nearly six months, and one in ten couldn't remember the last time they did so.

"Mealtimes are a powerful shared experience between loved ones and important to our happiness and wellbeing. It's a rare moment in today's busy world to create lasting memories and recognise the hard work that goes into making time for one another," relationship expert Clare Rowe said.

In special recognition of the nation's hard-working women, Steggles will replace its logo on the Sydney Roosters players' jerseys with the names of the Roosters NRLW players. The Sydney Roosters men's team will display the names of their female counterparts on their jerseys at the Women in League round on Sunday, 18 August 2019.

"We're excited to show our support of hard-working Aussie women by replacing our logo with the names of the Roosters NRLW players. It's a small, but powerful recognition to all women, who work hard to be there for all of the people who rely on them across home, work, community and more," Yash Gandhi, Head of Marketing at Steggles, commented.


See the Steggles website to watch the moment Simaima is surprised with a roast to remember – and to nominate a woman in your life who deserves her very own #QualityTimeRoast.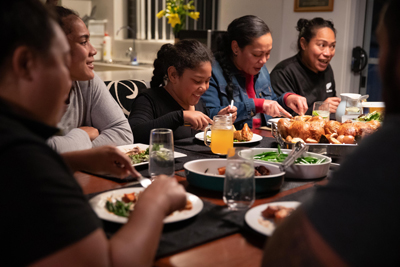 Interview with Simaima Taufa, Sydney Roosters NRLW Captain
Question: What's a typical day like, for you?

Simaima Taufa: It really depends if it's during game season or not. I usually start my day at 6AM with a workout at the gym. In the morning I'll usually focus on either an upper or lower body workout and mobility training to build my strength. Then I'll grab breakfast (which I've pre-made) on the way to work at the Sydney Roosters office. By 5pm I'm usually headed to training which is usually skills-based and includes lots of drills around tackling and passing. It's a big conditioning session, with lots of running.


Question: What's the biggest challenge you face in work/life balance?

Simaima Taufa: Making sure to find time with friends and family, work and myself is a struggle everyone faces. I'm constantly on the go but I make it a priority to spend quality time with my family, even if it's just dinner around the table.


Question: How has this schedule meant you've sacrificed quality time with loved ones?

Simaima Taufa: I'm out the door by 6AM and only get home around 8PM, which means I'm away from my family for most of the day. When it's game season, I struggle with quality time but they understand that rugby is such a big passion point for me and this is what I want to do – I'm lucky to have a family that love and supports me.


Question: How important is regular family dinners, to you and your family?

Simaima Taufa: It's become one of the most important times in the day for me, because we can all get together and share the quality time that we'd otherwise be missing.


Question: How do you ensure you're still making quality time?

Simaima Taufa: I try to plan my day so that I keep time to see family and friends. I've also learnt topush back on something if I think it's going to force me to sacrifice time with my loved ones.


Question: Are you surprised that women are considered the hardest working Australians?

Simaima Taufa: I grew up surrounded by strong women. My biggest inspiration is my mum. I have seen first-hand how hard she worked everyday for her family. So no, I'm not really surprised women are considered hardest working. I think it's intrinsically in us to do what is needed to make things happen.


Question: How do you celebrate the hard-working women in your own life?

Simaima Taufa: By recognising the work that they do and the impact they've had on my life. Sometimes a simple thank you is all you need to do.


Question: Can you talk us through the teams feelings behind Steggles forging their logo in place of players' names?

Simaima Taufa: I was incredibly overwhelmed at how open and excited the Roosters men's team was about the initiative. Our NRLW team were just as excited – to be able to see not only my name, but the name of all the hardworking women on our team was simply incredible and I can't put into words how it felt to be recognised in that way.


Question: What advice do you have for aspiring NRLW players?

Simaima Taufa: Keep doing what you love! There will be sacrifices along the way but it will be worth it. When I was younger, I never thought that I would have the opportunity to play rugby league professionally, but as more women are open to playing the sport, there will be more opportunities. The game is constantly evolving and I can't wait to see what the future holds.


Interview by Brooke Hunter