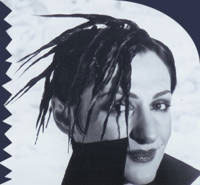 Adelaide's award winning eclectic singer/songwriter Avra Velis has set industry tongues wagging with her signature brand of intelligent provocative pop.
Having had astounding successes with both her bands, (Virginia Wolf and Avraliscious) it was no surprise that her first demo in 2002 ended up being repressed only a month after due to high public demand.
Additionally, an overwhelming reception in Auckland later that year, with the launch of the concept album INNATE (an album Avra was commissioned to produce for the international chiropractic fraternity) left no doubt in anyone's mind that her music was in demand, and she re-entered the studio in 2003 to produce her long awaited debut EP Superalterego along with a video clip for the lead track, a documentary on the making of the video and a pop cabaret/tone woman show called "Avra…a superalterego".
As a songstress, Avra is powerfully prolific. Add the eclectic equation her feistiness as a performer and you have the reason why her songs emotionally resonant amongst her audience. Musically her philosophy is simple: " for me music is about healing and healing is about being outrageously honest".
Although people like David Bowe, Kate Bush, and Tori Amos have had a definite influence on her, a broad mix of other artistry can be heard in her work, ranging from legendary Greek icons Diamanda Gallus and Marianella, to Beat Poets and Writers like Kerouau and Ginsberg.
A poet and author of three pop cabarets, the element of theatrical influence in Avra as an artist is obvious.
Website:
www.avramusic.net