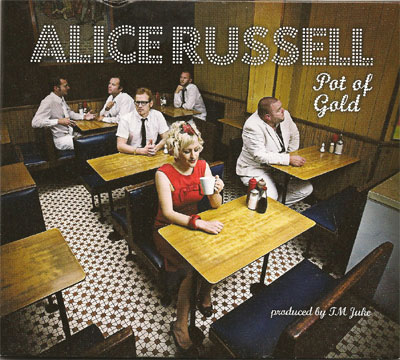 Alice Russell
Soul/Funk music that tugs at the emotions and raises hairs on the back of the net. You really can't fake what Alice Russell's got! Gaining momentum through a series of high profile collaborations- including work with Massive Attack, Quantic Soul Orchestra, Mr. Scruff, The Roots, De La Soul, The Nextmen, Roy Ayres, Lonnie Lison Smith and Australia's own Bamboos- Alice Russell has gained an enviable reputation as one of the hottest singers in the UK right now. With lavishly soulful vocals that recall the golden voices of Eva Cassidy, Aretha Franklin and Jill Scott, Alice Russell is back with her brand new album 'Pot of Gold!'

One listen to Alice Russell's voice will send shivers down your spine and leave goose bumps on your neck. Alice's gorgeous voice is both timeless and up to the minute modern. ove or on record, she always performs with her trademark self assurance and sass. Listening to Alice, you'd naturally think she grew up on the streets of Detroit, just around the corner from Motown's legendary recording studios. "No, although I wish I had," admits the blue-eyed, blonde-haired lass from Brighton UK. Her singing career actually began as a young girl singing in her church choir. "Our singing was more of the traditional SATB (soprano, alto, tenor, bass) parts you hear in the great classical halls and cathedrals.

Although her style is predominantly bluesy and soul lament it also encompasses everything from funk to gospel to jazz and beyond. "Growing up, I was surrounded by different types of music and you know, you just get taken by something, don't you? It hits you in the right place and you think 'Yeah baby, I like that!' That gospel stuff is wicked, isn't it? And artists like Stevie Wonder and Aretha Franklin... I was really small, playing with my Lego, taping this stuff off of the radio. I just fell in love with soul music, quite honestly. Just hearing that music hit the spot." She comes from a musical family, her father was a classical music teacher, and her sisters were classically trained. it wasn't until Alice was around nine that she began formal music lessons on the cello for a few years. But the only training she ever had with her voice was "with my ears" and just "by picking things up."

Today Alice has developed a burgeoning career as one of the hottest UK soul sisters with growing audiences around the world. While comparisons have been made to other popular British vocalists like Joss Stone, Amy Winehouse, Duffy and Adele, one listen and look at Alice and you can immediately tell she's in a class by herself. She has recorded and performed alongside well respected company that includes Roy Ayres, Massive Attack, The Roots, Lonnie Liston Smith, The Nextmen, Mr.Scruff, De La Soul, The Bamboos, Quantic and The Quantic Soul Orchestra to name a few.

Alice has built quite an impressive discography since bursting onto the scene. Alice's first album, 'Under the Munka Moon' (2004) was an amalgamation of various projects (singles, remixes, collaborations) and a great introduction to new listeners. Then came 'My Favourite Letters' (2005), her debut studio album created by Alice with co-writer, producer, guitarist and musical soul mate Alex Cowan (aka TM Juke). The album received prestigious press accolades and proved she was an unstoppable voice to be reckoned with. Her third release, 'Under the Munka Moon II' (2006) compiled her most recent collaboration, remixes and cover versions including her popular interpretation of The White Stripes, Seven Nation Army, for another satisfying listen.

The dynamic duo of Alice and TM Juke have been touring together for the past two years with their hand-picked band, wowing audiences in the UK, Europe, Australia and the US and in other countries. Last year, when not busy turning heads with their dynamic stage performances, Alice and 'her boys'- as she affectionately refers to her group- were busy in the studio, recording her brand new album 'Pot of Gold'.

Full to the brim with dazzling highlights, 'Pot of Gold', stands as one of 2008's most gorgeous and gratifying records. The hard-hitting album opener, 'Turn and Run', sounds as if Motown master, Berry Gordy, crafted it himself. After a punctuated intro, Alice launches right into the verse, her scorching vocals muscling their way atop her heavy-hitting rhythm section. No warm-up necessary for this chanteuse; right out of the gates, she struts her sassy stuff. Even in this precision- controlled digital world, there is an old school analog ambience to the song, further paying tribute Alice's genuine love of soul and R&B.

Many of the songs on 'Pot of Gold' started down a completely different path than what ended up as their final stylistic destination on the album. "The first idea for the record was to do an acoustic-sounding, stripped back type of thing". Alice explains. "But we ended up- as you frequently do- thinking, 'Wow, some horns would sound wicked here.' Or 'how about a string part there.' Sometimes songs just develop a life of their own, you know? They take you to different places, but that's just part of their journey.

The track 'Living the Life of a Dreamer' is a case in point. Alice says this nitty-gritty showstopper was originally conceived as an electro groove number. However, the album version is visceral and sinewy, punctuated by Alice's voice which commands an incredible range and depth of emotion. "We started off doing it as a sort of chant-like, call-and-answer type of thing but then we developed that further." The scat-singing Alice trades solos with a cavorting trombone line, evincing a strong sense of interplay among her ensemble members. The group also recorded the original electro version but decided to put its more funk-flavoured counterpart on the album.

Her cover of Gnarls Barkley's megahit, 'Crazy', is another standout. One listen to Alice's remake and you'll swear you're in Deep South, sitting at church on a steamy Sunday morning, as Alice and her mates sweat out their poignant, bittersweet musical sermon. Enriched with horns and strings, Alice gives a tour de force performance that would inspire Aretha Franklin and Tina Turner to pay their respects.

'Universe' shows how Alice, TM Juke & Co. deftly incorporates some Brazilian bossa nova influences into their sassy, signature sound- not to mention a keen sense of arrangement and playfulness. Spacey electric piano arpeggios start the tune off; followed by flute, light percussion and fleet-fingered jazzy guitar chords, courtesy of TM Juke. Alice saunters in with her vocals, teasing the listener with an almost seductive whisper. Then she let's loose, as only she can, singing her heart out as the song builds in energy, cavorting chord changes and varying instrumental density. "I love that song," exclaims Alice with a grin. "That started off with Al on acoustic guitar and me just singing over those crazy chords he came up with, and before you knew it, we where partying on the beaches of Brazil."

Alice Russell has been described as similar performers like Stevie Wonder, Aretha Franklin and Jill Scott with her pop, bop and soul music. She sings like an angle and this is clear in 'Pot of Gold' which is a very rare and ambitious album. Alice's sensual voice and lyrics take you on a pleasant journey.