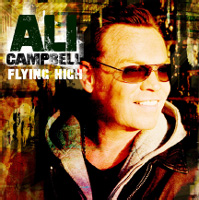 ALI CAMPBELL...Better than Britney?
As lead singer with UB40, Ali Campbell has covered many songs over the years. But his latest release would have to be most remarkable and surprising choice of cover to date!

"Red Red Wine" is probably the most famous and after Neil Diamond's original only managed to reach #62, UB40's 1988 take on it shocked the music world when it rocketed all the way to #1.

Throughout the 90's the band, who took their name from the UK's Unemployment Benefit Form 40, had even more hits from covers including "The Way You Do The Things You Do" (originally a hit for The Temptations in 1964), "Here I Am (Come And Take Me)" (which Al Green had a hit with in 1973) and the Elvis Presley classic: "Can't Help Falling In Love" which topped charts for the reggae/pop band in 1993 when it appeared in the Sharon Stone film, "Sliver".

On the eve of his last Australian tour early in 2008, after 28 years, Ali surprised fans by quitting the band citing problems with management, but today continues his love affair with reggae and recording unusual choices of covers on his much anticipated third solo album 'Flying High' which is released in Australia on October 16.

A current hit on radio in the UK, Germany, Spain and France "Out From Under" is the first single from 'Flying High'. Originally recorded by pop star Britney Spears on her album "Circus", Ali's contagious and moving rendition of the song may lyrically help shed some light on his departure from UB40 for fans and critics alike.

Ali first heard "Out From Under" when his daughter played Britney's latest CD while he was driving her to school. He loved how the beautiful ballad evoked strong emotions and thought it would be the perfect fit for his first album to be recorded since splitting from the band.

'Flying High' was released in the UK the same week as Michael Jackson passed away but still entered the charts at #13 behind five Michael Jackson albums. It was the second highest new entry on the charts week of release.

While the US release of 'Flying High' coincides with Australia, a second single from the album has just hit the UK. "She's A Lady", a cover of Tom Jones' Seventies smash, sees a pair-up with dancehall superstar Shaggy, whose raspy Jamaican rhymes entwine with Campbell's huge soulful vocals so fluently and with such kick that you're left wondering why the two haven't collaborated before.

In fact an Ali Campbell record wouldn't be an Ali Campbell record without a plethora of exciting collaborations, and 'Flying High' includes appearances from an exciting cast of international artists including R&B chart-topper Craig David, Jamaica's Lady Saw, Germany's Gentleman and South Africa's Danny K and The Soweto Gospel Choir.

Ali and his new band, The Dep Band, have just returned home to the UK after headlining the Reggae Jam Festival in Germany and playing to 20,000 people a selection of new songs, solo material from previous albums, 'Running Free' and 'Big Love', and old UB40 favourites. He is hoping to return to Australia in early 2010 to play live and hand deliver this infectious reggae/pop record and potential soundtrack to summer!