Sydney Flower Expert Urges Australians to Buy Local Flowers this Valentine's Day
This time last year, Australia imported 10.5 million red rose stems in the lead up to Valentine's Day.

Sydney Flower expert and founder of Petal Post, Zoe Lamont, urges Australians to buy local and support local growers this Valentine's Day.

Zoe explains why she feels comfortable bucking the red rose trend: "Our flowers are delivered in a box and the recipient creates their own arrangement. It is far more memorable because it is unexpected. That's how we like it. Because we're not a traditional florist we feel comfortable bucking the red rose trend."

Petal Post decided to offer pastel, locally grown roses, in colours that are chosen for their meaning of admiration, gratitude and friendship. 'The Big Bunch of Love' subscription box designed by Lamont, ensures that Petal Post can maintain their subscription-based prices during this peak period where the wholesale cost of a dozen red roses triples.

Another trend that Zoe has seen in recent years is that Valentine's Day is changing from being a day that is focused on romantic love to a day that focuses on love, gratitude and friendship.

"Valentine's Day is no longer a day for men to buy the stereotypical red rose. Valentine's Day is an occasion to show gratitude and love to your partner, a close friend, your Mum or even as a gift to yourself."



Petal Post is Australia's first boxed flower company that offers eco-friendly, pre-arranged, proudly Australian grown flowers, as a gift and subscription service.

Founder, Zoe Lamont says: "At Petal Post we're inspired by nature's beauty. We deliver fresh locally grown botanicals, so you too can be inspired. We purchase to order directly from the growers, so your flowers are fresh and long-lasting.

Each week we select seasonal flowers & foliage that work beautifully when put together in an arrangement. We lovingly pack them in our Petal Post boxes and deliver to your doorstep with flower information & styling tips, empowering you to express your creativity and elevate your space."

Zoe supports local Australian flower farmers and the earth by using only biodegradable and recycled materials.

Floral subscriptions can be purchased in Regular, Generous and Boost sizes. You can choose if you want to deliver flowers weekly, every 2 weeks or every 4 weeks and for how long you want to have flowers delivered for, ongoing, 3 months, 6 months or 12 months.


Interview with Zoe Lamont
Question: Why is it important for us to buy local flowers, this Valentine's Day?

Zoe Lamont: As the 'Shop Local' movement becomes more popular, consumers are interested to know where their flowers are grown, and the benefits are plentiful.

Perhaps one of the best benefits to buying local flowers is supporting the local community and in turn, the economy and local agriculture. Making personal connections with your local flower supplier, farmer or florist, striking up a conversation about where those roses are grown, building your own network within your community.

When you buy flowers, let it represent more than just a 'bunch of flowers'. Knowing where your flowers are grown will extend the meaning of the flowers, be it a gift for a loved one, or yourself. You'll be able to appreciate the flowers so much more when you can imagine that farm in the Southern Highlands!

Choosing locally grown flowers has far less impact on the environment than purchasing imported flowers. A large number of flowers available to us in Australia are imported from across the globe using lots of energy and fossil fuels. From Aussie farm to your vase is the most sustainable way to enjoy your flowers and for our future generations!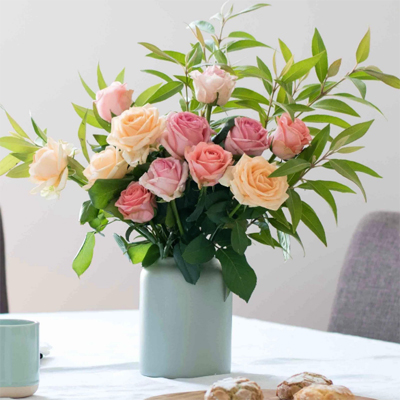 Question: How can we tell if our flowers are locally grown?

Zoe Lamont: Start by asking your florist or flower supplier what's best & in season, and where it's grown.

Many flower suppliers and farmers are accredited with the Australian Grown logo, as featured on our very own Petal Post Flower Box.

Imported roses are usually packed with cardboard collars for transportation. Often the bunches are then on-sold with the cardboard removed, but still in the same two neat roses – a dead giveaway!


Question: Why should we avoid the red rose trend this Valentine's Day?

Zoe Lamont: Over 10 million roses stems are imported leading up to Valentine's Day each year. There are so many other beautiful local flower options available, including pastel roses featured in our 'Big Bunch of Love' selection.


Question: What flowers should we be buying, for our loved ones?

Zoe Lamont: If choosing the sustainable option is important to you, then definitely locally sourced flowers. Knowing who you are buying for and what they love is a great place to start.


Question: What tricks can you share to increase the life of our flowers?

Zoe Lamont: Refresh the water every other day, cutting the stems on an angle each time. Removing any discoloured petals from the flowers as they age will help with the vase life of the flowers. Get creative with the flowers– one variety might brown first, so remove these blooms, and keep cutting down the other stems, re-vase them in shorter vessels. Flowers can last weeks by doing this!


Question: What does Valentine's Day mean to you?

Zoe Lamont: Paying gratitude to the people you care about – letting them know that they are loved and appreciated. That and a few thorny encounters prepping hundreds of pastel roses for our deliveries!


Question: How will you be spending Valentine's Day?

Zoe Lamont: My day will begin at the flower markets at 5am, selecting the very best roses for the day's orders. Then prepping and packing each and every stem with love for the people of New South Wales!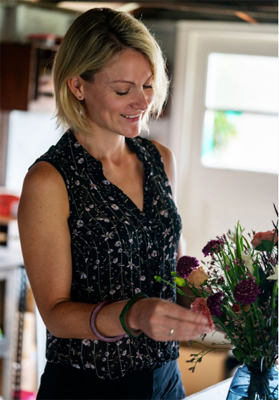 Question: What inspired Petal Post?

Zoe Lamont: Petal Post was born from my love of fresh flowers. I figured there must be a whole lot of others like me – true flower enthusiasts who love fresh flowers in their home or workspace, those who are interested in learning about their local flowers and getting joy from the creative process of creating their own arrangement. Our point of difference is to package a whole bouquet in a slim box, easy to carry and transport, ready to be arranged by the recipient.


Question: Why is it important to you to only use biodegradable and recycled materials?

Zoe Lamont: Simply because we are choosing to put the planet and environment first. By using 100% biodegradable packaging, our customers know that when they buy flowers from Petal Post their impact of the environment is significantly reduced.


Question: How does Petal Post work?

Zoe Lamont: We offer a number of flower selections each season, showcasing beautiful locally grown botanicals from our favourite Australian growers. Customers can order a one-off gift or purchase a subscription, be it weekly, fortnightly or monthly deliveries. We purchase all flowers to order, pack them in our specially designed boxes with hydration wraps and deliver them state-wide along with arrangement tips and flower information.


Interview by Brooke Hunter
Photo by Denise Johnson on Unsplash