The We-Vibe
Are you having trouble reaching orgasm?
Are you having trouble reaching a climax during sex? Fear not, you are not alone. A recent survey conducted by the Women's Sexual Health Program, has highlighted that nearly half of Australian women never or rarely reach an orgasm during sex. And here is one for the boys, 63% of women fake it.
Scientists and sexologists seem unable to agree on the reasons behind this apparent lack of female climax. It seems that it can be put down to any number of reasons such as emotion, general health, and physiology.
Rebecca Chalker, in her book The Clitoral Truth, explains orgasm can occur with or without direct clitoral stimulation, but for many women stimulation with hands or a vibrator is necessary to reach a climax. This is because only one part of the clitoris is stimulating during sex, other parts of the clitoris such as the tip are missing out.
So how do you introduce a clitoral vibrator into the bedroom without making your partner feel a little bit redundant? Is there a product on the market that can be used to satisfy both partners during sexual intercourse?
Finally there is, it is called the We-vibe.
www.we-capers.com.au
The innovative design allows for both external and internal stimulation for women engaging in both solo and partner play. With a futuristic design, it is an elegantly shaped sex object with beautiful flowing, organic lines housing two amazingly powerful vibrating motors. It stays gently nestled on both the G-Spot and clitoris under all but the most strenuous lovemaking conditions. Stimulating all the right places for both the man and the woman.
Created from medical grade silicone, it warms to the body and is soft and flexible making it comfortable and easy to use with no taste or smell. The We- Vibe is phthalate free so there are no problems associated with phthalate's leaching from rubbers and plastics. Designed by using a unique molding process that encases a flexible frame in soft silicone the we-vibe is a beautiful device that springs close just the right amount to hold onto a woman while being completely comfortable.
Discreet in size, the We-Vibe is approximately 8cm long and 2.5cm wide, weighing only 60 grams, is hands free, dual vibe with no straps or wires and its waterproof! The 2 powerful motors have a high and low setting and will last up to 2 hours and are rechargeable.
Because of the We-Vibe's shape, and its silky smooth silicone finish, it does not obstruct the penis and yet still it delivers the most powerful throbbing vibrations. It is a hassle free and safe toy that allows a couple to make love in a wide variety of positions. The We-Vibe provides both external and internal stimulation for women engaging in both solo and partner play.
Clitorial and G Spot Vibrator worn while making love.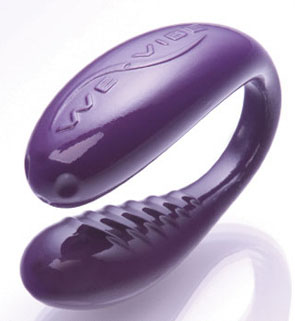 Winner of Europes most coverted Adult Award in 2008 the Erotic Eline Award.


We-Vibe recommended retail price is $220 plus postage, but for femail.com.au visitors for a limited time the We-Vibe is available for $159.99 plus postage. Order online at
www.we-capers.com.au