Intimate Adult furniture is sex furniture specially designed for couples to have better Sex. Loverlays Furniture Pty Ltd, is Australia's first Intimate Adult Furniture store and could quite seriously save your marriage or relationship. Let's face it; we all want more sex and goes without saying...better sex.


Intimate Adult Furniture may just be the solution. The Husband and Wife team, who developed the range, cite the idea for the business from an article in a newspaper about an interesting survey on the sex lives of Japanese couples.
One of the notable findings is they considered sex "too much trouble" (mendokusai) - as you had to change the sheets afterwards. This lead to the company developing Loverlays™ Overlays - essentially water resistant blankets that will provide "protected sex" for your sheets. Priced at just $69.00, there are two sexy options - a Micro-plush and Polar Plush. Each delivers a sensuous tactile feel against bare skin. On the reverse side is a cool Satin - ideal for those steamy summer nights.
They didn't stop there, and after some extensive research, they came up with a range of furniture - sex furniture. The Adult market already has a range of product that includes Sex Swings and other contraptions. All these might suit some, however how do you explain these things when the kiddies find them? Or worse - your Mother-in- law. The Furniture at Loverlays look innocent enough to have them on display. Specially designed curves enhance positions and in fact for the slightly less flexible, make some positions now possible. However by far the cleverest product is the Tantra Lounge.....
The Tantra Lounge is the Loverlays signature piece. This clever Ottoman comes with a secret - when you are not using the unique top - it fits snugly inside the base and it appears to be a functional bench or love seat, something you could buy in any Furniture store.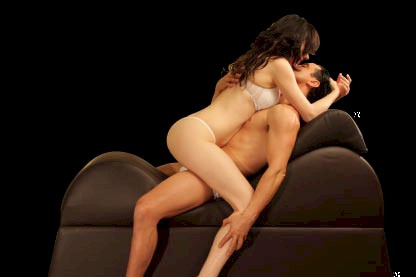 So how is this going to save your marriage?


Simply put, sex can become stale after years of marriage. Couples easily fall into a routine and this can lead to boring sex. There is nothing like a change to spice things up and by using specially designed furniture you almost have to come up with new ways to be intimate. It encourages foreplay and massages - something we all need more of!
The Tantra Lounge will allow couples to experience a totally new way of love making. It's completely different to a bed, which actually gets in the way of love making. You also need a fair bit of flexibility for some positions. What the Tantra Lounge does is provide a supported base that essentially allows you and your partner to remain relatively upright while maintaining contact with the floor. This is much more comfortable especially for those with bad backs. The result is much more freedom of movement and a much better experience. Imaginative foreplay and positions of the Tantra become intuitive. The Tantra Lounge is constructed around a solid frame and then upholstered in a leatherette hide. It comes in 3 contemporary colours and is priced at $799.00
Sex Furniture or more aptly named - Intimate Adult Furniture should be a consideration for anyone who wants to reinvigorate or try something new in their Sex lives.
Visit the online store at
www.loverlays.com.au