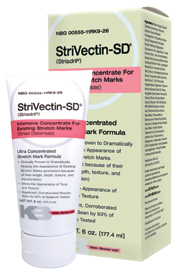 Anti-wrinkle phenomenon StriVectin-SD is expected to quickly disappear from retail shelves when it goes on sale in Australia in April, continuing the unprecedented sell-out success witnessed in the USA and Europe.

The cream, which will retail for AU$240.00 for a 177ml tube that lasts for about six months, is significantly cheaper than Botox and more importantly does not involve any injections or downtime.

At $1.35 per ml the concentrated cream is also less than half the per ml cost of many of the top selling specialist anti-wrinkle creams from major cosmetic houses.

"When launched into department stores across the USA in 2004, sales totalled US$64 million, making StriVectin the top selling skincare product that year," said Joseph Gilbert, Managing Director - International for Klein-Becker, USA.

The single product out-sold the entire skincare ranges of international prestigious cosmetic houses Elizabeth Arden, Dior, Mac, Biotherm, La Prairie and Prescriptives in USA department stores in 2005. Today it is stocked in over 1400 retails outlets in the US.

Within weeks of launching in 160 Sephora stores across France from August 2004, StriVectin-SD became the number one selling skincare product, much to the surprise of the prestigious French cosmetic houses.

"We were a bit surprised by the overnight success of StriVectin in France," said Mr Gilbert.

"Strivectin had already set sales records in the United States, so we expected great results in France. But lets face it, French women have access to the most sophisticated cosmetics in the world and they're extremely sceptical about products from America. Yet when it comes to reducing the appearance of fine lines, wrinkles and crows' feet, they prefer a formula from, of all places, Salt Lake City, Utah."

"Strivectin also became the best-selling product in the beauty department of Harvey Nichol's flagship store in London where there were scenes of near-panic buying at launch. To date it is available in 24 countries worldwide," said Mr Gilbert.

StriVectin-SD was originally sold in maternity shops and high-end speciality stores as an intensive concentrate for stretch marks, targeted at pregnant women. In an unusual turn of events, an underground 'movement' took shape as women used the product on their faces and shared their amazing success stories about StriVectin-SD's ability to reduce the appearance of fine lines, wrinkles and crow's feet. "The ingredient that makes StriVectin-SD so remarkable is a patented peptide solution, which has been shown in studies to be better than Retinol and vitamin C in reducing the appearance of fine lines and wrinkles," said Dr Lou Rinaldi, Director of Research & Development for Klein-Becker USA.


Better than Botox?
"Researchers like myself believe that non-invasive alternatives are better because topical creams offer gradual, continual results, while the effects of injections, facial peels, and dermabrasions are rougher on the skin and wear off."

"StriVectin-SD helps give you a youthful, healthy, glowing complexion faster than retinol, far superior to vitamin C, and without irritation, needles or surgery. In fact, many dermatologists and plastic surgeons recommend StriVectin in conjunction with cosmetic procedures, including Botox," said Dr Rinaldi.

From the end of April, Australian women will be able to experience the phenomenon of StriVectin-SD for themselves and have access to a safe and effective way to achieve a smoother, younger complexion.

* Botox® is a registered trademark of Allergan, Inc.

Available exclusively in all Myer stores.
RRP $240.00