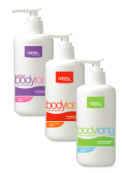 Divine hydration with Caron Body Icing. All purpose moisturisers used and recommended by Professional beauty therapists. Indulge in a luxurious experience with Caron Body Icing, a range of all natural multi purpose moisturises enriched with natural extracts and rich emollients to soothe and nourish promoting soft radiant looking skin. Body Icing's non greasy formulas aid in the calming and revitalisation of the skin, correct daily damage and are suitable treatment for post waxing and shaving, conditioning hands and nails and claming sunburn. Comes in 3 skin types.
ORIGINAL Body Icing to nourish and revitalise. Invigorate your skin with Original Body Icing containing natural botanical extracts. This uplifting, non-greasy lotion absorbs rapidly for an instant moisturizing and toning effect. With nourishing essential oils and flower extracts, Original Body Icing's unique formulation is perfect for manicures, pedicures and post waxing, as it aids in the soothing healing and revitalisation of the skin.
MANGO & WITCH HAZEL Body Icing to soothe and pamper. Containing uplifting Mango & Witch Hazel. This revitalising formula restores the skin's natural suppleness for a replenished, radiant appearance. Enriched with anti-bacterial and moisturising properties, this dual active formula is the perfect post wax and manicure treatment.
TEA TREE OIL Body Icing to cleanse and protect. Containing all natural Tea Tree Oil, this refreshing, non-greasy moisturiser acts as a germicide to prevent pimples, ingrown hairs and skin irritation making it the ideal wax treatment favoured by beauty therapists.
Beauty Consultant's Note:
Delicious, unlike the title, Body Icing does not sit on your skin but rapidly absorbs into the skin.
Caron Body Icing is available from salons, Hairhouse Warehouse & beauty stores.
www.caronlab.com.au