The new Braun Syncro Logic shaver is the world's first shaver to think and act on behalf of its user as well as delivering an exceptionally close, clean shave.
Imagine a shaver that can decide for itself when it needs cleaning - and then do it automatically. Imagine a shaver that can decide when the battery needs to be conditioned to make it last longer and then does it. The new Braun Syncro System Smart Logic has 'Smart Logic' inside and can do all of these things. The way it cares for the shaver will put humans to shame!
For the ultimate package, add advanced shaver technology to this 'brain'. The shaver boasts the Braun Syncro System's sophisticated four way moving head, designed to get intimate with the contours of the face for an incredibly close shave. It also features the innovative 'Clean&Charge' unit, Braun's unique self-cleaning shaver device.
Cordless rechargeable electrical products normally need to be 'conditioned' by letting the battery run flat and then charging it up again at regular intervals. This is required to optimise the rechargeable battery's performance and prolong its serviceable life. The Braun Syncro System Smart Logic with 'Smart Logic' inside does the conditioning unprompted. Whenever the charging mode is selected, the 'Smart Logic' computer controls the battery status, automatically discharging and recharging it at optimal cycles. Result: the motor power is at its peak, ready to deliver maximized shaving performance - day in and day out, for years.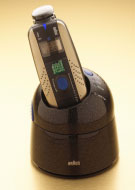 No two beards are alike; some men shave twice a week, others twice a day. So how does the user know how often to clean the shaver? On one hand there's no point wasting time cleaning a shaver more than necessary, but on the other hand a clean shaver is key to top shaving performance. The new Syncro Logic allows each user to personalise their cleaning mode. The shaver collects data on personal shaving habits, calculates the optimal point when the shaver should be cleaned and shows it on the display.
For closeness, the four way moving head pivots and, at the same time, gently moves from side to side. This four way movement dynamically increases the effective shaving area by 60%, capturing more hair in fewer strokes, while maintaining outstanding comfort. The battery manager, controlled by the 'Smart Logic' inside, optimises the motor power that drives the four way moving head for Braun's closest shave.
Convenience is the key reason why men choose to dry shave. With the Braun Syncro System Smart Logic, all men need to do is the shaving. Braun's innovative Clean&Charge services the shaver automatically: insert head first without removing the foil, and the Clean&Charge cleans, dries, lubricates, charges and simultaneously stores the shaver all in one. It's the most advanced, hygienic cleaning method in the market, and gives the feeling of using a new shaver every day.
Braun Syncro Logic is priced at $399 and available from department, electrical and specialty stores. Consumer information line:
1800 641820
.
Go to product review
formen_product_reviews.htm
---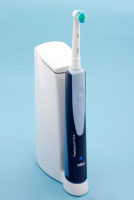 BRIGHTER, WHITER, HEALTHIER TEETH!
No need for Mess, Veneers or Bleach! New Professional Care power brushes from Oral-B are proven to whiten teeth naturally!
The new Professional Care 7000 Series power toothbrush from Oral-B, could be the answer...It's not just a fantastically efficient power toothbrush, it's also proven to naturally whiten teeth.
The secret to the new Oral-B Professional Care 7000 Series powered by Braun is the revolutionary technique pioneered by Oral-B rotation oscillation which has powered oral care to new heights and promises to keep teeth gleaming clean through the simple daily routine of brushing for two minutes, twice a day.
Rotation oscillation means the brush moves from side to side, with the Professional Care performing a staggering 8,800 oscillation-rotations per minute to whisk loosened plaque away. The Oral-B Professional Care is the only brush to also combine unique backwards and forwards 'pulsations' which loosens plaque at 40,000 pulsations per minute. With all that power and movement, teeth and gums stay healthy and surface stains caused by food or beverages, plaque or tobacco don't stand a chance.
According to the Cochrane Report, an independent review unveiled at the Forsyth Institute Conference on January 11th 2003: "Brushes that work with a rotation-oscillation action remove more plaque and reduce gingivitis more effectively than manual brushes in the short and long term... No other brushes are consistently superior."
The review found that rotation-oscillation brushes that utilize the technology pioneered by Oral-B reduce plaque and gingivitis by 7% and 17% more than manual toothbrushes.
A study involving 67 people revealed that after six weeks of using the Oral-B Professional Care 7000 Series toothbrush, the average stain area and intensity was reduced by 76 percent across the group . The brush achieves these results due to its superior speed. Further studies showed two minutes of brushing with an Oral-B Professional Care toothbrush was as effective as 10 minutes of professional dental polishing with a rubber cup/point.
Dentist, Dr Bridget Turnbull, comments, "Not only is this '3D' motion highly effective at removing plaque and reducing gingivitis, it also naturally removes stains so is particularly relevant for smokers, tea, coffee and red wine drinkers."
Dr Turnbull is often questioned by her patients on the best way for teeth to be healthy and strong and also look great. She explains: "The most effective, and economical, home treatment to keep your teeth clean, healthy and free of stains is through the regular use of a power toothbrush. In my opinion, backed up by clinical evidence , the Oral-B Professional Care 7000 Series delivers the best results."
The Oral-B Professional Care Series consists of two brushes both powered by Braun: 7500 DLX, (RRP: $149.95) and the Oral-B Professional Care 7000 Solo (RRP: $119.95). Both models are available now from leading department stores, pharmacies and electrical outlets.
Additional features include:
Two minute professional timer - signals briefly every 30 seconds indicating time to move the toothbrush to another section of the mouth, encouraging thorough brushing. Longer signal after two minutes as per dentists recommended brushing time.


Rechargeable - lasts for twelve days between charging when brushing two times a day for two minutes each.


Two speeds - high and low.


Pressure sensor - helps protect gums from excessive brushing force.


Full charge indicator - indicates when fully charged for long lasting use.


Antislip grip.


Two Flexisoft brushheads.

The Professional Care 7500 DLX also boasts:

Brushhead storage - hygienic storage for up to four brushheads.

Two tapered Interspace brushheads for cleaning between teeth, around bridges, crowns and implants.


Travel case.For further information on the Oral-B Professional Care 7000 Series consumers can call the hotline on 1800 641 820 or go to www.oralb.com.

Go to product review cosmetics_product_reviews.htm



Please also read about the B'Dazzled teeth whitening kits.