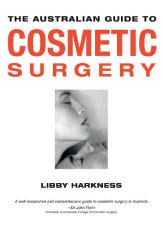 Eruopeans bound women's torsos for centuries; Indian sadhus used weights to lengthen their penises. Striving for beauty has always been a powerful determinant of behaviour - and it's no different today.
In Australia, both men and women are increasingly choosing cosmetic surgery - some, to permanently change their appearance; others, to delay ageing as they look for partners later in life and work longer.
The decision to have cosmetic surgery is not one to take lightly - and it should be well informed. Yet finding information amid the medical jargon, glamorised reports and sensational disaster stories can be a challenge.
'The Australian Guide to Cosmetic Surgery' is an essential reference. Straight talking and easy to read, it presents the facts about cosmetic surgery, and covers everything from Botox to breast surgery, laser to liposuction, penis enlargement to pectoral implants. It also includes specific procedures popular among Asian patients.
Find out:
how to tell a quack from a qualified practitioner

what's really in moisturisers and why they can't fix wrinkles

which treatments for baldness really work and why

what you can expect to achieve from a cosmetic procedure

how long you'll need off work to recover

what could go wrong (and how to minimise the risk)

how much it costs

Journalist and author Libby Harkness writes on a range of medical and health-related issues. Former assistant editor of Australian Doctor and publications officer for the NSW Cancer Council, she is author of 'Birth:Where and how', 'Looking for Lisa', and 'Skin Deep'; and co-author of 'My Left Breast.'

More information and stockists visit: www.coulomb.com.au