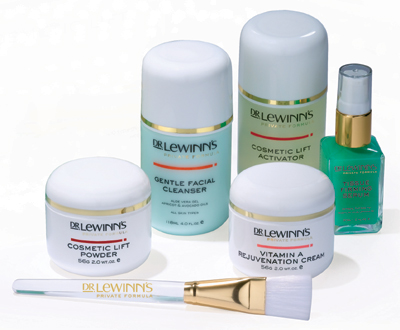 Dr. LeWinn's Private Formula Cosmetic Lift is an intense facial toning and rejuvenating masque containing anti-oxidants, vitamins, proteins and Aloe Vera. Cosmetic Lift pack includes Cosmetic Lift Powder and Cosmetic Lift Activator that contains Dimethyl Amino Ethanol (DMAE) which is not only an anti-oxidant, but greatly helps in firming skin for a dramatic result. With each stroke of the brush included in the kit, skin feels tighter; pores are more refined and pigmentation fades.

Cosmetic Lift also helps in reducing the appearance of scarring associated with adolescent and/or adult acne and fade the look of age spots and sun-damaged skins. To be used monthly or for more heavily lined or sun damaged skin, use fortnightly. It is suitable for all skin types, a patch test is recommended for sensitive skins

Dr. LeWinn's Private Formula - Cosmetic Lift pack. RRP $169.95.
Available at major pharmacies, Myer and David Jones department stores nationally. For stockists, call 03 9676 1800.

Individual items from the Cosmetic Lift pack can be purchased separately.

Cosmetic Lift Powder - 56g $49.95

Cosmetic Lift Activator - 4oz $21.95

Creamy Facial Cleanser - 178mL $32.95

Vitamin A Rejuvenation Cream - $49.95

Tissue Firming Serum - $54.95.