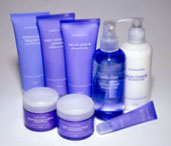 Go Botanical with David Jones 'Solutions for Sensitive Skin' Range. Combining the purity of nature with leading scientific expertise to nurture, moisturise and protect sensitive skin. Contains Chamomile, Calendula and Lime Blossom, mixed with Cucumber, Elder and Arnica to restore balance, sooth and calm your skin.
FACIAL CLEANSER
To effectively remove all make up and impurities. It contains herbal extracts of chamomile, calendula, cornflower and ivy to moisturise, soothe and comfort the skin. RRP $16.95
Beauty Consultant's Note:
May not smell of sweet fragrance, but it works exceptionally well.
FACIAL TONER
Gently soothes, calms and refreshes the skin. Herbal extracts of Cucumber, Elder and Arnica restore the skin's moisture level, leaving it purified and hydrated, and return skin to a normal pH level after cleansing. RRP $14.95
Beauty Consultant's Note:
Effective toner at a reasonable price.
EYE CREAM
This soothing eye cream has been formulated to bond and store vital moisture, reducing fine lines and puffiness. Botanicals of Lady's Mantle and Ivy both firm and strengthen skin, increasing its elasticity. RRP $16.95
Beauty Consultant's Note:
Soothing on the eye, light and non-irritable.
DAILY MOISTURE LOTION
This protects the skin and prevents moisture loss during the day as well as relaxing and softening the skin through the use of Marigold and Lime Blossom. RRP $16.95
Beauty Consultant's Note:
No heavy residue, yet thick enough that your skin feels protected.