To ensure your skin is smooth for all summer occasions or for those hairy emergencies that need a super quick fix; keep any one of the Lilliane Caron depilatories on hand. In no time, you'll be ready to hit the beach.
Made by Australia's professional wax brand, the Lilliane Caron range of depilatories will keep you smooth and hair free all Summer. Manufactured witht he same technology as Caron's professional waxes, the Lilliane Caron range ensures that at home waxers achieve the best possible result with minimum fuss and preparation.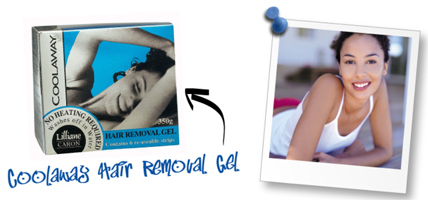 Coolaway Hair Removal Gel
This refreshing, cold hair removal gel doesn't require any heating and has a unique formulation containing Peppermint Oil to soothe, refresh and provide antiseptic properties making it the perfect wax for the summer heat!
The Coolaway formula combines a powerful grip that is able to remove hairs as small as 1mm retarding growth for up to 6 weeks. Coolaway is water soluble and suitable for all parts of the body.
RRP $14.95 350g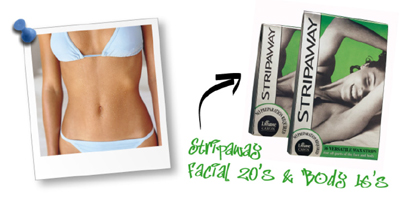 Stripaway facial 20's & Body 16's
Pre waxed Facial and Versatile Strips
The most convenient, fuss free way to remove hair...
Stripaway pre waxed strips are the perfect hair removal solution when travelling, for touch ups between salon appointments or for those who are just busy!
Stripaway is available in 2 sizes for the face and body and has a salon strength formula that will remove even the most stubborn and coarse hairs.
The Stripaway strip can be cut to any size for use on facial and sensitive areas. One Stripaway strip may be used up to 5 times.
Stripaway is not water-soluble and can be removed with Caron's After Waxing Oil.
Facial 20's RRP $8.95 Body 16's RRP $9.95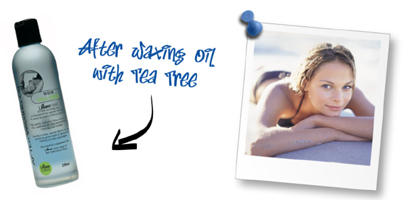 After Waxing Oil
It is vital that to soothe and condition the skin post waxing. A product that is formulated with antibacterial ingredients will help to prevent in grown hairs.
After Waxing Oil and Moisturiser in One is a high quality antiseptic post waxing treatment. It contains pure Australian 'Thursday Plantation' Tea Tree Oil to remove wax residue and condition the skin. This special formulation will prevent ingrown hairs & prevent bacteria from causing pimples and pustules. An easily absorbed, non-greasy formula that may also be used as a general moisturiser.
RRP $8.95 125ml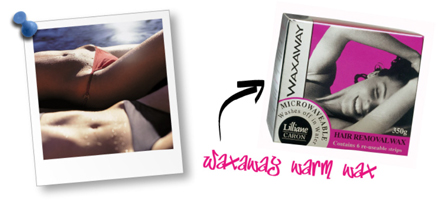 Waxaway Warm Wax
The original microwaveable wax
Waxaway was the first microwaveable wax on supermarket shelves over 20 years ago. Waxaway undergoes a specialised cooking process to provide an excellent grip and clean finish without sticky residue.
A water-soluble formula, Waxaway contains natural AHA's to revitalise the skin leaving it smooth, soft and silky.
RRP $11.95 350g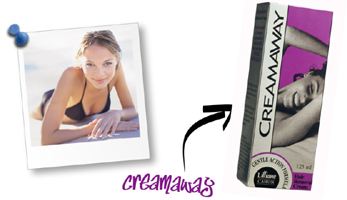 Creamaway
Don't want to wax?
Creamaway's soft gentle action formula has been developed to effectively remove unwanted facial and body hair.
Hair will dissolve upon contact with the formula and after rinsing off with warm water, will leave the skin hair free, soft and silky for days.
All you have to do is apply Creamaway with your fingertips, wait 5-7 minutes and wipe off. It's that easy.
RRP $8.95 125g
Lilliane Caron products are available at: Priceline, Target, K-mart, Coles, Bi-Lo, Foodland (WA), Petra, My Chemist, Full Life Pharmacy, Tomeo & Laslett.