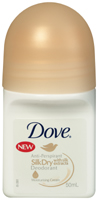 Did you know that shaving your underarms just once a week can cause skin tissue damage?

For the majority of women in Australia who wet or dry shave, especially more during the summer months, this is probably a bit of a shock - but your underarm skin is more delicate than you think!

Shaving just once a week can cause skin tissue damage and skin can be left feeling raw, sore and irritated. Each time you shave, up to 20% of what is shaved off is skin tissue and you disrupt the lipid barrier - the layer that helps retain moisture in the skin cells.

However dont despair - the solution is quite simple and effective...Dove Deodorant is the only deodorant that has built in damage control to cope with the traumas of shaving whilst also helping to keep you fresh and dry all day.

Dove Deodorants ¼ moisturising cream replenishes the skin to reduce the irritating dryness caused by shaving and helps to keep the skin soft and smooth. It also offers effective all day anti perspirant protection and is dermatologically tested, alcohol free and ph balanced so its gentle on your delicate underarm skin.

Your skin has an 11-day renewal cycle and regular shaving never gives it the chance to renew itself and regain moisture loss. Most of us use moisturisers for our face and body to put back into the skin what shaving, dehydration and the environment takes out, but bet you never considered caring for your underarms in the same way? Did you know...


Your underarm skin is as delicate as your face and contains 1% of sweat glands and 99% skin...so remember that next time you attack it roughly with a razor!

Women actually use significantly more strokes of a razor on their underarm than they realise, probably twice as many as they think! With an average of 10 strokes per shave, twice a week that is over a 1,000 scrapes per year...ouch!

If you shave every 3-4 days then you also actually remove more skin, due to hair being much shorter!

Doves safe shaving tips:

Use a sharp razor with multiple blades which helps reduce irritation as you wont have to go over areas more than once...
Lather up well with a moisturising bodywash: underarm hair grows in multiple directions so you have to shave at different angles

Allow at least three minutes under water before shaving as this allows the hair shaft to soften making shaving easier

So, let Dove Deodorant with its ¼ moisturising cream, put back in what shaving takes out so you can confidently show off your underarms this summer!

Dove Deodorant - with built in damage control for your underarms!

Dove Deodorant is available in aerosol, roll on, cream, stick and pump
There are 3 variants to choose from - Original, Unscented and Silk Dry

Available through all major grocery, variety and pharmacy stores nationally and are priced at $3.39 for the anti-perspirant Roll-on and $4.39 for anti-perspirant Aerosol.