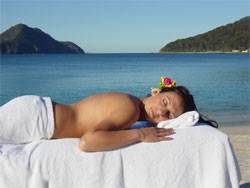 Located 2.5 hours from Sydney, close to Newcastle airport, Shoal Bay Resort & Spa features a state of the art $5.5 million Aqua Spa.
Resort guests over the age of 14 have exclusive access to the Aqua Spa, which includes a 25 metre lap pool, three spa pools (sea water 18 degrees, mineral water 28 degree, and freshwater 38 degree), a fully equipped gymnasium, racquet-ball court as well as a hairdresser & beauty salon, and an amazing new Yon-Ka Treatment Centre.
Aqua Spa has tapped into the pristine salt waters of Shoal Bay and the mineral rich waters of the surrounding sand beds to offer treatments that help you relax, unwind and rejuvenate.
FACIALS
The all-natural and personalised Yon-Ka facial treatments provide you with a comprehensive selection of choices to optimise your skin's beauty and health.
SPA FACIAL: $66: 40min
PERFORMANCE FACIAL: $90: 60min
Aroma Plus - aromatic, relaxing and well-being facial.
Hydra Plus - long lasting, deep hydrating facial.
Radiance Plus - organically sourced Aha-Bha, fruit acids to smooth your complexion.
Purify Plus - cleansing & balancing, inflammations are controlled, skin becomes clearer.
HIGH PERFORMANCE FACIAL: $110: 80min
Le Grand Classique - a deep, gentle cleansing facial, restoring and relaxing.
Lift Plus - deep lifting & firming facial. You are left looking beautiful & relaxed, with a renewed sense of harmony.
Vitality Plus - revitalising anti-wrinkle facial. Your skin rediscovers balance, elasticity and vitality.
HIGH PERFORMANCE EYE & LIP TREATMENT: $66: 40min
Specific massage helps to combat puffiness and dark circles. Fine lines are smoothed away and your eye contours are left looking fresh, vibrant & luminous. Includes cleansing, exfoliation and moisturisation of the face.
BRIGHT EYE TREATMENT*: $35: 20min
Massage and mask for the delicate eye area to stimulate drainage and circulation around the eyes, toning down puffiness and dark circles.*Available as an additional service with the pedicure treatment only.
YOUTH ELIXIR: $130: 60 min
A pure oxygen gas infusion, combined with vitamins and minerals to regenerate and boost the health of every cell.

Review: I was lucky enough to have a Performance Facial from Andrie, who expertly assessed my skin type and problem areas with an informative approach. Using relaxing techniques, she rehydrated my skin to give it a glow that I haven't seen for a while.


MASSAGE
Energising or relaxing, according to your needs, in a balancing atmosphere full of essential oils of orange, vanilla, sandalwood and more.Massage therapy assists in restoring the normal functioning of your muscular, nervous, circulatory, digestive and lymphatic systems, enabling your body and mind to heal itself.
AROMATIC RELAXATION MASSAGE: $50: 30min / $65: 45min / $80: 60 min
REMEDIAL MASSAGE: A firmer technique is adopted which is excellent to help treat specific musculoskelatal problems and injuries. $55: 30min / $70: 45min / $85: 60 min
FOOT MASSAGE: A foot massage to relieve tired feet, incorporating pressure points to stimulate the healthy function of organs. $30: 20min

PURE OXYGEN THERAPY
Stress, pollution, sun, free radicals - all cause havoc at the cellular level. The oxygen molecule goes to work restoring, rejuvenating and tightening the skin with visible results.
OXYGEN STEAM BODY TREATMENT: $55: 40min
Full body brushing followed with a warm application of nourishing essential oils. A pure oxygen and steam affusion whilst you are laying down, including a 15min stess-relieving scalp massage. This treatment induces relaxation and the skin takes on a healthy glow. Finished with a warm soothing rain shower.
OXYGEN BREATHING: $22: 20min
Oxygen induces relaxation and helps improve concentration and alertness. Relieves headaches, jetlag, hangovers, stress and anxiety.
BIOPTRON LIGHT THERAPY: $11: 10min
Polarised light stimulates the release of regenerative processes in the human body by means of visible light, helping the body to regenerate, rebalance and heal itself. Just as plants need sunlight to thrive, so do we. It is used for improvement in skin tone and texture.

BODY REJUVENATION THERAPIES

REVIVE - Marine Clay & Steam/Shower Canopy: $165: 80min
After a marine clay, rich in detoxifying and anti-fatigue properties, is massaged onto the body to stimulate lymphatic drainage, you drift away as a steam bath infuses the clay with further aids in detoxification. You'll also enjoy a spa sampler facial and stess relieving scalp massage. Washed away with 4 shower heads inside your cozy steam canopy, concluded with an application of healing and stimulating essential oils to eliminate toxins and boost metabolism.
REJUVENATE - Seaweed Wrap & Invigorating Shower: $165: 80min
A long-lasting, deep hydrating face and body treatment that leaves your skin smooth and velvety. A plant-based soft gel peel with a delicious citrus fragrance is followed by an application of seaweed. You are wrapped in a warm heat blanket for intensive skin cleansing, increasing the elimination of toxins. Washed away with an invigorating vichy shower, finishing with a regenerating application of active ingredients.
DE-STRESS - Clay Massage & Choice of Hydrotherapy: $165: 80min
A total face & body spa indulgence - to leave you feeling energised and renewed. The unique clay is formulated with essential oils and plant extracts to gently exfoliate, nourish, eliminate toxins and help to increase metabolic action. Fragrant oils of wood and plants are applied to the body, then you are enveloped in soft aromatic clay and gently massaged to stimulate the lymphatic system. Following is your choice of hydrotherapy - Vichy Shower, Hydrotherapy Bath or Oxygen Steam Bath. The pampering is complete by deep, total face and body moisturising.

HYDROTHERAPY

VICHY SHOWER TREATMENT: $60: 30min
The rain bar has eight shower jets placed above specific points along the spine and legs. Adjusted to provide either light rain massage, or a higher pressure to target specific tension areas. Your therapist incorporates an application of warm aromatic oils to induce a state of deep relaxation.
AROMAMARINE HYDROTHERAPY BATH: $55: 30min
Ignight your senses as you submerge into a luxurious bath, seventy-two water jets are programmed to massage all parts of your body - a truly relaxing experience. A mixture of sea salt crystals and eucalyptus oil plus Mineral Water, to relax and rejuvenate.
HYDROTHERAPY SEA BATH : $55: 30min
Seawater and marine algae bath to remove toxins and boost the metabolism, good for fluid retention.
TASMANIAN MILK HYDROTHERAPY BATH: $66: 30min
Bathe in milk, just like the ancient Egyptians. Leaves your skin cleansed, subtle, moist and polished. The lactic acid exfoliates and the antioxidants nourish the skin.
AROMATIC STEAM: $38: 30min
In your own private steam room, you choose your own personal blend of aromatic oils. You are also provided a dish of sea salts and nourishing body lotion to perform your own exfoliation in the steam room. Steam relaxes you and renews your energy, while promoting health and beauty by eliminating toxins from the body. Shower off in the same room - perfect before a massage.

If you would like to learn more about Shoal Bay Resort & Spa call 1800 18 18 10 or visit: www.shoalbayresort.com