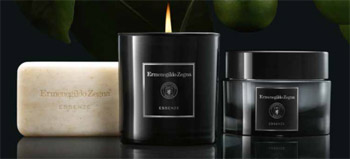 Ermenegildo Zegna Essenze Grooming Collection
ermenegildo zegna parfums unveils an exquisite grooming collection, impeccably designed and rooted in quality and luxury. essenze expands its story by integrating the artisanal craftsmanship central to the fragrance collection for a superior and discerning assortment. now the zegna man masters all the essentials for his refined grooming regime.

each grooming item is woven with the core ingredient of the essenze collection– italian bergamot. just as ermenegildo zegna uses only the finest fibres and fabrics to create its iconic fashion collection, zegna parfum products are crafted from only the most exquisite raw materials, recast as an exotic essence. the essenze grooming collection includes moisturizing balm, exfoliating body bar, and a candle, each tailored for the zegna enthusiast.

moisturizing body balm soothes dry areas of the body with a rich and innovative texture that effectively softens and conditions dehydrated skin. the moisturizing balm is fragranced with italian bergamot for a refreshing indulgence. the double-walled, black-tinted jar is topped with a sleek, black cap for a signature look. the moisturizing body balm 200ml retails for $100.

exfoliating body bar, a luxe, exfoliating body bar infused with the scent of citrus peel, bamboo and olive oil cleanses and polishes the body for supple and smooth skin fragranced with the scent of italian bergamot. the rectangular, natural coloured soap bar is wrapped in black protective paper featuring the zegna crest. the exfoliating body bar 200g retails for $60.

the candle fills a room with the fresh scent of zegna's exclusive italian bergamot fragrance for a lasting, enticing essence. the candle stands in a black, glossy, glass holder with an etched essenze logo. the candle 225g retails for $100.

The Essenze Collection is available at Ermenegildo Zegna Boutiques and selected david jones stores.