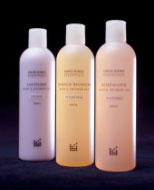 Each Gel has a gently lathering formula that feels luxurious and lavish, but is perfect for everyday use.
DETOXIFYING ORANGE BLOSSOM
Orange Blossom is renowned for its ability to tone the skin, and is combined in this Gel with the powerful antioxidant of Green Tea and detoxifying Grapefruit water. It will gently wash away all the city pollutants that leave skin feeling dogged and lifeless, leaving it freshened and rejuvenated.
SOOTHING ROSEWATER
Rosewater with its hydrating qualities and soft aroma is combined with Aloe Vera - one of nature's most potent and soothing moisturisers to put back what a hectic life and harsh climate take out. It is perfect for replenishing the skin after being exposed to winter's drying winds.
CALMING LAVENDER
The subtle combination of Lavender Essential Oil and Chamomile Extract are a heavenly combination to calm, relax, soothe and balance you. This is the ideal additive to a hot bath to wash away stress and tension.