Slip, Slop, Sweat
Australia's top fitness experts share their favourite summer fitness sessions and how to keep sun safe.
As the weather heats up, its the perfect time to take your workouts outdoors and soak up the beautiful weather, Australian coastlines and working out in and among Australia's parks and beaches. As we pack our gym bags this summer, there are some essential items we can't workout without.
Sydney's top trainers reveal their summer fitness regime and what's in their gym bag:
Blake Worrall-Thompson - Fitness and Performance Coach
"For me I know the intensity of the Aussie sun so if I am spending time outdoors I need to protect myself. I tend to run more in summer than I do in winter and depending on what I am training for it can be up to 2hrs of running - or even a 2hr surf. With that in mind it's imperative that I put protection on. I last about 30mins in the sun before I start to fry otherwise! My gym bag is always loaded with Invisible Zinc sunscreen, a hat and my protein for a post run, workout or surf."
Ben Seymour – Personal Trainer and Online Coach
"I really enjoy training outdoors all year round but especially in the hot Aussie sun, I use Invisible Zinc to protect my skin from the harmful UV rays. Invisible Zinc is great for my training style - It's light and rubs in clear which is a massive bonus when your sweating during your session. Nothing worse than sunblock stinging your eyes!"
Ben enjoys recovery walks or swims at the beach whenever he gets the chance. "I often take my sessions down to the beach that include minimal equipment and always end up in the water to finish!
My favourite session at the moment is
10 X push-ups
10 X Chin ups / inverted row
20 X Squat Jumps
20 X Dips
20 X sit ups
200m run
X 10
Swim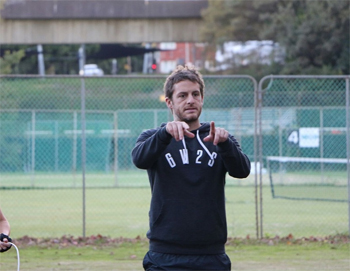 Personal Trainer, PE Dept – Camilla Bazley
"I ALWAYS use sunscreen when I train outdoors - I love having glowing skin. It spreads your energy to the world, and when it's dehydrated, burnt, blotchy or pealing I don't feel great. Not to mention skin cancer - it's such an easy thing to avoid if you slip slop slap, so I make sure I lather up. Invisible Zinc is perfect for me as I live a very active lifestyle and exposed to the sun a lot with training outdoors."
When it comes to staying active, Camilla loves to run. "I run every day in summer, but when it heats up, I'm all about the water. A day on the beach running the sand and catching waves, or getting an entire weekend of water skiing in. That sums up the perfect and ideal way to stay ACTIVE under the sun," said Bazley.
Invisible Zinc recommends the 4 hour water resistant range for keeping fit in the outdoors:

Invisible Zinc 4HR Water Resistant Sunscreen SPF 30+ UVA-UVB - offers 4 hours of water resistant sun protection with active ingredient zinc oxide. With a transparent finish, it's ideal for use in sports and water activities.
Invisible Zinc 4HR Water Resistant Sunscreen SPF50+ UVA-UVB - Using our latest technology, this formulation applies smoothly to the skin with a silk touch finish while providing the highest level of sun protection in Australia. Water and sweat resistant, it is ideal for sports and outdoor use
Invisible Zinc has your summer sunscreen decoded:
Make sure your sunscreen protects against both UVA and UVB radiation. This means using a broad-spectrum sunscreen. However, no sunscreen provides 100% protection from UV radiation and there will always be some UV radiation reaching the skin. For example, SPF30+ sunscreen only protects against approximately 96.7% of UV radiation, and the longer your sun exposure, the more UV radiation that will be transmitted to your skin.
SPF stands for Sun Protection Factor and measures the level of protection against sunburn that a sunscreen provides. The higher the SPF, the better the protection from UV radiation. The maximum SPF of sunscreens sold in Australia is 50+
Sunscreen provides a screen or filter from the sun's rays. Sunscreen does not provide 100% protection from UV radiation.
UVB radiation penetrates the top layer of skin and is the main cause of sunburn.
Choose a sunscreen that uses zinc oxide as it creates a physical barrier between you and the sun. Invisible Zinc® protects against surface UVB and deeper penetrating UVA.
For more information visit: www.invisiblezinc.com.au