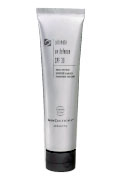 SkinCeuticals
Preparing us for a harsh summer ahead, SkinCeuticals is arming us with their latest technology, Ultimate UV Defense SPF30. The SkinCeuticals sunscreen, features advanced ingredients for maximum protection against UVA and UVB exposure.
Formulated with two of the most innovative and effective sunscreen ingredients available Z-Cote HP1√, a broad spectrum coverage that contains micro fine invisible zinc oxide to provide the greatest protection available for UVA and UVB rays and SunCaps√, an encapsulated form of the sunscreen ingredient octyl methoxycinnamate for added UVB protection with fewer sunscreen chemicals and less irritation. It is from balsam of Peru, cocoa leaves and storax (storax is also known as styrax or sweet oriental gum) - the resin obtained from the bark of an Asiatic tree.
SkinCeuticals recommends liberal application to all exposed areas of the skin and to follow with re-application after 2-3 hours of exposure, swimming or exercise.
RRP $67.95 for 90ml/$42.65 for 45ml. Available from professional clinics, salons and day spas across Australia.
Call
1 800 242 011
or visit
www.superiorskincare.com.au
for stockists.