Michelle Sanfilippo Australia Is Facing A Man Drought Interview
New research released reveals Aussies admit they're in the market for more mates – with almost half of us (45%) having fewer friends than we'd like.

The -Mate Metre' research, from leading adventure travel company Intrepid Travel, reveals that 55% of us claim to have one to three close friends, despite almost half of us (43%) agreeing the ideal number of close friends to have is four to six.

The Intrepid Mate Metre was commissioned in celebration of Intrepid's 25th anniversary, during which time the Australian-owned company has helped forge thousands of lifelong friendships through small group tours.

The research shows one in five (20%) of us are indeed looking to expand our social circles – confessing we're unsatisfied or only slightly satisfied with the number of close mates we have overall.

Resonating with many Australians across the country, Intrepid's Mate Metre, found more than half (58%) of us offer good reasons for why we've lost friends over time, such as drifting apart from mates as we get older, having different lives and priorities and finding it harder to make new friends as time goes on.

However, in good news for Aussie mate seekers, the Mate Metre also revealed more than 2.5 million Aussies have forged their closest friendships while travelling and living overseas.

This was in fact the case for founders of Intrepid Travel, Melburnian mates Darrell Wade and Geoff Manchester, whose successful business was born from an adventure of two mates 25 years ago. In 1989, the pair modified an ex-council truck and crammed it with friends as they took off on an epic road trip through Africa, discovering that many others also enjoyed making and reconnecting with friends during travel.

The pals then launched Intrepid Travel to cater to this demand, and now send over 100,000 travellers around the globe each year, offering more than 800 different itineraries across Europe, Asia, Africa, The Americas, The Middle East, Australasia and Antarctica.

Mr Manchester said: 'Over the past 25 years, Intrepid has helped thousands of people connect or reconnect with new and old friends through our small group tours. With the Mate Metre showing over half of Aussies would like to widen their friendship circles, we're proud to be helping people travel the world while making long-lasting and real connections along the way.

'Over and above the educational, cultural and inspirational experiences we have while travelling, we believe it's the people we share these memories with that make them so unforgettable. Travel is undoubtedly a powerful way to form new friendships and reconnect with old friends."

To read more stories of friendships forged – or strengthened – through Intrepid Travel, visit http://www.intrepidtravel.com/about/friendships



Interview with Michelle Sanfilippo
Michelle is a good example of an Aussie female who has combat the -Mate Drought' by travelling overseas to beat the battle for BFFS! (1 in 10 (10%) Aussies have formed lifelong friendships with someone they met while travelling).

Question: Can you talk us through how you've combatted the -man drought'?

Michelle Sanfilippo: Not sure if the 'man drought' refers to their not being enough men for all the ladies or just not enough good men?

I have been with my de-facto partner for 18 happy years, so I have been lucky enough not to be affected by the 'man drought'.


Question: Where have you travelled?

Michelle Sanfilippo: I have travelled to six continents, I think I have travelled to approximately 55 countries. I love traveling and try to go somewhere new each year.


Question: Why do you choose to travel with Intrepid?

Michelle Sanfilippo: I like the fact that Intrepid: keep the group size to a maximum of 12; use local transport; encourage their passengers to interact with locals to learn from them and have fun with them and experience their culture; offer a huge range of trips - different styles of travel, destinations, 1 country only or overland to several countries etc; include some meals and activities but leave their passengers enough free time to explore on their own; hire local guides; donate money to charities within the countries visited; offer fun, interesting, awesome itineraries and allow their passengers not to simply travel to and through countries, but to really merge themselves and experience the places visited.


Question: What relationships have you created, whilst travelling?

Michelle Sanfilippo: In 2003 my partner and I spent four months traveling about Europe and Egypt before heading to South America for an awesome week in Rapa Nui.

Then he left for Australia and I joined an Intrepid tour group in Lima in January 2004. I think the tour was called "The Great South American Journey". The tour group had already travelled together for two weeks from Ecuador to Peru and were all really close already with lots of inside jokes, fun travel stories and even a couple of romances.

There were four Swedish people on the tour, three girls (Anna, Anna and Josefin) traveling together and one guy traveling alone (Chris). I immediately hit it off with all of them and we soon became great friends and I felt totally welcome and part of the group. We were together on the tour for six+ weeks and I was of course sharing a room with the girls, so we got to know each other quickly and had the time of our lives on the tour - not only is South America an amazing place to visit, the tour was run impeccably well, the tour guides were fantastic and we had so much fun.

Machu Picchu was a challenge, made all the more rewarding and memorable for the fact that it was experienced and achieved with new found friends. When I departed the tour in Buenos Aires and said my goodbyes to my four awesome new Swedish friends I hoped that I would get to meet them and travel with them again someday.


Question: How has this friendship continued to develop even once you returned home?

Michelle Sanfilippo: The Swedes and I have kept up via email, phone calls, snail-mail and send each other parcels of candy from our countries as well as other presents on special occasions.
In 2005 I visited Sweden to see them all again and learn more about their country - I ate so much delicious Swedish candy, cruised the Stockholm canals, sipped hot chocolate out of bowls, saw Elk and had a wonderful time with the friends I had made the year before.
In the Summer of 2006, two of the Swedish girls (Anna and Anna) came to visit me in Australia and spent a fantastic week visiting all the fun and touristy stuff in Perth, meeting all of my friends and family and enjoying the weather. The girls were particularly impressed with both Rottnest and the experience of eating a choc top ice-cream at an outdoor cinema in January!

I visited Sweden again in 2007 and my friends showed me more of their fabulous country - the theme park at Grona Lund, the open air museum in Stockholm, the Vasa museum and more candy.

I travelled to Sweden again in 2010 to visit Josefin who had just had a baby and moved to the country - Skallinge. I also visited Chris in Stockholm and then Anna.B, Anna.W and myself traveled together to Scotland for a new travel adventure together, driving about the gorgeous countryside, checking out castles etc - I had to drive seeing as the Scots drive on the same side of the road as us, Aussies.

In 2012 Tiho AND I and traveled to Sweden to attend Josefin's wedding, which was truly magical. She finally got to meet my partner after so many years of hearing all about him and he was honoured to be welcomed into the hearts and homes of my Swedish friends - to eat lots of Swedish meatballs and candy (not together!) and to explore such a beautiful country. We also of course caught up with both Anna and Chris and saw more of Sweden and this time made it to Norway also.

This year, 2014 we visited Sweden again, my fifth time and my partners second time. It was the 10th anniversary of our Intrepid trip to South America. All of our Swedish friends are now married with kids and we met all of the new additions to the families and drank a lot of cider and ate a lot of candy and this time made it to the ABBA museum.


Question: The survey found that one in five (20%) of us are indeed looking to expand our social circles; would you say this is true of you, too?

Michelle Sanfilippo: Absolutely - I have friends in lots of different Australian cities (Adelaide, Melbourne, Hobart, Canberra, Brisbane) as well as friends overseas (USA: Seattle + Washington DC, EUROPE: UK, Croatia, Bosnia, Slovenia, Sweden and Germany) and I keep up with them all via email and Facebook and every now and then snail mail. Each time I plan an interstate or overseas holiday I take into account where all of my friends live and try to visit as many of them as possible. Having friends living in lots of different places really opens up your horizons - they take you to new places to see and they teach you about themselves, their culture, their history, their country - it's awesome. I love meeting new people and I love spending time with old friends.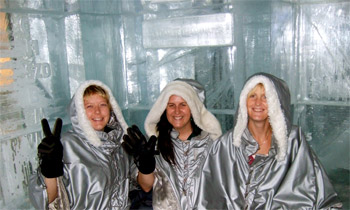 Question: What do you enjoy most about travelling?

Michelle Sanfilippo: New experiences - trying new food, meeting new people, learning new languages, learning about the history and culture of new places, getting to sleep in sometimes, not being at work, being challenged physically and mentally, being able to have cocktails during the day and on weeknights, trying things I wouldn't normally try at home, getting to lay by a pool or at the beach in the sunshine whilst back at home it is winter, spending quality time with my travel buddies.


Question: Can you share with us your most amazing travel story?

Michelle Sanfilippo: I have had so many amazing experiences whilst traveling, I am lucky to have traveled to so many places and met so many amazing people. As well as meeting new people I love animals and I love learning about them and interacting with them. I think one of my most cherished travel memories is visiting Monarto Zoo in South Australia and getting to pat the cheetahs and spend time with them in the open plain zoo where they were hand raised by humans. It was certainly an amazing experience.


Question: What about the most difficult of travelling stories?

Michelle Sanfilippo: I have been pretty lucky really - to date I have only had a watch and some sunglasses stolen whilst traveling. I have never gotten too sick whilst traveling and I have never met anyone on an Intrepid trip or whilst traveling alone or with friends that I haven't had a great time with I guess some minor difficulties of travel are saving up for your trip, jet lag, trying to find laundromats, trying to find vegetarian options and having to come home at the end of the holiday! Yep I really have nothing to complain about.


Interview by Brooke Hunter