BY GEORGE, SHES GOT IT.
EXCLUSIVE by Paul Fischer in Los Angeles.
Shes a wife, a stepmother, a former ice skater, TV soap actress, and movie star, not to mention gracing the cover of Australian Vogue! Melissa George may well be the hardest working Australian actress in Hollywood, and it seems her career is just beginning. Paul Fischer reports.
The Beverly Hills hotel room in which 32-year old West Australian actress Melissa George finds herself, is far from her birth place. Yet she is completely unphased by where her life has landed her. Busy promoting her co-starring role as an Australian tourist being terrorized in the new thriller Turistas, Melissa George oozes confidence. Admitting that in this tough Hollywood business, she is competitive, she says that what drives her to succeed here is pure passion for what she does. "I literally dont sleep, and my husband can vouch for that," says Melissa George as she describes her audition process for a role she is desperate to play. "I wont sleep for two weeks until I hear, because I live the part. When I read the script I want to go on that journey with that person and if I have to bury that character, so watch out! My agents told me the other night, youre a great girl but youre a little crazy." Not so much crazy, Melissa George insists, but passionate "because I like acting, and I dont like anything else. I like the feeling of a camera, what lens you are on, visualizing how its going to look, getting a performance then action and cut and really putting yourself on the line." Melissa George says her sense of competition comes from her days as a champion skater. "I won gold, and Im second in the world for artistic skating, so I know what it is to have thirty people go out on the rink and be the best that you can."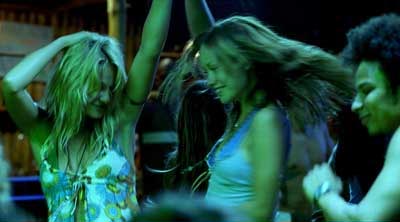 The Perth-born Melissa George said she was drawn to acting because "I love the thrill, I love emoting and I love the family feeling of crews and telling stories with dialogue and acting and shots." Melissa George says that she was something of a class clown, an attention seeker growing up in Australia. "I was a tom boy and would get into so much trouble to the point where my parents were called up to the school because the teacher was crying," Melissa George laughingly recalls. "I would laugh, the teacher would talk to me and I would be over there doing something else totally in my own little world. Then the boys would make jokes and I would be laughing on the ground, falling off my chair, then theyd send me outside and theyd stick my head up in the window and walk along and make all the boys and girls laugh. I guess I was a clown."
At the same time in which the beautiful actress is trying to make her mark on Hollywood, she is balancing a busy career with her marriage to Chilean director Claudio Dabed. They are both outsiders, so Melissa George says, theirs is a match made in heaven. "Im from Perth and hes from Chile, so we fit in anywhere. My home is within myself so wherever I live I dont care." They married when the actress was 21, and the reason for their successful marriage, she says, is "he wants me to be the best actress I can be. He reads a script and asks, wheres it shooting. I say Brazil for three months and he says, whats the part, do you love it, is it going to stretch you as an actress. And I say, yes and he goes go do it baby. What my marriage has done when you marry the right person is they want to see you be the best person you can be but when you marry wrongly they want to put you down to make themselves feel better. Ive married a man that actually wants me to be a great actress and puts that first." Melissa George says that she is desperate to have kids, but this workaholic "doesnt have time and thats the dilemma, between being a very caring maternal kind of woman and also loving acting. Hopefully the two really go together one of these days."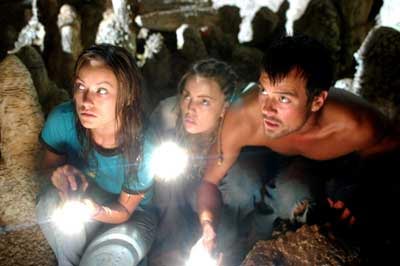 Melissa Georges career is at full blast, and is more than happy to put motherhood on hold [though is a stepmother] while she focuses on her career. Audiences will first see her playing a bikini-clad Australian tourist fluent in Portuguese, in Turistas. Donning a fake tan and sexy bikini is not a bad way to make a living, and has no doubt as to why she took this on. "I was meeting with a very high powerful woman editor, I was shooting this article for Derailed coming out and I said to her, listen I want to ask you because you know movies and actors. I have this offer to do Turistas what do you think and she said, if you do, she said, for your life you need to do it, because were making movies but you also have to live as a human being." The first Hollywood film to shoot entirely on location in Brazil, Melissa George says that "going to Brazil for three months changed my life, made me a better actress, more resilient, tougher and it was a young role. Part of the attraction for me was that it was youthful, it was flamboyant and free which is how I am but I like to do these dramatic parts. I didnt want to be pigeon holed into an age group, so there are a lot of attractions about it and I also got to speak Portuguese, because I wanted to learn a language."
Melissa George, who achieved some success on the small screen as the villainous Lauren Reed in Alias, continues to assume a variety of projects. She may not be as famous as some of her peers, but she is getting there. "After all, Ive barely lived in my house in Los Angeles Ive been so busy." Melissa George has completed work on four other projects, each showing off a different facet to the actress, beginning "with this amazing film WAZ with Stellan Skarsgard and it was probably one of the greatest acting experiences. I play a rookie cop, to Stellans character and once again this amazing relationship between Stellan and I unfolds as were going after a serial killer. I discover myself throughout this story and its about altruism, almost like what happens in nature where a monkey for example go out in front of the wild and to protect three hundred monkeys in their clan and gets killed in order to save their gene pool. So its about this story about how far will you go, how much pain will it take before you kill somebody you absolutely love and couldnt live without. Its also a serial killer story that is quite genius, really gritty, and we shot it on hand held, which was great."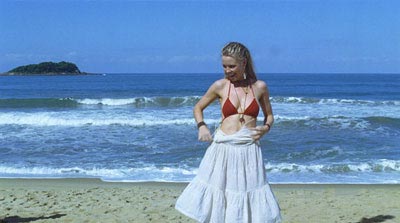 Melissa George followed that with Music Within, which she describes as a "this gorgeous movie set in Vietnam about the Vietnam War in this story about Richard Pimentel. Its Michael Sheen and I set in the seventies and they age me from the seventies to the modern day." Melissa George is currently in New Zealand, starring opposite Josh Hartnett in Thirty Days and Nights. "Thats been a five month shoot, and is a big film," she says. Based on the graphic novel, "Its set in Alaska with Josh and I playing sheriffs. Were divorcing and throughout the thirty days where theres no daylight, the vampires come to this Alaskan town where we reunite our love. And thats a really great piece because Im working with one of the best film makers and I just feel lucky." Melissa George is also committed to the HBO telemovie In Treatment with Gabriel Burns and Dianne Wiest "which is an acting job. Its two people like this talking, Im a patient, and hes my psychologist." That takes the busy actress to years end.
Melissa George will be spending Xmas with her husband in Argentina, and as busy as she is, has no time to feel homesick. "I see my family all the time," she says. And with her slight American twang in toe, it doesnt seem that she fells especially Australian these days. "Oh look when I get to Perth it brings back memories of this is where I was born and this is where I lived. I moved to Sydney when I was sixteen and that really sort of changed my mentality of where I was from in Perth to Sydney and now Sydney to America. I feel like Im more cultured, and more part of the world more so than Australia. But when I go back to Australia Ive definitely Australian, in that my accent comes back so strong and my relaxed ways come back full strength. "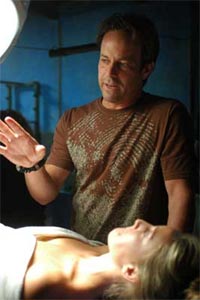 The perception about the actress, wife and mother, is that she has the perfect life, but Melissa George says, professionally at least, she has a long way to go. "I havent worked with the directors yet that I want to, Ive still got a lot left in me and I think its not perfect, but then nothing is. I dont spend time in my home, I cant ever have a home since Im always travelling which is wonderful but thats the downfall. Sometimes I just want just to sit back."
But clearly, the way things are going, her sitting back is a long way off.
Melissa George InterviewsMusic Within, 30 Days of Night -
www.femail.com.au/melissa-george-music-within-30-days-of-night-interview.htm
Turistas -
www.femail.com.au/melissa-george-turistas-interview.htm
Amityville Horror & Alias -
www.femail.com.au/melissa-george-amityville-horror-pf.htm
The Amityville Horror -
www.femail.com.au/the-amityville-horror-review.htm
Derailed -
www.femail.com.au/derailed-review.htm
Order Now from Chaos
Order Now from Sanity