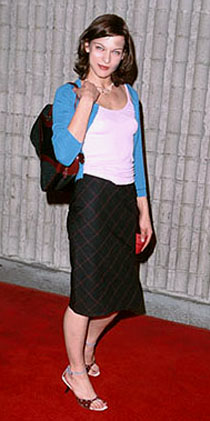 FEELING WICKED AND SEXY

Milla JovovichInterview by Paul Fischer in Los Angeles.

Milla Jovovich is not one of those sexy film stars who is especially shy about her looks, and let's face it, the model-turned-actress is not unattractive. In her latest film, the dark sci-fi horror hit Resident Evil, Jovovich spends much of the film in very short, slinky outfits, and when we first see her, she's naked candidly admitting, and "My looks are who I am". Jovovich adds that "I think I'm a very pretty girl. I'm never going to pretend to think otherwise. There are even days I feel I'm fabulously hot and sexy," says Jovovich, 26, who began modelling shortly after her ninth birthday. "I'm grateful for my looks. My family is doing well because of them. I can make career choices and turn down movies because of them, and I have been making money from them for 17 years."

Since her cameo appearance in 1988 in Two Moon Junction, Jovovich has starred in some 16 films, including Return to the Blue Lagoon, Chaplin, The Fifth Element, He Got Game, Messenger: The Story of Joan of Arc, The Claim and more recently, Zoolander.

In Resident Evil, Jovovich plays Alice, a futuristic super agent with limited memory of her past who, with fellow commandos, must try to isolate a virus that could conceivably wipe out mankind. Resident Evil is based on the video-game series that has sold more than 16 million units worldwide grossing more than $US600m. The film version, directed by Britain's Paul W.S. Anderson, is a prequel to the five video games, so it will be the first time fans meet Alice who loved being both sexy and tough, Jovovich confesses. "I loved how sexy her outfits were. Her underwear combo at the end of Alien is so hot. That's the feel I was going after for my hospital gown at the end of Resident Evil. Paul let me design that gown myself," she says when referring to her skimpy costume resembling two short sheets held together by surgical tape. As for her early nude scene in the film, Jovovich take a blasé perspective. "For me nudity is not an issue and in this film, it was great and looks beautiful. People love it. Guys are freaking out and it is wonderful."

As for defining a character who stems from the world of video games, Jovovich relished the challenge. "I think part of what makes acting so amazing for me is taking something that is literally black and white on a page and breathing life into it and only in the last few years have I been able to say that I can do that while not lying or not trying and not succeeding. I feel very strongly that no matter how many films I do or how they turn out in the end, I did a great job in them and I never go beyond a certain level because I've trained for it and I've worked really hard to get to this place. So I really enjoy doing what I do."

As sexy as she is, Milla DID resist club-hopping in Germany where the film was shot, she insists laughingly. "These other guys went crazy. They would come on set looking worse for wear but you did not hear that from me."

But while some audience members may be fixated on her appealing physicality in Resident Evil, the film's underlying theme of genetics, was another facet of the movie that interested the actress and not as far-fetched as it appeared in the movie. "One of the interesting things about his film is the fact that 'Umbrella' [the genetics company featured in the film] is not so far off the truth of what is happening with a lot of privately owned companies that field genetic research. You know you look on the cover of every magazine before September 11, it was about genetics and cloning etc that I just found really interesting which the movie deals with."

Apart from her modelling and acting, Jovovich has at one time, embarked on a singing career. "I wouldn't really say career," she interjects. "I released one album and for me releasing that was sort of a fluke because I never planned it. So, I probably recorded hundreds of hours worth of music that are not going to be released until after I die, because I just don't have the time to go into the studio and go through it. Music for me has never been a career, but something that I loved and I can't live without but at the same time I want to keep it clean and pure because people like my mum will always be like Britney Spears.
Jovovich still models and is a rep for L'Oreal, and surprisingly, gets as much out of that as she ever did. "I love modelling, because it is just so spiritually fulfilling for me," she says somewhat self-mockingly. "But I mean modelling is great and I would never miss an opportunity that knocks on my door. It's easy for me because of acting,"

Next up for Milla is a likely sequel to Resident Evil about which she is thrilled. "We have so many great ideas to the sequel, I can hardly wait."