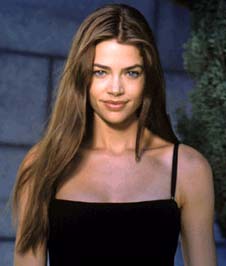 Denise Richards - Going Undercover

Denise Richards is being kept busy these days. The sexy 31-year old is not only flat out promoting her new film, the farcical spy spoof 'Undercover Brother', but she is also busy planning her upcoming wedding to Charlie Sheen. Trying to be as tight-lipped as possible on the nuptials, Richards does concede that "it will be a small ceremony, not the big wedding I fantasized about when I was younger." She has a date, but of course won't reveal it during our interview, except to admit that the wedding "will be happening this year and in Los Angeles."

The plans are going well with Richards happily supervising every facet of the wedding. "Thankfully, Charlie and I have agreed on just about everything. We really like similar things, which makes it much easier. I think when couples disagree on the band and the food, you have a little bit of a problem," Richards laughingly adds.

And she is happily balancing those plans with her high-profile professional life, avoiding the stress associated with the former. "I don't want it to be stressful and even though sometimes it is hectic, I don't want the wedding to be a frantic thing. It should be a happy time and easy."

Richards won't allow her private life to become media fodder, and says that she has learned how to balance the public and private aspects of her life. "It's just keeping what I want private, private, and the same with Charlie. We are both private people in the public eye. There are certain things we won't talk about and we have to have some privacy in order to have a successful relationship." Richards managed to keep her relationship with Sheen quiet from the press, "by not going to places where there are paparazzi, since we know which restaurants the photographers hang out at." Richards also knew that "in my heart of hearts, on our second date, that this was the one. My mom told me that would happen one day and it did."

As busy as Richards is with her wedding plans, she also finds time discussing her equally busy career. In 'Undercover Brother', a parody of both Black exploitation actioners of the seventies and hip spy flicks, Richards plays a sexy bombshell who epitomizes Black fantasies. The actress clearly has a ball poking fun at her own sexuality, "because I've played a Bond girl and played vixen girls before. In Bond it wasn't poking fun, so this was a chance to have fun with it."

Asked how playing a role as this ultra-sexy femme fatale helps how she is perceived as a serious actress, Richards adds that "if the movie bombs, it will probably hurt me, while if it is a hit, it will probably help me, regardless of the character. Heather Graham did pretty well after Austin Powers, so I think this business, whether it's good or bad, if a movie does well, you have options. Hopefully people will think: 'She might be kind of funny' you know? It's a comedy and I got to do something so broad and ridiculous that I've never done before, so I don't look at it and base it on whether critics will love me in it or whatever; I did this because I wanted to do it. No matter what happens to the movie, I had a great experience on it."

Richards will next be seen opposite Ben Affleck in 'The Third Wheel', not to mention that little production of her own - that small LA wedding.

Denise Richards/Undercover Brother Interview by Paul Fischer in Los Angeles.