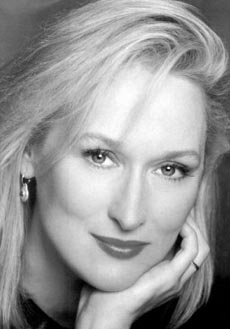 STREEP VENTURES INTO BIZARRE TERRITORY
Nominated for 12 Oscars, and recipient of two [one for Supporting Actress] Meryl Streep has long been regarded as one of the great actresses of her generation. Off screen, as PAUL FISCHER discovered, Ms Streep would rather be at home with her kids than even considering the acclaim bestowed on her.

Meryl Streep rushes into the Los Angeles hotel room where we met amidst peels of laughter. "I don't want to talk about 'Adaptation'", she says with a melodramatic wave of the hand. She is referring to one of two films that she has coming out, this one, from the quirky team who devised 'Being John Malkovich'. There are no foreign accents here, no intense characters that we know and love from the Oscar winner's past gallery of tragedians. Here, the 53-year old actress shows us a side to her that we rarely see: Irreverent, hilarious and even stoned.

In one priceless moment, Streep's character, a reporter for the New Yorker Magazine, has experimented with an Orchid-based opiate, and stoned, attempts to brush her teeth. It's the singularly funniest moment in this weird, cinematic concoction, because she seems to have nailed being stoned, perfectly. She insists that the authenticity has nothing to do with her own real-life experiences. "Definitely not", she laughingly exclaims. "I just looked at other movies and went about imitating other actors, so if THEY got it wrong then so do I. I have no idea how to do that nor do I have any idea what I was actually sniffing. I can't believe I let them do that but I was so intent on making it look real, I just went ahead and did it."

In 'Adaptation', scripted by Charles Kaufman and based on a non-fiction book called 'The Orchid Thief', Nicolas Cage plays real-life Charlie Kaufman, a confused L.A. screenwriter overwhelmed by feelings of inadequacy - and by his freeloading twin brother (also played by Cage). While struggling to adapt 'The Orchid Thief', by real-life Susan Orlean (Streep), Kaufman's life spins from pathetic to bizarre. The lives of Kaufman, Orlean and John Laroche (Chris Cooper), the orchid poacher and the subject of Orlean's book, become strangely intertwined as each one's search for passion collides with the others'.

Streep was not so much attracted to the idea of going places where she has never been, but she says, "simply by the writing. The attraction was the script itself and I just knew I wanted to be in on this one. I just thought it was the coolest thing." The 'coolest thing', she elucidates, because "it was a very ambitious script and what it was about was very layered and not the usual movie fare. I thought it was like a novel and as complicated, a deconstruction of real emotions", Streep explains.

She won't go further into analysing the piece, because Kaufman thrives on retaining an open-ended approach, and doesn't like his work being explained to us mere mortals. "I agree with that," Streep insists. "As soon as some stupid actress starts barking about what the film is about, then YOU write about that and capsulate it, and people immediately say: Oh, it's about that? What I loved about this was its ambiguous nature, that you could read it in a lot of different ways, that you could interpret it, or not, to mean something to YOU that was actually real or you could stand outside of it and enjoy it and think of it as an entertainment."

'Adaptation' is clearly a complex film dealing with art and reality, the creative process, obsession, sex and the pain of Hollywood. For Streep, who has appeared in over 60 films, the thematic element of 'Adaptation' with which she closely identified, "was the self-loathing", she adds laughingly. "Every actor I know goes through that pit." Even actors as acclaimed as Streep. "Absolutely, my God!" she exclaims.

But amidst such self-discoveries she may have had while filming 'Adaptation', Streep also loves letting herself go as she does with true abandon in this film. The actress, best known for her serious dramatic work, surprisingly denies not showing that lighter side of herself more often than not. "I've always thought I did", Streep retorts. "But I'm always willing to be convinced that I haven't because on some level I tend to think I don't know what I'm doing which is probably a good thing," Streep confesses. The actress could also identify with her journalistic character "because she sits outside of other people's lives and investigates them from the outside", she says, drawing parallels with her approach as an actor. "She is like an orchid, in a way, leading a peripheral sort of life and actors do the same thing, attaching themselves to other people's stories and become serially obsessed with one thing then move on to the next."

Streep says that having made so many different kinds of films throughout her distinguished career, she "loves to make people laugh" and so hopes to do more comedies such as 'Adaptation' "which endlessly amused me, too much so, which became a problem", giggles the actress.

Streep is back to dramatic form in 'The Hours', which contains three stories intertwined based on the works of Virginia Woolf. In one of the stories, Streep plays Clarissa Vaughn, a modern woman living in present times, who is throwing a party for her friend Richard, a famous author dying of AIDS. This and a 1940s-set piece is simultaneously linked to the work and life of Virginia Woolf, who is writing 'Mrs Dalloway'. "It's an impressive film and some great roles for both women and men. 'The Hours' was the working title for 'Mrs Dalloway' and it again explores some profound themes on the nature of the artist. It's an ambitious film and one that will surprise people." It's the perfect time for Streep, professionally, with both of these films due out close together. "No question, two really interesting things. I only wish they'd come out a year apart."

In a career spanning nearly forty years, Streep has provided audiences with a plethora of memorable films and performances, from 'Kramer v Kramer', for which she received her first Oscar, through to the classic likes of 'The Deerhunter', 'Sophie's Choice', 'The French Lieutenant's Woman', 'Silkwood', 'The River Wild', 'Bridges of Madison County' and many more.

The universally acclaimed actress may have played a gallery of unforgettable characters, but she says that she would rather audiences love her movies as a whole, rather than merely her own contribution. "It means a lot to me if someone says: That performance really touched me, but I REALLY love it when people say: That movie was fantastic, because I don't like it when I emerge bigger than the movie." That holds no interest to her, she muses. "Rather, I'm interested in serving a story and getting it out there; I just like being part of a great team."

When Streep isn't acting, she has four children to raise, three of whom are at school. The actress tries to avoid being away from her family during the school year, she says. Asked if she would encourage them to act, Streep hesitatingly admits that she would be alright with that. "You just know what the road is. There's a lot of heartbreak, a lot of rejection, a lot of pain so it's hard to say: Sure honey, take THAT job, because it's really tough." Which is why even with her success, Streep is constantly surprised at how successful she has become. "I'm always surprised, delighted and grateful to the people who gave me a hand along the way."