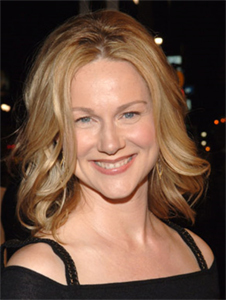 by Paul Fischer at the Toronto Film Festival.


LINNEY GOES FROM AUSTRALIAN BUSH TO PRESIDENTIAL SATIRE
Another Festival, another Laura Linney interview. It appears the always versatile actress is strutting her stuff at the Toronto Film Festival, proudly here to talk about the Australian drama Jindabyne, acquired for the U.S and other international territories, by Sony Classics. But Linney will also be seen by mainstream movie goers in the upcoming political satire Man of the Year. In the Barry Levinson-scripted and directed comedy, Robin Williams stars as acerbic performer Tom Dobbs, who has made his career out of skewering politicians and speaking the mind of the exasperated nation on his talk show. He cracked scathing jokes at a fractured system night after night--until he came up with a really funny idea: why not run for president himself? After a flip comment, Dobbs ignites a grassroots movement that puts him on the ballot. Hot on the campaign trail, he debates elected drones and says exactly what frustrated voters have often thought. Nov. 2nd later, the muckraker wins--only to learn that a computer voting error gave him the victory. With time ticking on the inaugural clock, Dobbs has a big decision to make: should he go back behind the mike or stay in the Oval Office? As for Linney, one of her few big Hollywood films, "I play a woman who works for the company that makes the computerized voting machines and then theres a glitch in the voting system." Linney, who is very choosy about what she does, says she may not have done it had it not been for Levinson. "And the difference when you work with a great director and when you dont work with a great director is just night and day," the actress says laughingly. "I mean its the thing that Im learning more and more and more. Its like, oh, my God I dont know if I can live through another bad one." But the actress also loved working with Robin Williams "who certainly knows how to keep you happy between takes."

Linney has certainly played her share of, lets say, complicated women, so to do something a tad lighter for Levinson, was a dream come true. "I mean I certainly had fun doing it, but shes also a little complicated though, in a different sort of way. But I would love to do something thats a little simpler, a little purer. The complicated ones are really hard work and I love doing them and I love chewing on them and all that but its nice to take a break and have a lark and twirl around and have fun." That could not be said of Jindabyne, where she plays one of those complicated creatures in a complex work by veteran director Ray Lawrence. In Jindabyne, Gabriel Byrne plays Stewart Kane, an Irishman living in the Australian town of Jindabyne, on a fishing trip in isolated hill country with three other men when they discover the body of a murdered girl in the river. Rather than return to the town immediately, they continue fishing and report their gruesome find days later. Stewart's wife Claire [Linney] is the last to find out.

Deeply disturbed by her husband's actions, her faith in her relationship with Stewart is shaken to the core. She wants to understand and tries to make things right. In her determination to help the victim's family Claire sets herself not only against her own family and friends but also those of the dead girl. Her marriage is taken to the brink and her peaceful life with Stewart and their young son hangs in the balance. It may be a bit ask to expect Linney to travel to the isolated Snowy Mountain region of Australia to do Jindabyne, but says that "Ray Lawrence. Would be the one person to make me do it", she says, smilingly. But the actress also says that she was drawn to its myriad of levels. "Theres so much going on, including the relationships that everybody has with each other and to the environment. I cant really exactly put my finger on what it is, but I love ensemble pieces, and am always sort of attracted to things where peoples behaviours have consequences and affect someone else, as well as how does everyone affect everybody else and the give and take of that. It was just beautifully written by a playwright so theres an ear for the actors, so its very actable material, theres not a lot in the way; and its very trusting in its writing. It trusts the actors, lets you do the work and has respect for the audience which is just a relief. Its not result oriented and a very layered, delicate work." Linney says that being an outsider in this harsh, Australian terrain was a help. "I think it helps the story .and gives it whole other ramifications. When Ray cast me I very much wanted to play an Australian, and was very excited. I thought, ooh, Im going to get to do an Australian accent but Ray said absolutely not, because Australia is a multicultural country and Im sick and tired of not seeing that and thats why Gabriel is Irish, and I am American. The more I worked on the movie I realized how much that would actually add to it."

Linney says that if the opportunity presented itself, shed return to Australia in a heartbeat. "I loved it. I want to go back to Melbourne and Sydney. I want to travel around, because I really loved Australia."

For Linney, this has been one of her busiest years. Apart from Jindabyne and Man of the Year, Linney stars with Julie Walters and Rupert Gint in Driving Lessons, a British comedy in which she plays a Brit, returning to England again. "Its actually fun." And the busy actress will also be seen in The Nanny Diaries "and in the spring I did a movie with Philip Seymour Hoffman that I really love called Savages." And the actress also hopes to return to the New York stage later this year. "Thats really soon. Its my year to do that."