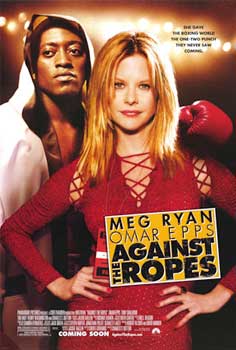 Meg Ryan/Against the Ropes Interview by Paul Fischer in Los Angeles.
With the uncut In the Cut headed for DVD, audiences get to see Meg Ryan fully clothed, acerbic and perhaps, typical, as she heads to the ring in the kind of true story of ballsy boxing promoter Jackie Kallen in Against the Ropes. PAUL FISCHER caught up with her in Los Angeles.

When Meg Ryan was doing press for her controversial In the Cut during last year's Toronto Film Festival, it would be fair to say she was defensive, moody, unwilling to be drawn into the film's sexual material. What a difference four months makes. Not that she was willing to give too much away, but at least she was sweetly charming, smiling politely on cue, in talking about the very different Against the Ropes. Perhaps she was relieved there was no graphic nudity and sex to discuss, nothing slightly contentious, except the world of boxing, one which she loved inhabiting, as she prepared to do Against the Ropes. "It was really fun, but I'm surprised that I like it," Ryan confesses. "I really didn't think that I was going to become a fan, but I think it had to do with the fact that I had a great tutor who has an outrageous passion for it," she says, referring to the real-life Jackie Kallen, the outspoken and loud boxing promoter whose life story is fictionalized to a large extent in this movie. "It turned out that as soon as you know the stories, as soon as you start understanding the techniques, then you have to get sort of emotionally involved with the people who are out there. But beyond that, it's just something about how pure and honest it is."

Once Ryan started to soak up the boxing, she was hooked, but not right from the get go. "At first it was really hard to watch. There's something honest about saying no to this kind of aggression and violence which is part of human nature and you're very simply and purely expressed in this part." Ryan, who also loves photography, found herself capturing the sport on film, in all of its poetic motion, using "really high speed black and white film and available light, that really, really strong top light that comes down on this beautiful body."

Not is Kallen's story in Against the Ropes, a boxing yarn, but the film also explores the nature of celebrity. As Kallen's fame grew, so did her ego. Ryan offered this observation when asked to comment on the parallels that existed in her own life. "I mean the spotlight's the thing that you never know how you're going to react to; you know? I mean nothing's predictable about it."

Ryan is certainly no stranger to the spotlight, having been in it for over a decade, and trying to shun the pretty girl-next-door image, as exemplified in the romantic comedies that made her a true Hollywood icon. But every time we broach this subject, she blames the media for perpetuating a specific image of her. "I get in these rooms and you (journalists) all say that. But I've done so many different kinds of things for so long -- and the romantic comedies are the ones that people see or make money and that's great. But I've done different things for a long time."

Perhaps that is why she was more than keen to step into the role vacated by Nicole Kidman, in Jane Campion's In the Cut, which has just been released on DVD in an unrated version [the same version released in Australia and Europe]. The film received largely savage reviews, and Ryan became visibly annoyed when promoting the film, but the actress says she has no regrets. That movie was one of the premier experiences of my life, being around Jane Campion and working on that film which I think changed me so utterly as an artist. As for the mixed response? What are you going to do? It was never a movie that was for everybody. No one ever made it to be a blockbuster. It's a personal movie that we made for $7 million on the streets of New York with great actors, a great director and an interesting character. So it was a fantastic experience!"

As for playing the sexy, but fully clothed Kallen, Ryan had a blast. "It's very different from anything I've done. I'm an actor and I like to do different things. I thought it would be really fun. I'm curious about the arc of the character."

Next up, Ryan confirmed, is a key role in Papa, starring Anthony Hopkins as Ernest Hemingway. No romantic comedy here either, and another change of image for the diverse Ms Ryan.