The nay sayers said it would never get off the ground, but the London Eye has become one of the worlds top tourist attractions.
By Joanna Hall (Photography by Ben Hall)
Sitting in the back of a black cab, Im trying not to look at the meter as we head from Heathrow into London - a quick currency conversion puts the damage already at just over one hundred dollars and theres still a way to go.
I try to take my mind off the luminescent red number that keeps ticking ever higher with a bit of conversation with the driver whos obviously from the East End, or sounds like it at least.
It had been five years since I was in London, having spent 10 years there as an expat-local, so I ask the 'geezer' about any changes.
After a 10 minute rant about politics (London cab drivers favourite topic after football), he tells us hes actually doing quite okay himself and its mostly thanks to what he calls 'The Wheel'.
"Its not just the foreign tourists who are crawling all over it, neither - Im doing jobs from the domestic airports as well and they all want to go there," he says. "Cant get enough of it, and its good for business - its brilliant."
The cabbies may be cashing in, but it wasnt that long ago that town planners and architects labelled it as "rubbish" and an "eyesore".
Its proper name is the London Eye, and throughout the 1990s debate raged in London about the appropriateness, and tastefulness, of the whole concept which was originally called the Millennium Wheel.
At one stage, part of it even crashed into the Thames River - during construction in 1999 which meant it failed to open at the turn of the millennium as planned.
At the time, the many critics who adopted the "told-you-so" attitude predicted the London Eye would become a giant white elephant. They couldnt have foreseen its future success.
Five years after it finally cranked into action, its attracting three and a half million visitors a year and has won 40 tourism awards - and more surprisingly its won the hearts of cynical Londoners.
At 135 metres, it dominates the cityscape from the South Bank of the Thames River and its now being compared to the Eiffel Tower in Paris and the Statue of Liberty in New York as a world renowned landmark.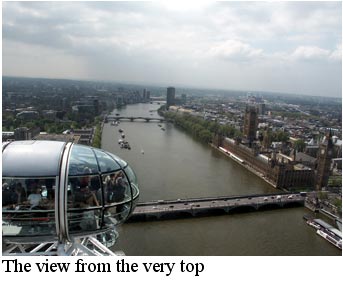 With just two days to visit the city where Id 'grown up', my plans were to hit the ground running and take in as much of the London Id actually missed out on when I was a local.
For the first time I was seeing the city in a totally fresh light - not as a jaded 12-hour a day worker bee, but as a 'tourist'.
And on the advice of Clive the cabbie and other Londoners I made the London Eye the first stop of a go-hard itinerary to become oriented with its sightseeing delights.
The London Eyes panoramic command of the city offers a totally different perspective on the British capital.
Instead of emerging periodically from the Underground system and seeing London as separate jigsaw pieces removed from each other, this is the way you get the whole puzzle.
Its a 360 degree introduction, or reintroduction, to the city and despite its grand scale it does confirm that most of London can be walked without missing too many of the postcard destinations.
The actual price of the 'flight' - as its called - is a little off-putting at 12.50(Great Britain Pounds) or $AU30 each for just the one rotation and Im a little sceptical after parting with my cash.
Theres also a proliferation of kitschy souvenir stands which have sprung up in the shadow of the London Eye, and it increases the faint feeling that Ive been suckered.
The queue is long, but attendants keep it moving at a regular pace - the Eye itself moves at just under 2 km/h and only stops for disabled access so on this day it only takes a couple of minutes before Im stepping inside the glass and steel capsule.
Each of the 32 capsules holds up to 25 people, but the attendants seem to be ushering about half that number in which means there is plenty of room inside.
As the capsule lifts slowly away from the entry platform, the sheer scale of the engineering audacity of the Eye becomes evident.
It does look like a giant ferris wheel, except that capsules are fully enclosed and is supported by a massive steel frame on one side only.
The 80 'spokes' of the London Eye use a total of six kilometres of cable and theres more than 1700 tonnes of steel in the structure.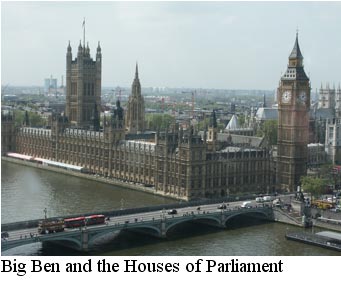 As we rise above the Thames River the first view takes in the eastern end of London including St Paul's Cathedral, the Tower of London, Tower Bridge, London Bridge, the City or financial district and Canary Wharf.
At the top of the 135 metre arc, the view becomes a 360 degree panorama and on a clear day (a rarity in London) its reportedly possible to see for 40km as far as Windsor Castle.
On the downward arc the Houses of Parliament and Big Ben take centre stage, along with the West End theatre district, Buckingham Palace, The Oval Cricket Ground, The Imperial War Museum, the Tate Gallery and Lambeth Palace.
The Eye made it all seem much more accessible than I previously imagined and it made me realise how little of the city I had actually seen, despite nearly a decade of residence.
Believe it or not, there are born-and-bred Londoners whove never been anywhere near Buckingham Palace, never mind the Tate Gallery, yet each year millions of people from around the world crawl over the British capital.
They head there for the sheer grandeur of a city that symbolises the might and power of a bygone era, where every few blocks yield yet another world famous landmark accompanied by yet another must-do photo opportunity.
After the 30 minute ride, I step off onto the platform at ground level with a greater appreciation of what London has to offer - determined to make up for lost time and "do" as many of the tourist spots as physically possible inside 48 hours.
SEVEN THINGS YOU MIGHT NOT KNOW ABOUT THE LONDON EYE
Its the worlds largest observation wheel at 135m
It weighs 1900 tonnes in total, including 1700 tonnes of steel.
It took six years to build and involved 1700 people from 5 European countries.
It travels at 0.3 metres a second and takes 30 minutes to complete a rotation.
It takes 800 passengers per revolution - 15,000 a day or 3.5 million per year. More than 18 million people have 'flown' the Eye since it opened.
Each of the 32 capsules is 8m x 4m and weighs 10 tonnes.
Although the Eye is listed in the Guinness Book of Records as the tallest observation wheel in the world, it may not hold that honour for long - plans have been announced for a 170m wheel in Las Vegas and a 200m one in Shanghai.



FACT FILE
Gulf Air flies daily from Sydney to London via Singapore and Bahrain. Visit www.gulfair.com. au. Virgin Blue connects to Sydney from most Australian cities. Visit www.virginblue.com.au, or call 13 67 89.

The City Inn Westminster is a convenient location for exploring London, and experiencing the London Eye. For more information visit www.cityinn.com/london.

For more information on the London Eye and London, visit www.londoneye.com, and www.visitlondon.com.

For the best in luxury travel, visit www.ultimatetravel.net.au





---

About Ultimate Travel Magazine

Ultimate Travel (www.ultimatetravel.net.au) is a new-concept online travel magazine designed to deliver the best in luxury travel worldwide. Dedicated to savvy travellers who want more from a magazine than just gloss and glamour, Ultimate Travel aims to provide readers with a unique combination of topical information, inspiring experiences, and practical advice presented in a contemporary "magazine" format.

Founded by husband and wife team, Ben and Joanna Hall, Ultimate Travel aims to take readers on an unforgettable journey. From cruising the high seas and taking time out in exclusive luxury resort spas, to enjoying the best of local culture and finding the best shopping bargains, its features not only "paint the picture" for you in words and quality photography, but also give you the inside knowledge on how to make the most of your dream getaway.

Subscribing to Ultimate Travel is free, and there are four new issues of Ultimate Travel Magazine each year - in January, April, July and October. As a subscriber, you will not only have free access to some of Australia's best travel writing and photography, but you will also benefit from a variety of exciting competitions and promotions we have planned for 2007 and beyond.

By subscribing, you will also doing your bit to help us help some good causes - for every new subscriber who signs up for our quarterly newsletter, we are donating $1 to four worthy charity partners (the Stroke Foundation, Look Good, Feel Better, Paradise Kids, the Gynaecological Awareness Information Network).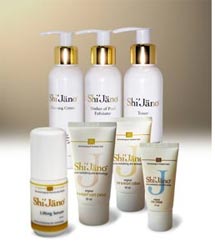 Win one of five Shi'jano Skincare Range Sets
Ultimate Travel's Special Offer To Subscribers Of Femail.com.au

In addition to our charity donation, Ultimate Travel Magazine would like to extend a very special welcome to subscribers of Femail.com.au with an exclusive offer.

Subscribe to Ultimate Travel from 8th May, and you will get the chance to win one of five complete sets of the luxury Swedish anti-ageing Shi'jano skincare range. The set includes Original Eye Creme, Original Day & Night, Original Soft Day & Night Creme (for sensitive skin), Lifting Serum, and three brand new products - Cleansing Creme, Toner, and Mother of Pearl Exfoliator. It's a prize worth $454.00!

All you have to do to enter is send an email to femail@ultimatetravel.net.au with your full name and email address, the state or country you are from, and your age range (19-25, 25-35, 35-45, 45-55, 55+), and tell us in 25 words or less "your definition of the ultimate holiday or travel experience". Entries close on 5th June 2007.




---


Other Travel Articles:

Acapulco - Diving into Acapulco - www.femail.com.au/diving-into-acapulco-ultimate-travel.htm
Andalucia Spain - Andalucia - The Real Heart of Southern Spain - www.femail.com.au/andalucia-heart-of-spain-ultimate-travel.htm
Canada - Autumn Leaves - www.femail.com.au/autumn-leaves-ultimate-travel.htm
Cayman Islands - The Hidden Side of Grand Cayman - www.femail.com.au/hidden-side-of-grand-cayman-ultimate-travel.htm
Hong Kong - Escaping the Big City - www.femail.com.au/escaping-the-big-city-ultimate-travel.htm
London - Keeping an Eye on London - www.femail.com.au/keeping-an-eye-on-london-ultimate-travel.htm
New York - Romancing in the Big Apple - www.femail.com.au/romancing-the-big-apple-ultimate-travel.htm
Spa Retreats - A Pacific Spa Trek - www.femail.com.au/a-pacific-spa-trek-ultimate-travel.htm
Tahiti - Tahiti By Gauguin - www.femail.com.au/tahiti-by-gauguin-ultimate-travel.htm
Whitsundays - Wild On The Whitsundays - www.femail.com.au/wild-on-the-whitsundays-ultimate-travel.htm