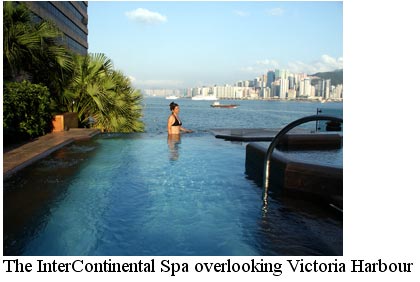 Hong Kong evokes images of an impressive skyline and busy markets - but there is an escape from the hectic pace of city life on Lamma Island.
By Joanna Hall (Photography by Ben Hall)
As the countdown towards 8pm reaches its conclusion, we step out onto the balcony of our hotel, champagne glasses in hand, to take in one of the most breathtaking light shows in the world.
With Victoria Harbour in front of us, the nightly 'Symphony of Lights' laser and music show begins - a 20 minute spectacular which literally brings the bustling city to a standstill.
Even the hard-bitten locals remain mesmerised by the sheer scale and beauty of the show - 19 landmark skyscrapers on Hong Kong Island are lit from top to bottom in an unbelievable array of colours as laser beams criss-cross the sky to classical music.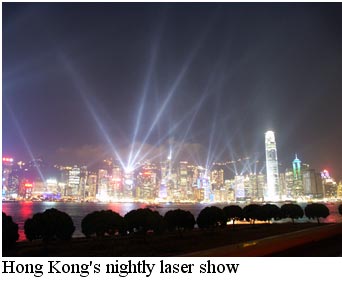 This isnt done for a special occasion - this happens every single night at the same time and sums up the essence of a city that is as brash as it is grand.
Hong Kong has a powerful and unforgettable effect on the senses.
Walk the streets in the shadows of its surreal skyline and a unique energy takes hold - you could be on the set of an epic drama in a city which is as inspiring and enchanting as it is overwhelming.
From a ride on the Star Ferry, to the views of its spectacular skyscrapers from Victoria Peak, and its unstoppable market life, Hong Kong slows down for nobody. It's also a city where past and present fuse comfortably.
There are so many images for the first-timer, and return visitor, to take in: traditional wooden boats bobbing on the harbour next to ferries and luxury cruise ships; decayed buildings cowering next to glass and steel skyscrapers; tired alleys meandering behind luxury hotels; old Chinese traders with wheel barrows pushing past late model BMWs and Mercedes.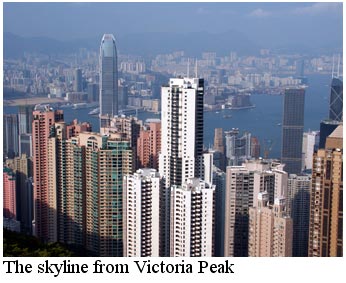 These contradictions help form Hong Kong's most striking characteristics. It's a merger of the old and the new, ancient and advanced. Ultra-modern skyscrapers built using traditional bamboo scaffolding, contactless subway tickets, sophisticated restaurants with old-fashioned street stalls out front. At every turn, there's a flashback to a past era and a fast-forward to modern city living.
Hong Kong's western fabric was woven by the British; from the schools and free market economy, to the double decker buses and a pint of ale at the end of a working day - but its soul remains undoubtedly Chinese, from the lively street vendors to its Bhuddist temples to the traditional herbal medicine shops.
With seven million inhabitants living elbow-to-elbow in a territory of just 1100 sq km, it is possible to suffer from sensory overload and few visitors take advantage of the serenity and laid-back charm of Hong Kongs 'Outlying Islands'.
There are 234 of them, though most are just uninhabited rocky outcrops, and the ones that do have human life are sparsely populated.
One of them, Lamma Island, is a vehicle-free oasis of calm just 25 minutes by ferry from the non-stop madness of the metropolis and is the perfect escape for recovering shopaholics.
Its the third largest island of just 13sqkm and is home to a mix of fishermen, farmers and commuters.
Walking trails criss-cross the island and pass by white sandy swimming beaches and some of the best seafood restaurants.
We land in the pretty village of Yung Shue Wan which is basically a main street with bars, restaurants and mini-markets and set out on a four kilometre trek - aiming for the fishing village of Sok Kwu Kwan to the south-east.
Its one of the more popular walks on the islands and the reward is a selection of some of the best seafood restaurants around.
Just outside Yung Shue Wan, we meet a local called Winnie whos heading for the same destination and we benefit from a little local knowledge.
She takes us past Hung Shing Yeh Beach, with clean white sand on a pretty bay with a swimming enclosure. Its pretty much deserted.
"Most tourists dont realise we have this," Winnie says, "And its probably just as well because its already packed with Hong Kong people on weekends."
We leave the beach and ascend through a mini-range on a concrete pathway with the occasional charming house at each side.
As we reach the peak and head down, the picture postcard image of Sok Kwu Kwan reveals itself - its getting late and the fishing boats are returning to the tiny port with their days catch.
We pass an old Tin Hau temple from the 1820s and enter Sok Kwu Kwan and on the waterfront about a dozen seafood restaurants jostle for business side-by-side - were apparently heading for Rainbow Restaurant.
We grab a table right on the water as the sun sets over the mountains behind us - the oranges and reds cast an ethereal hue through the calm waters of the bay.
While we take this in, Winnie has already ordered the food in Cantonese along with some Tsing Tao beers. This often happens in Hong Kong culture - plates of food are shared but if you dont get in quick, somebody else orders for you.
Chinese food is the very essence of Hong Kong culture, and eating out is the favourite past-time for locals - often though the choice is overwhelming so dining with the locals can be very helpful.
Were presented with plates of fresh scallops cooked in ginger, prawns with chilli, crab and a whole fish cooked in fresh herbs.
Its the perfect way to finish the Lamma Island experience, and we watch as the ferry pulls into the bay - ready to return us to the chaos and clatter of the city.
FACT FILE
Virgin Atlantic flies daily between Sydney and Hong Kong. Visit
www.virgin-atlantic.com
, or call 1300 727 340. Virgin Blue connects to Sydney from most Australian cities. Visit
www.virginblue.com.au
, or call 13 67 89.
For more information on the InterContinental Hong Kong, visit
www.hongkong-ic.intercontinental.com
.
For further Information on Hong Kong, visit Hong Kong Tourism Board at
www.discoverhongkong.com/australia
, or call 1 800 251 071.
For the best in luxury travel, visit
www.ultimatetravel.net.au
---
About Ultimate Travel Magazine
Ultimate Travel (
www.ultimatetravel.net.au
) is a new-concept online travel magazine designed to deliver the best in luxury travel worldwide. Dedicated to savvy travellers who want more from a magazine than just gloss and glamour, Ultimate Travel aims to provide readers with a unique combination of topical information, inspiring experiences, and practical advice presented in a contemporary "magazine" format.
Founded by husband and wife team, Ben and Joanna Hall, Ultimate Travel aims to take readers on an unforgettable journey. From cruising the high seas and taking time out in exclusive luxury resort spas, to enjoying the best of local culture and finding the best shopping bargains, its features not only "paint the picture" for you in words and quality photography, but also give you the inside knowledge on how to make the most of your dream getaway.
Subscribing to Ultimate Travel is free, and there are four new issues of Ultimate Travel Magazine each year - in January, April, July and October. As a subscriber, you will not only have free access to some of Australia's best travel writing and photography, but you will also benefit from a variety of exciting competitions and promotions we have planned for 2007 and beyond.
By subscribing, you will also doing your bit to help us help some good causes - for every new subscriber who signs up for our quarterly newsletter, we are donating $1 to four worthy charity partners (the Stroke Foundation, Look Good, Feel Better, Paradise Kids, the Gynaecological Awareness Information Network).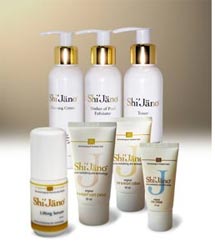 Win one of five Shi'jano Skincare Range Sets
Ultimate Travel's Special Offer To Subscribers Of Femail.com.au
In addition to our charity donation, Ultimate Travel Magazine would like to extend a very special welcome to subscribers of Femail.com.au with an exclusive offer.
Subscribe to Ultimate Travel from 8th May, and you will get the chance to win one of five complete sets of the luxury Swedish anti-ageing Shi'jano skincare range. The set includes Original Eye Creme, Original Day & Night, Original Soft Day & Night Creme (for sensitive skin), Lifting Serum, and three brand new products - Cleansing Creme, Toner, and Mother of Pearl Exfoliator. It's a prize worth $454.00!
All you have to do to enter is send an email to
femail@ultimatetravel.net.au
with your full name and email address, the state or country you are from, and your age range (19-25, 25-35, 35-45, 45-55, 55+), and tell us in 25 words or less "your definition of the ultimate holiday or travel experience". Entries close on 5th June 2007.
---
Other Travel Articles:
Acapulco
- Diving into Acapulco -
www.femail.com.au/diving-into-acapulco-ultimate-travel.htm
Andalucia Spain
- Andalucia - The Real Heart of Southern Spain -
www.femail.com.au/andalucia-heart-of-spain-ultimate-travel.htm
Canada
- Autumn Leaves -
www.femail.com.au/autumn-leaves-ultimate-travel.htm
Cayman Islands
- The Hidden Side of Grand Cayman -
www.femail.com.au/hidden-side-of-grand-cayman-ultimate-travel.htm
Hong Kong
- Escaping the Big City -
www.femail.com.au/escaping-the-big-city-ultimate-travel.htm
London
- Keeping an Eye on London -
www.femail.com.au/keeping-an-eye-on-london-ultimate-travel.htm
New York
- Romancing in the Big Apple -
www.femail.com.au/romancing-the-big-apple-ultimate-travel.htm
Spa Retreats
- A Pacific Spa Trek -
www.femail.com.au/a-pacific-spa-trek-ultimate-travel.htm
Tahiti
- Tahiti By Gauguin -
www.femail.com.au/tahiti-by-gauguin-ultimate-travel.htm
Whitsundays
- Wild On The Whitsundays -
www.femail.com.au/wild-on-the-whitsundays-ultimate-travel.htm