Queenslands tropical Great Barrier Reef playground is not only a haven for lovers of nature - its also the perfect place to indulge in a spot of romance.
Story by Joanna Hall (Photography by Ben Hall)
Think for a minute about what would constitute the perfect tropical island getaway - warm weather, impossibly azure, calm waters, blinding white sand beaches, colourful marine life and corals, and hammocks overlooking the water.
Throw in cocktail bars, unreal sunsets, sailing and all manner of water sports and you have the Whitsunday Islands in a nutshell - a 74-island group in North Queensland which has been widely described as the most beautiful place on earth.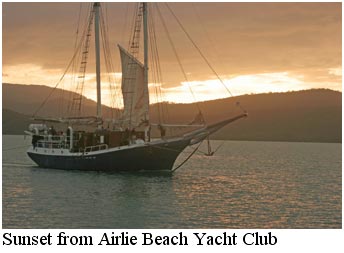 For sheer romance, its pretty hard to beat, and from the moment you enter the main hub of Airlie Beach on the mainland, you know this is somewhere a bit special.
From the main palm-fringed beach, sailing boats bob on the calm harbour and just beyond lies what most of the fuss is all about - the Whitsunday Islands themselves.
Airlie Beach itself has evolved from basically a one-street backpacker hangout to true international destination with a variety restaurants and accommodation - and its a great base from which to explore the Whitsundays.
The real beauty lies out in the impossibly blue water offshore - and with all the tours and activities that are available, the main problem is resisting the urge to do it all. Remember to kick back and relax as well - this is a tropical paradise after all.
1. Best Kodak Moment


The Whitsunday coastline is stunning from the water, but seen from the air its pure sensory overload. A helicopter tour of the islands is a must-do and offers an unforgettable experience. Strap yourself in and hang onto your camera for the ride of your life, and get ready for some of the most awesome 'photo ops' youll ever have. Aviation Adventures can custom any tour of the islands, or take you on a 10 minute joyride. Visit
www.av8.com.au
or call (07) 49 469 988.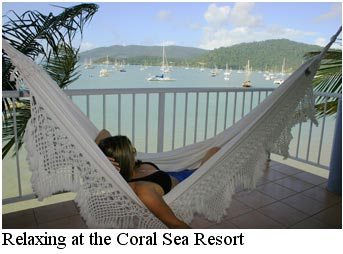 2. A Place To Hang Your Hat


The Coral Sea Resort is Airlie Beachs only absolute waterfront accommodation. For total indulgence you can lie back in a hammock and catch a sea breeze with the ocean lapping below, or kick back in a spa on the balcony and watch the sailing boats glide into the harbour. The Clipper Restaurant and its cocktail bar is a must-do in its own right, and you have to check out the pool! visit:
www.coralsearesort.com
or call (07) 4946 6458.
3. Best Sunset Vantage Point


There are many spots, but if youre not out at one of the islands, head for the Airlie Beach Yacht Club. Its expansive balcony offers a panoramic view of the beach, bay and beyond, and faces due west so when the sun goes down behind the surrounding hills youll have a perfect view of one of Airlies dramatic sunsets.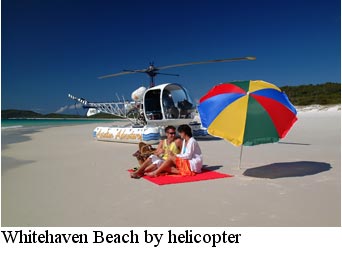 4. Seriously Romantic


Pack a picnic hamper and head out to the impossibly beautiful Whitehaven beach, with its blinding white sand and turquoise water. This is the beach that gets used in the brochures for the Whitsunday and Queensland and youll see why when you set foot on the sand. Ferries run daily to Whitehaven, and Aviation Adventures also offers a package which includes a helicopter tour, champagne and picnic.
5. Best Daytime Adventure


No trip to the Whitsunday Coast would be complete without a cruise of the islands and a snorkel on the Great Barrier Reef. Reefjet are one of the major operators and do tours of the outer reef, and its popular Three Islands Tour is the best way to get a feel for this stunning island group in one day. Visit:
www.reefjet.com.au
or call (07) 4946 6033.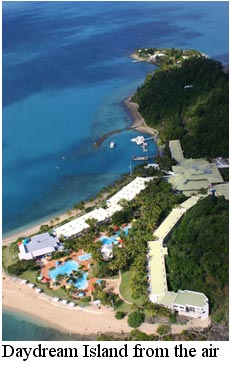 6. Most Covetable Souvenir


On the Whitsunday Coast, it has to be something beachy and touristy so why not look the part in an Airlie Beach floppy hat. Kitsch is cool remember, and theres no shortage of souvenir shops on the main drag to search for that essential fashion accessory. If you can try and find a nice bright pink one - that way youll stand out from the crowd!
FACT FILE
Virgin Blue flies to the Whitsunday Coast (Proserpine Airport) from Sydney and other cities in Australia. Packages at the Coral Sea Resort and other accommodation can be booked through Blue Holidays. Visit
www.virginblue.com.au
, or
www.blueholidays.com.au
. Car rental can be arranged by Europcar at Proserpine Airport, or in Airlie Beach. Visit
www.europcar.com.au
.
For the best in luxury travel, visit
www.ultimatetravel.net.au
---
About Ultimate Travel Magazine
Ultimate Travel (
www.ultimatetravel.net.au
) is a new-concept online travel magazine designed to deliver the best in luxury travel worldwide. Dedicated to savvy travellers who want more from a magazine than just gloss and glamour, Ultimate Travel aims to provide readers with a unique combination of topical information, inspiring experiences, and practical advice presented in a contemporary "magazine" format.
Founded by husband and wife team, Ben and Joanna Hall, Ultimate Travel aims to take readers on an unforgettable journey. From cruising the high seas and taking time out in exclusive luxury resort spas, to enjoying the best of local culture and finding the best shopping bargains, its features not only "paint the picture" for you in words and quality photography, but also give you the inside knowledge on how to make the most of your dream getaway.
Subscribing to Ultimate Travel is free, and there are four new issues of Ultimate Travel Magazine each year - in January, April, July and October. As a subscriber, you will not only have free access to some of Australia's best travel writing and photography, but you will also benefit from a variety of exciting competitions and promotions we have planned for 2007 and beyond.
By subscribing, you will also doing your bit to help us help some good causes - for every new subscriber who signs up for our quarterly newsletter, we are donating $1 to four worthy charity partners (the Stroke Foundation, Look Good, Feel Better, Paradise Kids, the Gynaecological Awareness Information Network).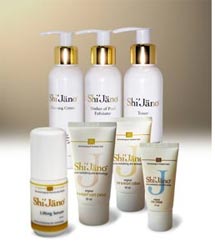 Win one of five Shi'jano Skincare Range Sets
Ultimate Travel's Special Offer To Subscribers Of Femail.com.au
In addition to our charity donation, Ultimate Travel Magazine would like to extend a very special welcome to subscribers of Femail.com.au with an exclusive offer.
Subscribe to Ultimate Travel from 8th May, and you will get the chance to win one of five complete sets of the luxury Swedish anti-ageing Shi'jano skincare range. The set includes Original Eye Creme, Original Day & Night, Original Soft Day & Night Creme (for sensitive skin), Lifting Serum, and three brand new products - Cleansing Creme, Toner, and Mother of Pearl Exfoliator. It's a prize worth $454.00!
All you have to do to enter is send an email to
femail@ultimatetravel.net.au
with your full name and email address, the state or country you are from, and your age range (19-25, 25-35, 35-45, 45-55, 55+), and tell us in 25 words or less "your definition of the ultimate holiday or travel experience". Entries close on 5th June 2007.
---
Other Travel Articles:
Acapulco
- Diving into Acapulco -
www.femail.com.au/diving-into-acapulco-ultimate-travel.htm
Andalucia Spain
- Andalucia - The Real Heart of Southern Spain -
www.femail.com.au/andalucia-heart-of-spain-ultimate-travel.htm
Canada
- Autumn Leaves -
www.femail.com.au/autumn-leaves-ultimate-travel.htm
Cayman Islands
- The Hidden Side of Grand Cayman -
www.femail.com.au/hidden-side-of-grand-cayman-ultimate-travel.htm
Hong Kong
- Escaping the Big City -
www.femail.com.au/escaping-the-big-city-ultimate-travel.htm
London
- Keeping an Eye on London -
www.femail.com.au/keeping-an-eye-on-london-ultimate-travel.htm
New York
- Romancing in the Big Apple -
www.femail.com.au/romancing-the-big-apple-ultimate-travel.htm
Spa Retreats
- A Pacific Spa Trek -
www.femail.com.au/a-pacific-spa-trek-ultimate-travel.htm
Tahiti
- Tahiti By Gauguin -
www.femail.com.au/tahiti-by-gauguin-ultimate-travel.htm
Whitsundays
- Wild On The Whitsundays -
www.femail.com.au/wild-on-the-whitsundays-ultimate-travel.htm