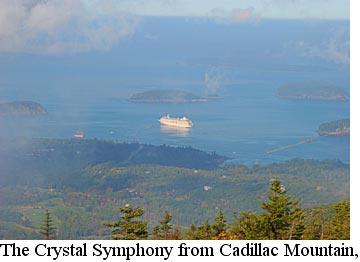 When the east coast of North America erupts in a riot of fall colours, there's no better way to catch one of nature's great shows than cruising its famous waters.
By Joanna Hall (Photography by Ben Hall)
It's a serene and ethereal experience - the cruise ship glides quietly down the Saguenay River past lighthouses on rocky outcrops amid a seemingly endless forest.
The leaves are turning yellow, the first sign of fall, and every so often we drift past remote colonial towns and quaint fishing villages which are a throwback to a bygone era.
Cruising the waters of Canada and New England in Autumn is more than just a way of experiencing the change of colours in the foliage - it's also a passage back in time and one of the most pleasant ways of enjoying the natural beauty of this rugged region.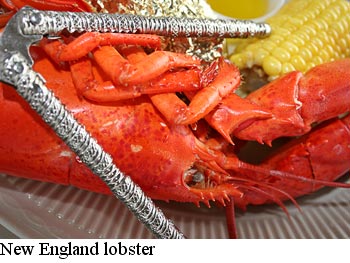 The journey is confirmation that it is possible to escape civilisation, albeit in the comfort of a luxury cruise ship - the Crystal Symphony. And its 11-day 'Fall Splendors' cruise take in one of nature's great shows in six star style.
The peak time for cruising in the North American autumn varies. September and October are best months, but even if Mother Nature doesn't co-operate and the foliage show is late, it's an experience that's not just for the 'leaf peepers'.
Historical cities, picture-postcard ports, deserted islands and the untouched wilderness is what makes this an increasingly popular way to journey the maritime provinces of Canada and the eastern seaboard of the United States.
Itineraries vary, but setting out from Montréal - considered by many visitors to be one of the most 'European' of North American cities - is the perfect start to this voyage.
At street level, Montréal's Gallic roots are obvious - French is the language of choice for the majority of the population (although almost everyone here is bilingual), and the architecture is a reminder why this is the case.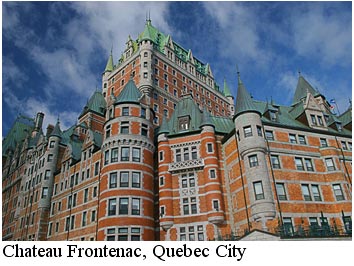 Busy sidewalk cafés, cobblestone streets, wrought iron balconies, designer fashion boutiques - it could be an enclave of Paris and a wander into historic Old Montréal is a throwback to the 17th century.
Departing Montréal is heart breaking, but that's forgotten by the next morning as the Crystal Symphony glides towards Québec City.
From down river the sight of Québec City is nothing short of magical and it resembles a scene from a fairy tale. With old stone houses wedged between cosy cafés and bistros, and original centuries-old horse drawn carriages clip-clopping past on cobble stone streets, it's easy to feel transported back in time.
A couple of sea days on the Saguenay and St Lawrence Rivers provides the perfect opportunity to explore the ship which is one of the most luxurious at sea.
Its staterooms, most with private verandahs, are luxuriously appointed and remarkably spacious - and with a maximum capacity of 940 guests and 545 crew, it ensures a high level of service.
After leaving the St Lawrence behind, the Atlantic opened up and behaved itself - it was like glass for the sail in to Halifax, Nova Scotia.
Perched on the edge of one of the largest natural harbours in the world, Halifax has been a significant port since 1749 and a major strategic military hub, and it remains the modern heart of Atlantic Canada.
Its historic and cultural attractions are all within walking distance - from the imposing and perfectly preserved Citadel, an odd shaped fort which stands sentinel over the city and surrounds.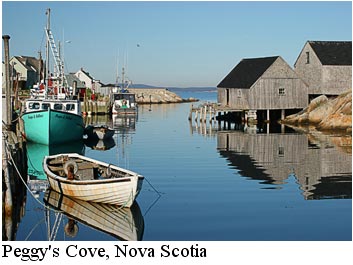 A short distance away is the symbol of Canada's strength and resilience - Peggy's Cove lighthouse is a photographer's dream set on a point in a classic fishing village with rugged cliffs and ocean as its backdrop.
Cruising south, and no visit to New England is complete without enjoying the special experience of a Maine lobster, and Bar Harbor prides itself on the freshness and quality of its crustaceans. Bar Harbor is a quaint fishing village, and a relaxing prelude to the big-city hustle and bustle of Boston.
The city remains the link between Europe and United States and the place where that cord was severed, and with its Old World charm, Boston is a unique city with a genuine warmth. Few cities juxtapose old and new like Boston does, with modern skyscrapers soaring amid street after brick-sidewalked street of 18th and 19th century townhouses and churches.
And to top all of this off, perhaps the highlight of the cruise - sailing into New York Harbor past Lady Liberty herself and under the shadows of the Manhattan skyline.
Seeing New York and its harbour from the water gives it a totally new perspective, and on the Promenade deck everyone is quiet. It's an overwhelming and humbling way to end a great journey.
FACT FILE
The Crystal Symphony will make five Canada New England voyages in 2007 starting from September 14. Fares include accommodation, onboard cuisine, entertainment and non-alcoholic beverages, but do not include tipping, port, security and handling charges - fuel surcharges may also be applicable. Visit
www.crystalcruises.com
or call Wiltrans on 1800 251 174.
Air Canada flies daily from Sydney to Vancouver via Honolulu, with connections from Vancouver to Montréal and New York. Call 1300 655 767 or visit
www.aircanada.com.au
. Virgin Blue connects from most major Australian cities to Sydney. Call 13 67 89 or visit
www.virginblue.com.au
.
Pre and post cruise accommodation includes the Ritz-Carlton Montréal (
www.ritzcarlton.com/hotels/montreal
), and the Mandarin Oriental New York (
www.mandarinoriental.com/newyork/
).
For the best in luxury travel, visit
www.ultimatetravel.net.au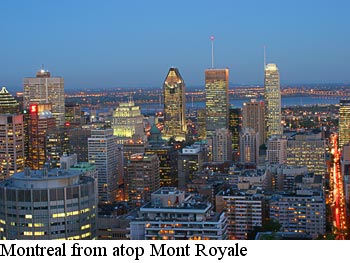 ---
About Ultimate Travel Magazine
Ultimate Travel (
www.ultimatetravel.net.au
) is a new-concept online travel magazine designed to deliver the best in luxury travel worldwide. Dedicated to savvy travellers who want more from a magazine than just gloss and glamour, Ultimate Travel aims to provide readers with a unique combination of topical information, inspiring experiences, and practical advice presented in a contemporary "magazine" format.
Founded by husband and wife team, Ben and Joanna Hall, Ultimate Travel aims to take readers on an unforgettable journey. From cruising the high seas and taking time out in exclusive luxury resort spas, to enjoying the best of local culture and finding the best shopping bargains, its features not only "paint the picture" for you in words and quality photography, but also give you the inside knowledge on how to make the most of your dream getaway.
Subscribing to Ultimate Travel is free, and there are four new issues of Ultimate Travel Magazine each year - in January, April, July and October. As a subscriber, you will not only have free access to some of Australia's best travel writing and photography, but you will also benefit from a variety of exciting competitions and promotions we have planned for 2007 and beyond.
By subscribing, you will also doing your bit to help us help some good causes - for every new subscriber who signs up for our quarterly newsletter, we are donating $1 to four worthy charity partners (the Stroke Foundation, Look Good, Feel Better, Paradise Kids, the Gynaecological Awareness Information Network).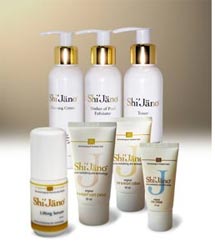 Win one of five Shi'jano Skincare Range Sets
Ultimate Travel's Special Offer To Subscribers Of Femail.com.au
In addition to our charity donation, Ultimate Travel Magazine would like to extend a very special welcome to subscribers of Femail.com.au with an exclusive offer.
Subscribe to Ultimate Travel from 8th May, and you will get the chance to win one of five complete sets of the luxury Swedish anti-ageing Shi'jano skincare range. The set includes Original Eye Creme, Original Day & Night, Original Soft Day & Night Creme (for sensitive skin), Lifting Serum, and three brand new products - Cleansing Creme, Toner, and Mother of Pearl Exfoliator. It's a prize worth $454.00!
All you have to do to enter is send an email to
femail@ultimatetravel.net.au
with your full name and email address, the state or country you are from, and your age range (19-25, 25-35, 35-45, 45-55, 55+), and tell us in 25 words or less "your definition of the ultimate holiday or travel experience". Entries close on 5th June 2007.
---
Other Travel Articles:
Acapulco
- Diving into Acapulco -
www.femail.com.au/diving-into-acapulco-ultimate-travel.htm
Andalucia Spain
- Andalucia - The Real Heart of Southern Spain -
www.femail.com.au/andalucia-heart-of-spain-ultimate-travel.htm
Canada
- Autumn Leaves -
www.femail.com.au/autumn-leaves-ultimate-travel.htm
Cayman Islands
- The Hidden Side of Grand Cayman -
www.femail.com.au/hidden-side-of-grand-cayman-ultimate-travel.htm
Hong Kong
- Escaping the Big City -
www.femail.com.au/escaping-the-big-city-ultimate-travel.htm
London
- Keeping an Eye on London -
www.femail.com.au/keeping-an-eye-on-london-ultimate-travel.htm
New York
- Romancing in the Big Apple -
www.femail.com.au/romancing-the-big-apple-ultimate-travel.htm
Spa Retreats
- A Pacific Spa Trek -
www.femail.com.au/a-pacific-spa-trek-ultimate-travel.htm
Tahiti
- Tahiti By Gauguin -
www.femail.com.au/tahiti-by-gauguin-ultimate-travel.htm
Whitsundays
- Wild On The Whitsundays -
www.femail.com.au/wild-on-the-whitsundays-ultimate-travel.htm