Its perhaps best known for its healthy population of financial institutions, but theres much more to this sleepy, former British Caribbean outpost than meets the eye.
By Joanna Hall (Photography by Ben Hall)
As a heat haze rises off the asphalt roads, businessmen in designer suits walk and talk with mobile phones pressed against their ears. In a nearby bar, a steel band strikes up and English expats talk cricket over a gin and tonic.
The Cayman Islands is distinctly Caribbean on the surface, yet very colonial at its heart, and its fast gaining a deserved reputation as a genteel island experience.
Made up of three islands - Grand Cayman, Little Cayman and Cayman Brac - the Cayman Islands is a British Crown colony which boasts the highest standard of living in the Caribbean, thanks to the influence of the offshore banking industry.
Grand Cayman receives 95 percent of the tourist traffic, with Little Cayman and Cayman Brac often overlooked because of a lack of tourism facilities - although they do provide the perfect get-away-from-it-all experience.
Until the 1970s the Cayman Islands were a sleepy British outpost in the western Caribbean, but in recent years the population has grown and the economy has taken off in a big way.
Its now the fifth largest financial centre in the world and has more than 600 banks with assets in excess of $500 billion.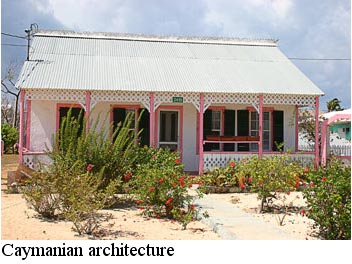 Georgetown is the heart and soul of Cayman and where the wheeling and dealing takes place, but its also a pleasant town with classic colonial architecture.
But the Cayman Islands is more than just a money centre - while it is a relatively flat island which perhaps lacks the stunning landscapes of fellow Caribbean islands such as Jamaica and Martinique, it does feature classic white sand beaches and fantastic diving and snorkelling.
Here the fish seem bigger and brighter, and the water crystal clear and warm.
Most visitors head for the resort areas around Seven Mile Beach on Grand Cayman- a dazzling stretch of palm fringed white sand surrounded by crystal clear aqua blue ocean.
Even without snorkelling gear, its possible to see colourful fish darting around in the water right up to the edge of the beach.
Its no wonder Cayman has created a thriving diving industry to attract underwater enthusiasts - more than 40 operators offer trips to around 200 different sites and on most days visibility easily reaches 30 metres.
Perhaps the most famous of the sites is Stingray City - described as "the best 12 foot dive in the world".
Situated on North Sound, this is an experience which is unique and allows divers and snorkellers to get up close and personal with stingrays - they actually rub their velvety bellies against your hands and feet. Its their way of letting you know theyd love a piece of squid.
Its perfectly safe as the rays have become very tame and behave like pets after more than a decade of human interaction. The stingray feeding developed in the late 1980s, after local fishermen noticed an abundance of the creatures, which are scavengers by nature, cleaning up on leftovers thrown overboard.
Some of the best examples of Caymanian architecture can be found at the northern end of Seven Mile Beach on Boggy Sand Road.
Set back from the beach behind more contemporary and larger beach villas, they have expansive verandahs with gingerbread trim and splashes of colour thanks to bougainvillea, and gardens decorated with polished conch shells dotted with palm and breadfruit trees.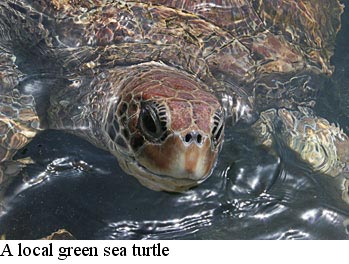 Another major attraction on Grand Cayman is the worlds only commercial turtle farm. About 40 per cent of the 8,000 hatchlings raised here each year are returned to the sea when they reach about a year old.
In fact, since 1980, the Farm has released 29,000 turtles back into the sea to help replenish the wild population. The turtles are now protected and the Farm aims to provide an ideal breeding environment.
Turtle numbers took a massive hit after Hurricane Ivan devastated Cayman in September 2004, and the Turtle Farm is working at rebuilding stocks of the majestic creature.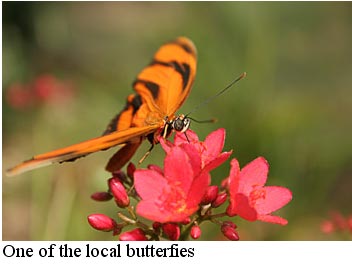 Conservation is also a priority at Caymans Butterfly Farm which is a world away from the islands five-star resorts and luxury cruise ships.
Inside a meshed and landscaped enclosure, thousands of butterflies fly freely around among the plants and waterfalls. It pays to wear colourful clothing and perfume - the butterflies are attracted to colour and the sweet smell and often land on people.
The best time to go is early in the morning when its possible to watch the birth of a butterfly.
Its a serene encounter, and typical of the Cayman experience in which wildlife and nature are the star attractions.
FACT FILE
Qantas flies between Australia and Los Angeles, including non-stop services from Sydney, Melbourne and Brisbane. Visit www.qantas.com.au or call 13 13 13. Oneworld partner American Airlines operates flights from Los Angeles to Miami, with onward connections to Grand Cayman. Visit
www.aa.com
, or call Qantas on 13 13 13.
For more information on the Cayman Islands, visit the Cayman Islands Department of Tourism at
www.caymanislands.ky
.
For the best in luxury travel, visit
www.ultimatetravel.net.au
---
About Ultimate Travel Magazine
Ultimate Travel (
www.ultimatetravel.net.au
) is a new-concept online travel magazine designed to deliver the best in luxury travel worldwide. Dedicated to savvy travellers who want more from a magazine than just gloss and glamour, Ultimate Travel aims to provide readers with a unique combination of topical information, inspiring experiences, and practical advice presented in a contemporary "magazine" format.
Founded by husband and wife team, Ben and Joanna Hall, Ultimate Travel aims to take readers on an unforgettable journey. From cruising the high seas and taking time out in exclusive luxury resort spas, to enjoying the best of local culture and finding the best shopping bargains, its features not only "paint the picture" for you in words and quality photography, but also give you the inside knowledge on how to make the most of your dream getaway.
Subscribing to Ultimate Travel is free, and there are four new issues of Ultimate Travel Magazine each year - in January, April, July and October. As a subscriber, you will not only have free access to some of Australia's best travel writing and photography, but you will also benefit from a variety of exciting competitions and promotions we have planned for 2007 and beyond.
By subscribing, you will also doing your bit to help us help some good causes - for every new subscriber who signs up for our quarterly newsletter, we are donating $1 to four worthy charity partners (the Stroke Foundation, Look Good, Feel Better, Paradise Kids, the Gynaecological Awareness Information Network).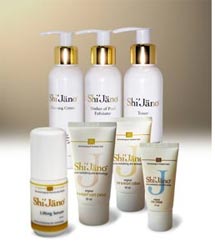 Win one of five Shi'jano Skincare Range Sets
Ultimate Travel's Special Offer To Subscribers Of Femail.com.au
In addition to our charity donation, Ultimate Travel Magazine would like to extend a very special welcome to subscribers of Femail.com.au with an exclusive offer.
Subscribe to Ultimate Travel from 8th May, and you will get the chance to win one of five complete sets of the luxury Swedish anti-ageing Shi'jano skincare range. The set includes Original Eye Creme, Original Day & Night, Original Soft Day & Night Creme (for sensitive skin), Lifting Serum, and three brand new products - Cleansing Creme, Toner, and Mother of Pearl Exfoliator. It's a prize worth $454.00!
All you have to do to enter is send an email to
femail@ultimatetravel.net.au
with your full name and email address, the state or country you are from, and your age range (19-25, 25-35, 35-45, 45-55, 55+), and tell us in 25 words or less "your definition of the ultimate holiday or travel experience". Entries close on 5th June 2007.
---
Other Travel Articles:
Acapulco
- Diving into Acapulco -
www.femail.com.au/diving-into-acapulco-ultimate-travel.htm
Andalucia Spain
- Andalucia - The Real Heart of Southern Spain -
www.femail.com.au/andalucia-heart-of-spain-ultimate-travel.htm
Canada
- Autumn Leaves -
www.femail.com.au/autumn-leaves-ultimate-travel.htm
Cayman Islands
- The Hidden Side of Grand Cayman -
www.femail.com.au/hidden-side-of-grand-cayman-ultimate-travel.htm
Hong Kong
- Escaping the Big City -
www.femail.com.au/escaping-the-big-city-ultimate-travel.htm
London
- Keeping an Eye on London -
www.femail.com.au/keeping-an-eye-on-london-ultimate-travel.htm
New York
- Romancing in the Big Apple -
www.femail.com.au/romancing-the-big-apple-ultimate-travel.htm
Spa Retreats
- A Pacific Spa Trek -
www.femail.com.au/a-pacific-spa-trek-ultimate-travel.htm
Tahiti
- Tahiti By Gauguin -
www.femail.com.au/tahiti-by-gauguin-ultimate-travel.htm
Whitsundays
- Wild On The Whitsundays -
www.femail.com.au/wild-on-the-whitsundays-ultimate-travel.htm