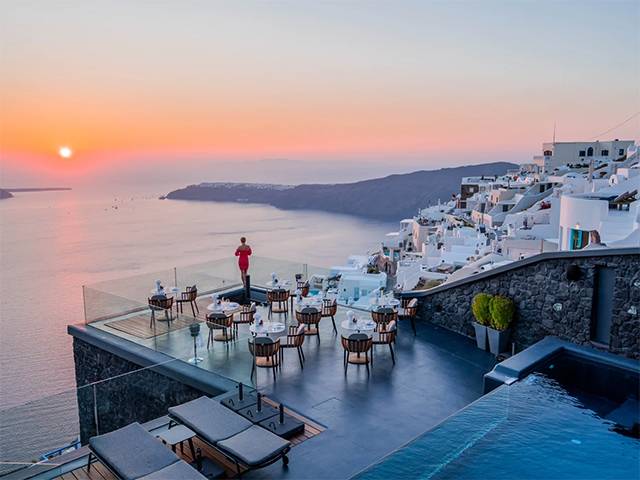 Dark Romance Unlike Any Other in Santorini
Known to travellers as a love letter to the beauty of the island's volcanic landscape, Kivotos Santorini is the epitome of ethereal elegance. Perched atop the crest of Santorini's caldera in the cliffside village of Imerovigli, this secluded slice of paradise is the perfect spot for couples wishing to share quality time together.
The distinctive hideaway sets itself apart from the island's all white vernacular with its unique jet black and smoke grey structure. The hotel's suffusion of edgy ebony tones and modern cavernous interior provide a cozy ambiance for couples wishing to escape and indulge in effortless luxury.
Couples are invited to select from 10 artistically crafted suites and villas, each featuring full sea views with varying luxury amenities from indoor pools, hot tubs and hammams. Additionally, the hotel's signature restaurant MAVRO marries the rich culinary traditions of the Mediterranean with modern fusions to offer one-of-a-kind gastronomy experiences sure to have you falling in love all over again.
The best part is that the hotel offers unobstructed panoramic sunset views throughout the season – a rare find on the popular island!
For a limited time, enjoy a 20% discount on a selection of room types when you book direct from the hotel website.