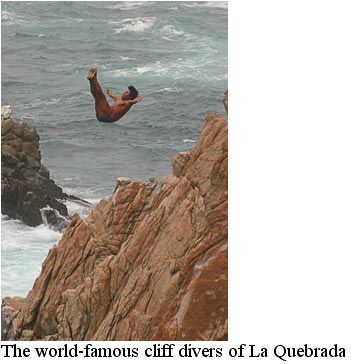 Its renowned for hot beaches and even hotter nightlife, and as many travellers discover, very few cities can mirror the unique excitement and glamour of Acapulco.
By Joanna Hall (Photography by Ben Hall)
As the wave surges towards the jagged cliff face, the cliff diver looks down and raises his arm to the crowd to indicate hes going to jump.
At the last second, he steps back off the cliff top, clearly not happy with the amount of water gushing into the narrow chasm below.
From a height of 40m and with just three and a half metres between rocks, and certain death below, timing is just as crucial as wave selection.
The excitement of the Acapulco cliff divers is not of the 'stage and entertainment' type - this is for real and theres more tension and nervousness than outright enjoyment at watching young men plunge into the frothing water below.
Two waves later, the divers arm is stretched upwards again and this time he takes the leap - a triple backward somersault and perfect entry. And the whole time it looked as though he would slam into the side of the cliff, because of its angle to the sea.
The cliff divers of Acapulco have earned a reputation around the world for their daring, but its not just guts that sets these guys apart. The sheer skill of the diving wouldnt be out of place at an Olympics.
The display of daring at the famous cliffs of La Quebrada, just north of the Old Town, has been going on for decades and gets the adrenaline pumping.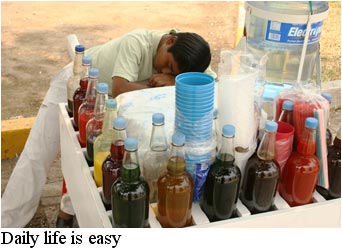 Its an experience which is a must-do in a city which exudes excitement and glamour - Acapulco is a city which thrived in the 1950s thanks to the Hollywood jetset.
It was then that Frank Sinatra invited one and all to "Come fly with me...down to Acapulco Bay," and Elvis Presley spread the message in the early 60s with his hit film "Fun in Acapulco".
Acapulco became the playground of the likes of Erroll Flynn and Cary Grant who cavorted in the beach resort with their many glamourous companions.
John Wayne, Rita Hayworth and Orson Wells joined the growing list of celebrities that helped create Acapulcos glamourous party image.
Now the "jewel of the Mexican Riviera" is undergoing yet another revival and in recent times, Joan Collins, Bill Clinton and Sylvester Stallone have rented villas in the hills above Acapulco looking out over the famous bay.
A drive along the Costera Miguel Aleman Avenue offers a spectacular view of Acapulco Bay and its grandest attractions, and theres now a beachfront promenade that runs most of its length.
Acapulco is famous for its stunning beaches, with their satiny, fine, white and golden sands - dotted with tall, majestic palm trees.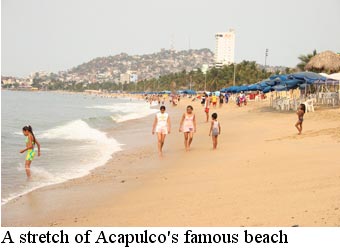 They stretch for about 26km and each is unique in its own respect. Its possible to find quiet secluded beaches for swimming and snorkelling and some with waves that are good enough for surfboard riding.
The best place to start is La Condesa Beach which is right in the middle of the Zona Dorada - the Golden Zone - and is one of Acapulcos most popular beaches.
This beach has everything for everyone - its possible to find a quiet spot to catch some sun and youre not far from a wide variety of watersports such as jet-skiing, waterskiing, windsurfing, snorkelling, parasailing.
Its also a great place to sip a cool drink and people-watch as the Acapulcans enjoy the aquatic delights of their city.
It is possible to have a lazy beach holiday in Acapulco, but if you venture out at night its more than likely your senses will be awakened by the energy of the city after dark.
The restaurants in the Zona Dorada feature open air dining and views of the city skyline and the prices are reasonable. This is a great way to kick start a night out, and afterwards there are numerous bars and nightclubs offering a wide variety of music and other entertainment.
Much of it doesnt actually get going until after 11pm, and many party-goers dont bother returning to their homes or hotels until the sun comes up.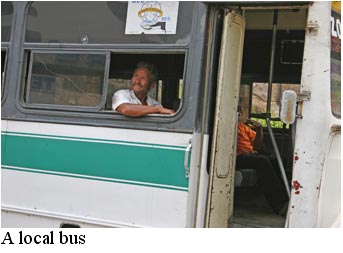 For those who love their shopping, its possible to get some good bargains on a wide range of items such as local handicrafts, designer clothes and silver jewellrey - which is the areas specialty.
Old Acapulco, at the northern end of the bay is the best place to get started. Its a grid system with some busy markets ranging from traditional paintings and artwork, to fruit and vegetables and upscale boutiques.
In between the shopping there are several pretty town squares, such as the Zocalo Plaza Alvarez, to investigate along with the Nuestra Senora de la Soledad Church, and the Mercado Municipal.
From its classic sand beaches, sweeping bay, and steamy night life to its daring divers, Acapulco has a special vibe thanks to its history and enduring manic energy.
FACT FILE
Qantas flies between Australia an Los Angeles, including non-stop services from Sydney, Melbourne and Brisbane. Visit www.qantas.com.au or call 13 13 13. Oneworld partner American Airlines operates code share flights to Acapulco via Mexico City with Mexicana. Visit
www.aa.com
, or call Qantas on 13 13 113.
For more information on Acapulco, visit
www.visitacapulco.com.mx
.
For the best in luxury travel, visit
www.ultimatetravel.net.au
---
About Ultimate Travel Magazine
Ultimate Travel (
www.ultimatetravel.net.au
) is a new-concept online travel magazine designed to deliver the best in luxury travel worldwide. Dedicated to savvy travellers who want more from a magazine than just gloss and glamour, Ultimate Travel aims to provide readers with a unique combination of topical information, inspiring experiences, and practical advice presented in a contemporary "magazine" format.
Founded by husband and wife team, Ben and Joanna Hall, Ultimate Travel aims to take readers on an unforgettable journey. From cruising the high seas and taking time out in exclusive luxury resort spas, to enjoying the best of local culture and finding the best shopping bargains, its features not only "paint the picture" for you in words and quality photography, but also give you the inside knowledge on how to make the most of your dream getaway.
Subscribing to Ultimate Travel is free, and there are four new issues of Ultimate Travel Magazine each year - in January, April, July and October. As a subscriber, you will not only have free access to some of Australia's best travel writing and photography, but you will also benefit from a variety of exciting competitions and promotions we have planned for 2007 and beyond.
By subscribing, you will also doing your bit to help us help some good causes - for every new subscriber who signs up for our quarterly newsletter, we are donating $1 to four worthy charity partners (the Stroke Foundation, Look Good, Feel Better, Paradise Kids, the Gynaecological Awareness Information Network).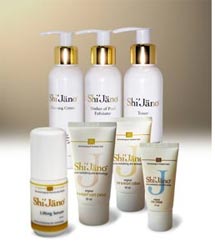 Win one of five Shi'jano Skincare Range Sets
Ultimate Travel's Special Offer To Subscribers Of Femail.com.au
In addition to our charity donation, Ultimate Travel Magazine would like to extend a very special welcome to subscribers of Femail.com.au with an exclusive offer.
Subscribe to Ultimate Travel from 8th May, and you will get the chance to win one of five complete sets of the luxury Swedish anti-ageing Shi'jano skincare range. The set includes Original Eye Creme, Original Day & Night, Original Soft Day & Night Creme (for sensitive skin), Lifting Serum, and three brand new products - Cleansing Creme, Toner, and Mother of Pearl Exfoliator. It's a prize worth $454.00!
All you have to do to enter is send an email to
femail@ultimatetravel.net.au
with your full name and email address, the state or country you are from, and your age range (19-25, 25-35, 35-45, 45-55, 55+), and tell us in 25 words or less "your definition of the ultimate holiday or travel experience". Entries close on 5th June 2007.
---
Other Travel Articles:
Acapulco
- Diving into Acapulco -
www.femail.com.au/diving-into-acapulco-ultimate-travel.htm
Andalucia Spain
- Andalucia - The Real Heart of Southern Spain -
www.femail.com.au/andalucia-heart-of-spain-ultimate-travel.htm
Canada
- Autumn Leaves -
www.femail.com.au/autumn-leaves-ultimate-travel.htm
Cayman Islands
- The Hidden Side of Grand Cayman -
www.femail.com.au/hidden-side-of-grand-cayman-ultimate-travel.htm
Hong Kong
- Escaping the Big City -
www.femail.com.au/escaping-the-big-city-ultimate-travel.htm
London
- Keeping an Eye on London -
www.femail.com.au/keeping-an-eye-on-london-ultimate-travel.htm
New York
- Romancing in the Big Apple -
www.femail.com.au/romancing-the-big-apple-ultimate-travel.htm
Spa Retreats
- A Pacific Spa Trek -
www.femail.com.au/a-pacific-spa-trek-ultimate-travel.htm
Tahiti
- Tahiti By Gauguin -
www.femail.com.au/tahiti-by-gauguin-ultimate-travel.htm
Whitsundays
- Wild On The Whitsundays -
www.femail.com.au/wild-on-the-whitsundays-ultimate-travel.htm