If you want a taste of the real Spain, steer clear of the resorts for Brits and Germans, rent a car and explore the southern region of Andalucia.
By Joanna Hall (Photography by Ben Hall)
A typical day in Andalucia: youre driving through a tiny village with traditional whitewashed cottages and you brake as a goat herder leads his flock across the road.
The goat herder, and his goats of course, are in no real hurry and waiting patiently I notice that were idling outside a bar simply called 'Miguels'. Its an omen.
I turn the engine off and we wander in and grab an outside table to watch a bit of village life - it might be too early for a drink but the locals dont seem to care, so a beer it is.
Even after just a couple of days in southern Spain, the 'chill factor' has well and truly kicked in.
This was just the first stop on a driving tour of Andalucia - the village of Alhama de Granada at the top of a stunning mountain range overlooking a gorge revealed a labyrinth of traditional whitewashed cottages.
The local men, as they tend to do in this part of the world, congregate outside the church in the main square to chat and smoke cigarettes, and a wayward donkey is rounded up casually by its owner and led away - presumably to the local market.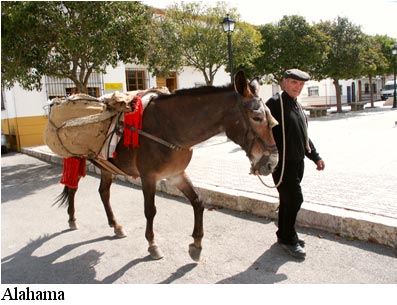 Its easy to become sidetracked by such diversions in Andalucia - the pace of life may seem endearingly slow at times but its important to build in extra time to fully experience the culture and essence of a proud region which is slightly bigger in area than Tasmania.
Ahead of us lay the highlight of our trip and one of Europes most inspiring architectural wonders - the magnificent Alhambra Palace in the city of Granada.
We had to leave the charm of Alhama behind and push on, and after a relaxing drive through the mountainous countryside, we hit the outskirts of Granada.
And thats when it becomes obvious what all the fuss is about - the Alhambra Palace dominates the skyline, and overlooks the bustling city with an austere presence.
Its the finest example of Moorish architecture in the world and its scale is overwhelming - even the Andalucians describe it as a 'must see' which needs at least a full day to explore the maze of palaces, fortresses, churches, gardens, and plazas.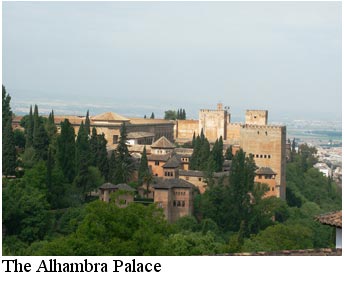 Wed booked a room at the famous Alhambra Palace Hotel to become immersed in the stylish Islamic elegance that pervades the monument.
To understand the history of the Alhambra, is to grasp the history of Andalucia itself. The Moors arrived in the region in 711AD and made Granada one of their strongholds.
Its believed construction of the Alhambra in its current form began in 1238 under an Islamic dynasty and continued until 1492 when the Catholic Monarchs Ferdinand and Isabel conquered Granada. This naturally meant a change in architectural style. During the 18th and part of the 19th century it fell into disrepair until it was declared a national monument in 1870.
At every turn within the fortressed walls of the Alhambra is a piece of history which typifies the Andalucian heart.
At the end of the day - slightly disoriented and very weary - we headed for the nearest exit and stumbled back to the hotel.
From Granada to Andalucias famous coastline is a short 60km journey (prompting locals to brag that its possible to swim in the ocean and ski in the same day) which sweeps through the imposing Sierra Nevadas.
With a peak of 3,400 metres, it also means the route to sea level resembles an asphalt downhill ski run - and within an hour the bright blue Mediterranean opens up.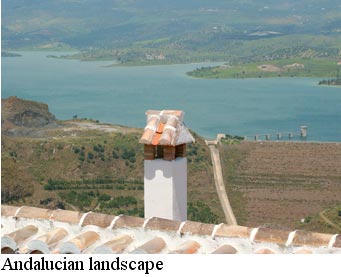 The Costa del Sol, or Sun Coast, attracts millions of tourists each year - among them package-deal Brits and Germans which has led to an abundance of high-rise and neon in some former fishing villages such as Torremolinos and Marbella.
But just a short drive east is the Costa Tropical, home to pretty seaside villages such as La Herradura and Salobreña which have yet to experience the mass tourism that can affect its more brash neighbours on the Costa del Sol.
Azure blue water, uncrowded beaches, friendly tapas bars and relaxed and charming hotels like La Tartana in Herradura are a feature of the Costa Tropical.
The design at La Tartana is modelled on the Moorish influence of the Alhambra Palace, and resident cat Momo is usually the first to welcome guests as they step into the courtyard.
While the Andalucian coastline is the major drawcard in this part of the world, its 'Parque Naturals' are becoming increasingly popular with visitors.
The Spanish locals have embraced this form of eco-tourism and we headed for the Parque Natural Montes de Malaga just north of Malaga City - an ideal stopover on the day before a flight home.
The park features several walking trails which provided a relaxing mix of fir trees and roadside wild flowers and local bird life - a real nature lovers haven.
Some of the natural parks have hostels as the only accommodation but we chose the Montes de Malaga because of the Hotel Humaina - a charming three star with a lovely pool which overlooks the forest.
It doesnt take long to absorb the regions rich history, gastronomic delights such as tapas and locally made wine and sherry, stunning mountain scenery, fabulous beaches and sheer natural beauty, and its no wonder Andalucians believe theyve inherited a slice of heaven.
And dont repeat one of my mistakes - I asked a group of locals if they were Spanish: "No! Andaluz!" was the response. Theyre the "Queenslanders" of Spain, and rightly proud of it.
FACT FILE
Gulf Air flies daily to London via Singapore and Bahrain. Visit
www.gulfair.com.au
. British Airways flies from London to Malaga in code share with Iberian. Visit
www.qantas.com
or phone 13 13 13.
For the Alhambra Palace Hotel, visit
www.h-alhambrapalace.es
. For Hotel La Tartana, visit
www.hotellatartana.com
. For Hotel Humaina, visit
www.hotelhumaina.es
.
Car rental can be arranged with Driveaway Holidays. Visit
www.driveaway.com.au
, or call 1300 363 500.
For the best in luxury travel, visit
www.ultimatetravel.net.au
---
About Ultimate Travel Magazine
Ultimate Travel (
www.ultimatetravel.net.au
) is a new-concept online travel magazine designed to deliver the best in luxury travel worldwide. Dedicated to savvy travellers who want more from a magazine than just gloss and glamour, Ultimate Travel aims to provide readers with a unique combination of topical information, inspiring experiences, and practical advice presented in a contemporary "magazine" format.
Founded by husband and wife team, Ben and Joanna Hall, Ultimate Travel aims to take readers on an unforgettable journey. From cruising the high seas and taking time out in exclusive luxury resort spas, to enjoying the best of local culture and finding the best shopping bargains, its features not only "paint the picture" for you in words and quality photography, but also give you the inside knowledge on how to make the most of your dream getaway.
Subscribing to Ultimate Travel is free, and there are four new issues of Ultimate Travel Magazine each year - in January, April, July and October. As a subscriber, you will not only have free access to some of Australia's best travel writing and photography, but you will also benefit from a variety of exciting competitions and promotions we have planned for 2007 and beyond.
By subscribing, you will also doing your bit to help us help some good causes - for every new subscriber who signs up for our quarterly newsletter, we are donating $1 to four worthy charity partners (the Stroke Foundation, Look Good, Feel Better, Paradise Kids, the Gynaecological Awareness Information Network).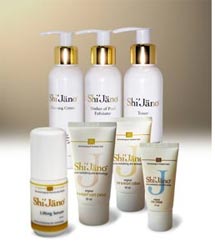 Win one of five Shi'jano Skincare Range Sets
Ultimate Travel's Special Offer To Subscribers Of Femail.com.au
In addition to our charity donation, Ultimate Travel Magazine would like to extend a very special welcome to subscribers of Femail.com.au with an exclusive offer.
Subscribe to Ultimate Travel from 8th May, and you will get the chance to win one of five complete sets of the luxury Swedish anti-ageing Shi'jano skincare range. The set includes Original Eye Creme, Original Day & Night, Original Soft Day & Night Creme (for sensitive skin), Lifting Serum, and three brand new products - Cleansing Creme, Toner, and Mother of Pearl Exfoliator. It's a prize worth $454.00!
All you have to do to enter is send an email to
femail@ultimatetravel.net.au
with your full name and email address, the state or country you are from, and your age range (19-25, 25-35, 35-45, 45-55, 55+), and tell us in 25 words or less "your definition of the ultimate holiday or travel experience". Entries close on 5th June 2007.
---
Other Travel Articles:
Acapulco
- Diving into Acapulco -
www.femail.com.au/diving-into-acapulco-ultimate-travel.htm
Andalucia Spain
- Andalucia - The Real Heart of Southern Spain -
www.femail.com.au/andalucia-heart-of-spain-ultimate-travel.htm
Canada
- Autumn Leaves -
www.femail.com.au/autumn-leaves-ultimate-travel.htm
Cayman Islands
- The Hidden Side of Grand Cayman -
www.femail.com.au/hidden-side-of-grand-cayman-ultimate-travel.htm
Hong Kong
- Escaping the Big City -
www.femail.com.au/escaping-the-big-city-ultimate-travel.htm
London
- Keeping an Eye on London -
www.femail.com.au/keeping-an-eye-on-london-ultimate-travel.htm
New York
- Romancing in the Big Apple -
www.femail.com.au/romancing-the-big-apple-ultimate-travel.htm
Spa Retreats
- A Pacific Spa Trek -
www.femail.com.au/a-pacific-spa-trek-ultimate-travel.htm
Tahiti
- Tahiti By Gauguin -
www.femail.com.au/tahiti-by-gauguin-ultimate-travel.htm
Whitsundays
- Wild On The Whitsundays -
www.femail.com.au/wild-on-the-whitsundays-ultimate-travel.htm