James P. Reza Las Vegas Travel Interview
An Introduction by Expedia Insider James P. Reza.
You think you know Las Vegas? It's a good bet that you know the city everyone else does: the lights and the gambling, the nightclubs and dayclubs, the Strip spectaculars, the showgirls and celebrity chefs. The $15 martinis, flashy clothes and fancy meals. But there is another side to Sin City that only a resident knows, and even less of them know Vegas like I do.
I was born, raised and educated in Las Vegas, and have spent most of my life learning, living and loving the city. Not just the sights seen by 40 million annual visitors (though I love those too), but the side built by those who make Las Vegas their home, and enjoyed by the few visitors lucky enough to have a local guide at their side. Good thing, then, that Expedia and I have joined together to show you my Las Vegas.
We'll see shops where the locals buy brilliant vintage clothes, enjoy quaint and quality local restaurants, and browse the Farmer's Markets where the chefs buy the produce. We'll learn the Vegas history that began long before the Mob arrived, and explore gorgeous outdoor recreation areas within an hour or two from town. We'll get cultured with museums and galleries, browse hip boutiques, and sample brews at bars located in the city's revitalizing downtown, where a monthly arts walk attracts 20,000 visitors to crawl the galleries and patronise local culture.
Come along and explore with us; we think you'll find a few things worth the distraction from the Strip. Some of you may even build an entire visit around this unsung side of Sin City. But you may want to bring your walking shoes, and leave the stilettos in the suite for later. After all, in a 24 hour town, there's always time for playing tourist.
For more information of Expedia Insider visit
www.expedia.com.au/insider
Interview with James P. Reza
Question:
When is the best time of the year to visit Las Vegas?
James P. Reza
: That depends on what you want from your vacation. If you want the cheapest airfares and hotel rooms, visit during our summer, which runs June-September. It's less expensive because it's very hot; think 110-F in the afternoon, and sometimes 100-F at midnight. Still, it's always 72-F indoors (pack a light jacket in summer, seriously), and one could conceivably visit Las Vegas and only be outside while walking to and from a taxi. If you want to try to save some money but experience cooler temperatures, try getting in toward mid-September.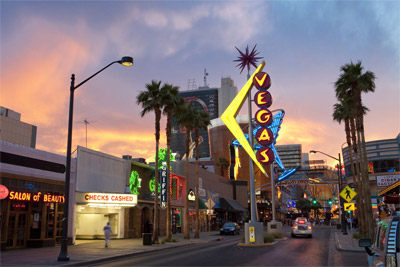 If scoring the lowest rates is not a requirement, my favourite time of the year is October. The weather is spectacular, with sunny but comfortable days and cool desert nights making outdoor events and festivals a sure thing. The fall performing arts seasons have ramped up by October, so you can venture off the tourist areas and experience art, music, and theatre, both in the revitalising downtown, as well as the university campus. Plus, most Americans have finished up vacation or returned to school. The city is less crowded, has great weather and offers lots of alternative entertainment options, making October a great time to visit.
Question:
Is Las Vegas a family friendly travel destination?
James P. Reza
: Some might disagree, but I say not really. Of course, there are plenty of family-oriented activities in the tourist areas, but keep in mind they are diversions from the authentic Vegas fun, almost all of which is intended (and often limited) to those 21 years or older.
Those under 21 are not permitted on the gambling floors of casinos, not permitted to drink alcohol, and not permitted in bars or nightclub. (Note: Doormen here take ID fraud very seriously, so think twice before carting along a fake ID). Under-21s can visit restaurants, shops, and the common (non-gambling) areas of casinos, of course, and they are welcome in many casino shows. So if your vacation is primarily geared toward dining, shopping and maybe a Cirque du Soliel show or two, you should do fine. If you want to smoke, drink, gamble and maybe take in a bawdy comedy act or topless burlesque, you'll need to trust that your kids will be safe in the hotel room (and there are babysitting services available for that purpose).
That's not to say there aren't other family-friendly activities in Las Vegas, but most of them are geared toward local residents. You'll need to get off the Strip to discover them. One of my favourites is the Las Vegas Springs Preserve. Located just west of downtown, the Springs Preserve is a 180-acre complex of natural terrain, interpretive exhibits, museums, and more, and is great fun for kids and adults alike who enjoy nature and history.
Question:
What are the most important things to remember when travelling to Las Vegas?
James P. Reza
: Budgeting, tipping, hydration and sunscreen. If you intend to gamble, set a firm budget, or you might be wiring home for money. Las Vegas is a service-based economy that thrives on tipping, so educate yourself in advance on standard tipping amounts (15-20%, before taxes, in a restaurant, salon or spa, for example, which can be added to the total via credit card), plus carry U.S. cash in $1 and $5 denominations for porters, doormen calling a taxi, bartenders, valet parking, etcetera. Las Vegas has a dry, hot climate, so remember to drink plenty of water and use sunscreen always. You'll also want lotion and hair products formulated for dry climates; just a few days in 10% humidity can do damage.
Also: Pedestrians do not have the right of way unless walking in a crosswalk with a green light. You'd be surprised at the rising number of pedestrian-vehicle accidents in Las Vegas.
Question:
What are the top three places to visit when in Las Vegas?
James P. Reza
: The obvious (and most broad) answers would be The Strip, Downtown/Fremont Street, and probably Hoover Dam or the Grand Canyon. The Strip is name given to the main resort corridor, about 4-miles of Las Vegas Boulevard South stretching from Sahara Avenue in the north to Russel Road at the south. All the huge casino "megaresorts" are located along the Strip with the names you'll recognise (Bellagio, Caesars Palace, Wynn). The city's top shopping, dining, nightclubs and shows are predominantly found along this stretch of road.
Downtown, particularly the Fremont Street area is the "original" Las Vegas; here is where the city was born, and here is where most of the classic casinos sit, bunched one upon the other, in tight quarters. The city's oldest active gaming license (issued 1941) is at the recently renovated El Cortez, and the section of Fremont Street between Las Vegas Boulevard and the El Cortez (called Fremont East) is rapidly remaking itself as a bar-hopping area (think Bourbon Street in New Orleans, but smaller), with a nice variety of pubs offering different crowds, music and cocktails.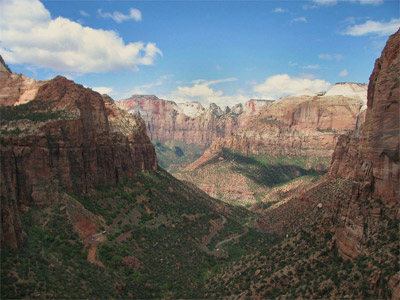 Thanks to the ease of finding day-tours leaving from Las Vegas to either Hoover Dam (by bus) and the Grand Canyon (by bus or helicopter), many tourists visit these spots, and for good reason. Hoover Dam is an architectural wonder, built during the Great Depression to manage the flow of the mighty Colorado River -- the same one that carved the Grand Canyon a few hundred miles upstream. Anyone looking to for a diversion from the glitz and glamour of Las Vegas would enjoy either spot.
Question:
How long would you recommend staying in Las Vegas for?
James P. Reza
: It depends on the itinerary. If this is strictly a "Vegas Holiday" (ie, gambling, eating, drinking, shopping and partying), three days is usually enough to experience the city and leave you wanting more. Visitors in party mode often overindulge in every possible way - too little sleep combined with too much of everything else - that by the time the last night comes they are ready to drop. However, if you want to experience more of what the city has to offer (outdoor recreation, the off-Strip local's scene, cultural arts), an extra day or two would not be wasted. Of course, with some smart planning, all those things can be experienced in less time, you'll just have to measure your doses of partying.
Question:
We know Las Vegas as a party destination - what else is Las Vegas famous for?
James P. Reza
: Believe it or not, Las Vegas is also well known for its outdoor recreation. The list of outdoor recreation opportunities found within 200 miles of Las Vegas is longer and more varied than any other major city in the U.S., prompting National Geographic Adventure Magazine to once call Las Vegas the "#1 Place to Live & Play." Why? Simple: Within a few hours' drive of Las Vegas lie six national parks, several national recreation and conservation areas, and thirteen state parks. An hour northwest is Mt. Charleston, and an hour southeast is Lake Mead, making Las Vegas one of the few places where one can snow ski and water ski on the same day. Thirty minutes west is Red Rock Canyon, a hotspot for hiking, biking and rock climbing, and near Boulder City lies Bootleg Canyon, a top single-track cycling site that also has a zip line. One could spend a week based in Las Vegas just for outdoor recreation in a 300-mile perimeter and still have plenty left to see and do.
Back in town and indoors, Las Vegas has truly evolved into a quality dining destination. Through the 1980s, most casinos made do with an all-you-can-eat buffet, a 24-hour coffee shop, and a "gourmet room" serving a continental menu of steaks and seafood. Things started changing in 1992, when Wolfgang Puck brought Spago to Caesars Palace, but really started ramping up in the past five years or so. Today, celebrity chefs and 5-star dining have become a requirement of any respectable property. While there is not much in the way of local food here, through the magic of air transport, hours-fresh seafood is readily available, and several farmers markets, which offer goods from regional farmers, help chefs offer quality ingredients not previously available here.
Question:
What are some of the alternative nightlife activities for people travelling to Vegas?
James P. Reza
: The most obvious choice would be to head downtown and experience the nightlife on East Fremont and in the Arts District, described in detail elsewhere in these answers. Those areas are close enough to the Strip to offer easy access and close enough to the old downtown so that one can get back to gambling if they bore of bars. Plus, you are more likely to meet locals here, and they can help guide you to in-the-moment spots.
Just west of East Fremont, in a developing area known as Symphony Park, is the Smith Center for the Performing Arts, an impressive state-of-the-art performance facility that opened in March 2012 and features three stages to accommodate performances ranging from traveling Broadway productions (Wicked), to intimate one-person shows (Savion Glover), to live music in a cabaret setting (the New Orleans Preservation Hall Jazz Band).
If your idea of "alternative" translates as gay and lesbian-friendly nightlife, you'll want to gravitate to Paradise Road near Harmon Avenue, and an area known affectionately as the "Fruit Loop." Here, a small collection of bars and nightclubs cater to the LGBT community. More bars and clubs have sprung up nearby (Krave, an upscale dance club, is on Harmon near the Strip), but the Fruit Loop is the epicenter.
Question:
Where is the number one place to shop in Vegas and what is for sale?
James P. Reza
: The Forum Shops at Caesars Palace has consistently been the favourite place to shop for visitors and many locals alike. The selection of shops here is decidedly high-end, and there are many that are repeated at other Las Vegas malls, but something about the Forum makes spending money here a more pleasant pursuit. Perhaps its elaborate theming transports shoppers to an old Italian city, cobblestone walk and all. Perhaps it's the replicas of famous Roman fountains (Trevi, for example), gushing under a "sky" that changes from dusk to dawn all day long. Whatever it is, shoppers love it, making the Forum one of the top-grossing malls in the world per square foot.
Question:
If the holiday to Las Vegas is to get married - how should a couple go about planning their wedding?
James P. Reza
: One of the distinct advantages of getting married in Las Vegas is that it can be done on the fly, at almost any hour of the day, and on the cheap. On some holidays, such as Valentine's Day, getting married *can* be done at any hour with no planning, as the Marriage License Bureau is open 24-hours.
Understandably, though, not everyone wants a drive-thru Elvis wedding; for them, advance planning is essential. The basics of planning apply here: develop a budget, a time frame, and a "style" of wedding you wish to experience. You will need about 12 months of serious planning to accomplish your wedding with as little stress as possible (
www.vegasweddingguide.com
has a nifty 12-month checklist to help you). One thing to remember when booking certain services is that you will pay a premium for convenience; for example, contracting hair and makeup services to come to your wedding facility will be more pricey than going to the hotel salon, which will be more pricey than visiting a nearby locals salon).
Question:
What is the most popular wedding chapel and location in Las Vegas?
James P. Reza
: It's hard to pick the "most popular" as each chapel positions itself as the best or busiest. Most casino resorts offer wedding facilities, and, depending upon the resort, can offer everything from elaborate, catered fairy-tale weddings, to simple ceremonies. One can even find drive-thru chapels, chapels that perform "Elvis" weddings (or other themed nuptials), and event facilities far outside the tourist areas (at Lake Las Vegas, for example) whose event planners go out of their way to accommodate (and help plan) fabulous weddings.
Perhaps the most storied, "traditional" Las Vegas chapel is the Little Church of the West, which currently stands on the south end of the Strip, across from the Mandalay Bay casino. Built in 1942 (and uprooted three times since, to accommodate the expansion of the Strip), the Little Church of the West is a small wooden structure (seating 75) built in the style of an old west mining town church. It is the oldest structure on the Strip, and is the only one listed on the National Register of Historic Places. Site of numerous celebrity weddings (including Elvis and Ann-Margret's wedding scene in "Viva Las Vegas"), the Little Church of the West is the quintessential Las Vegas wedding chapel, without the kitsch.
Question:
What are your top five restaurants and which of these are family friendly?
James P. Reza
: (It is important to remember that all restaurants welcome families (unless they hold a tavern license, which restricts patrons to 21 and older). It is best left up to the parents to carefully research each restaurant and decide if they are comfortable taking their children. The same can be said for the parents themselves; if a restaurant asks men to wear jackets to dinner, for instance, expect a formal environment that upholds a certain decorum. If a restaurant describes itself as a lively, nightclub-type environment, expect loud music, trendy dress, and a party atmosphere.)
Anyone's list of top restaurants in Las Vegas is going to be met with disagreement, so rather than try to list the top five "best" restaurants, I've included five must-eat spots that offer a variety of quality experiences at various price points. (For an excellent critical assessment, pick up a copy of "Eating Las Vegas," a chatty guide to Vegas dining by three of the city's most prominent, and argumentative, food critics).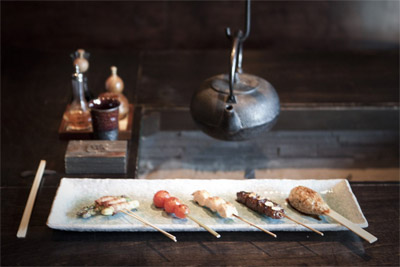 Raku
: Twice nominated for a James Beard award, this Japanese charcoal grill, located about three miles west of the Strip in a nondescript strip mall along Spring Mountain Road (the city's de facto Asian enclave), Raku is the kind of place that foodies and food snobs love to keep to themselves, in places like New York or Chicago. Don't expect sushi; instead, enjoy a menu of delicious shared small plates (bacon-wrapped asparagus, house-made tofu in a salad), and always try something from the specials menu, as they really are special.
Sage
: Wow. That's how I felt after my first dinner at Sage, the Aria resort's dramatic Contemporary American restaurant ensconced in what may be one of my favourite rooms on the Strip. The expansive, elegantly gilded dining room is comfortable, the service is formal, knowledgeable and professional, and Shawn McLain's food is stunningly presented and sublime (try the Fresh Farm Egg, or the Yellowtail Crudo). Not ready to commit? Take a seat on the lounge and enjoy a quality cocktail while snacking on appetizers borne of the same kitchen.
Ferraro's
: This excellent Italian restaurant has been bragging about its osso bucco since 1985 - and for good reason. Family patriarch Gino Ferraro was born in Satriano, Italy, while his son Mimmo (who oversees the kitchen these days) is a Las Vegas native trained in California and Italy. Once strictly a locals' spot, the restaurant recently moved into a new location near the Hard Rock Hotel, attracting more visitors while remaining central so that the loyal locals could still come. There is a nice dining room for formal seating, but you can get the full menu in the lounge, at the bar, or on the outdoor patio, where a bocce court awaits. Excellent wine selection and great late night specials at the bar.
Bar + Bistro
: This hip spot has a Downtown Arts District location that under-promises and a kitchen that over-delivers. After owner Wes Myles made several attempts to fill this space with goodness, he finally found chef Beni Velazquez. Suddenly, downtown sported a quality eatery. Velazquez has created a large menu of amazing small plates for dinner, ranging from beef sliders to delicious grilled squid, and just about everything (the soggy flatbreads aside) is top notch. The bar prides itself on quality cocktails (ask for a "whiskey the old fashioned way"), perfect for a crowd that is an eclectic mix of downtown suits, artists and hipsters. The place is crowded and crazy during the monthly First Friday art walk, the service can be spotty, and the kitchen can be easily overwhelmed, but if you are patient (try sitting in the lounge or outdoors, where the music helps pass the time), you will be rewarded. Sunday Brunch? Yes!
FireFly Tapas Bar
: Particularly good for groups of friends looking for value-packed dining with a scene near the Strip, but not on it. The big selection of small bites ranges from average to awesome, but the prices are right and the sangria washes it down well. The best way to experience Firefly is to arrive around 9pm (it will be busy), order as much or as little as you like (but don't miss the Bacon Wrapped Dates), and then head out to the clubs or bars.
b>Question: Overall where is best to head out, if a young group wants to party?
James P. Reza
: There are two choices:
On the Strip, the must-do is The Cosmopolitan, which has quickly become the in-spot for the young and beautiful. It is truly a one-stop shop for partying travellers, featuring great live music (both free and ticketed), an excellent array of restaurants, eclectic shopping for both men and women, a beautiful pool area overlooking the Strip, one of the city's top nightclubs (Marquee), and, of course, gambling. Stacked vertically on one acre of land, the Cosmo feels very urban, something unique in a sprawling Las Vegas where overwhelming space is a common denominator.
Tip: visit the Chandelier Bar - a three-level lounge draped from top to toe in crystals - and walk the stairs to the semi-secret level 1.5. You won't be disappointed.
The alternative is the up and coming downtown area. The East Fremont Entertainment District has a row of personality-driven bars and restaurants that make for a raucous evening, with more on the way (the classic downtown casinos are just a block west, too). Nearby, the downtown Arts District sports its own collection of bars and restaurants. These two areas are packed during the monthly First Friday art walk, and usually attract more locals than visitors. In these areas you'll find speakeasies featuring classic hand-crafted cocktails, beer bars, dance parties, live music, and more. Coming in late 2012 are a beer garden and a rooftop bar, followed in 2013 by a new eatery by nightlife and dining impresario Michael Morton.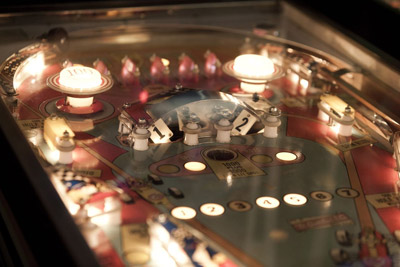 Question:
Can you talk about the late night cook offs between the world's best chefs?
James P. Reza
: Las Vegas has two relatively recent additions to its culinary culture: a growing food truck scene and a curated chef cook-offs. These scenes collide every weekend at the Saturday Night Truck Stop (
saturdaynighttruckstop.tumblr.com
), where "Sloppi Jo" Jolene Mannina (former operator of Sloppi Jo's green chile food truck) coordinates a parking-lot food fest at Tommy Rocker's bar featuring local grub trucks. The trucks start gathering and serving hungry patrons at 8pm, but it isn't until about 1am that the evening's "Back of the House Brawl" begins. Mannina hand selects top chefs to battle it out by creating a dish using a basket of identical ingredients. (The Bastille Day Brawl featured Claude Letohic, of Joel Robuchon, and two others from the MGM, against Vincet Poussel, of Aureole, and two others from Mandalay Bay.) Both the food trucks and the chef cook-offs are another sign that Sin City's food scene has grown up and out of its buffet-stretched short pants.
Question:
What are the five most important things to pack when traveling to Las Vegas?
James P. Reza
: Comfortable shoes, sunscreen, light clothing in summer and layers the rest of the year, a dinner jacket or a little black dress (if you intend to visit a nightclub or eat at a nice spot), and your passport (or driver's license), loaded in a secure carry wallet you can have at all times. Without it, you'll find it near impossible to get into a nightclub or bar, or buy alcohol anywhere.
Question:
Overall what's the best thing about living in Vegas?
James P. Reza
: Living in Las Vegas is an incredible experience. We have a metropolitan population of just under 2 million, but we are afforded the entertainment, dining and nightlife options of a city serving 40 million visitors. Locals have access to all the great things that people travel from all over the world to experience, but then we can just drive a few miles and get in our own bed. You would never imagine how quiet the neighbourhoods are just a mile east or west of the Strip.
Interview by Brooke Hunter