Cuddling up on a horse-drawn carriage in Central Park, fine French dining, an embrace at the top of the Empire State Building - here are 10 of the best romantic moments New York has to offer.
By Joanna Hall (Photography by Ben Hall)
Its a scene which is repeated hundreds and possibly thousands of times every day: couples strolling arm in arm through Central Park in the shadows of the worlds most recognisable skyline.
New York City, despite all its bluster and attitude, is one of the most romantic places in the world with a mind-blowing array of experiences for couples to indulge in.
Everything seems to revolve around Manhattan - a long sliver of an island which cuts the Hudson River on one side and East River on the other - and its street-level craziness is as fun as it is overwhelming.
A most beautiful, and romantic, time of year to visit this majestic city is after the summer heat, when the leaves on the trees are turning golden, and the days are still pleasantly mild.
Here are 10 ways to enjoy the Big Apple with your 'significant other'.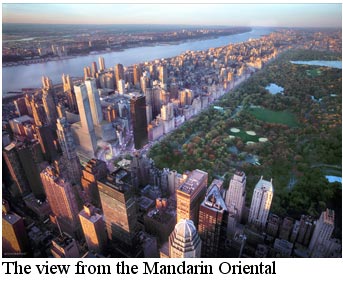 1. A Room With A View


Its no secret that even average hotel rooms cost the proverbial arm and a leg on Manhattan, so you may as well go for broke. For unrivalled views over Central Park and the Midtown skyline, the Mandarin Oriental on floors 35 to 54 of the Time Warner Building is regarded as the leading innovator on the New York Hotel scene.
2. Riding Through Central Park


After a stroll through one of the worlds great parks, time to take a horse drawn carriage, or 'hansom cab', and clip-clop your way around the southern end of the park. The carriages operate from near the Plaza Hotel on 59th Street between 5th and 6th Avenues. Dont worry if its a bit chilly - your driver will give you a blanket to snuggle under. Rickshaw rides are also an option, and local riders are more than happy to give you the lowdown on their city.
3. The Boathouse Cafe


Your driver or rider will happily drop you off at the Boathouse Cafe in Central Park - its quite simply the most relaxed and elegant way to do lunch on Manhattan, and surprisingly its moderately priced given its reputation and superb setting. It was the location for a scene with Meg Ryan and Billy Crystal from When Harry Met Sally (not Megs famous big 'O' performance) and it also pops up occasionally as a lunch venue for the ladies in the television series Sex and the City.
4. Floating On Water


Its a romantic cliché which has to be done at least once in a lifetime - with your partner on the bow of rowboat, or behind the oars, on a stretch of water simply called The Lake. Ducks and swans glide up to you, probably looking for scraps of bread, and all around you is the serenity of Central Park. Just beyond is that famous skyline and its street life which appears remarkably calm from this perspective.
5. The Empire State Building


Its been dubbed the Cathedral of the Skies, and to really get a feeling of the scale New York City, the journey to the 102nd floor of the Empire State Building is a rite of passage for anyone who visits. It has a hypnotic effect, and its no wonder the Observation Deck has been used in romantic feature films Sleepless in Seattle and An Affair to Remember. Even King Kong brought his date up here!
6. Ice Skating


From October to April, ice skating at Rockerfeller Center is a very New York thing to do. And even if youve never skated before, it doesnt take long to get the hang of it. And besides, if you have someone with you, it means you have something to hang on to if youre about to fall.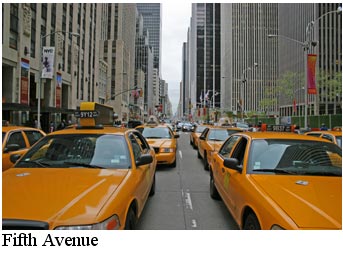 7. Shopping At Tiffanys


Shopaholics beware! This place will send you on a bender to beat all shopping binges. If you can show self-restraint, save it for Fifth Avenue where clothes shops and department stores compete for your credit card.
Tiffanys - made famous by Audrey Hepburn in Breakfast at Tiffanys - has high quality jewellery, china and crystal. And if their prices scare you off, make like Hepburns character Holly Golightly and grab a coffee and pastry. Its on 727 Fifth Avenue, (57th St)
8. Be Pampered At Bliss


After running around the streets of Manhattan, you want to look good for your big night out and the oh-so-cool Bliss Spa (various locations) is very 'Sex and the City'. For guys the 'Homme Improvement' is a masculine triple oxygen facial and for the ladies the 'Oxygen Blast' freshens and revives.
9. Dinner For Two


Paris aside, Manhattan is one of the best places in the world for dining à deux, and Alain Ducasses Essex House restaurant is rated THE place to go for culinary decadence. Traditionally French with a sumptuous setting, the Essex House serves up all the romantic classic dishes - foie gras, truffles, lobster, soufflés etc. Its on 155 W58 Street.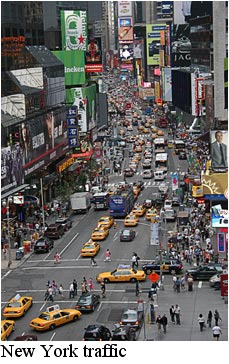 10. The Times Square Kodak Moment


Newlyweds bunch up together with the bawdy neon billboards as a backdrop and have their wedding photos taken, and elsewhere other couples dodge the madding crowd to do the same. Times Square typifies New Yorks street level grit and glamour.
FACT FILE
Air Canada flies daily from Sydney to Vancouver via Honolulu, and connects from Vancouver to New York. Call 1300 655 767 or visit
www.aircanada.com
. Virgin Blue connects from most Australian cities to Sydney. Call 13 67 89 or visit
www.virginblue.com.au
.
For more information on the Mandarin Oriental, New York, visit
www.mandarinoriental.com/newyork
For the best in luxury travel, visit
www.ultimatetravel.net.au
---
About Ultimate Travel Magazine
Ultimate Travel (
www.ultimatetravel.net.au
) is a new-concept online travel magazine designed to deliver the best in luxury travel worldwide. Dedicated to savvy travellers who want more from a magazine than just gloss and glamour, Ultimate Travel aims to provide readers with a unique combination of topical information, inspiring experiences, and practical advice presented in a contemporary "magazine" format.
Founded by husband and wife team, Ben and Joanna Hall, Ultimate Travel aims to take readers on an unforgettable journey. From cruising the high seas and taking time out in exclusive luxury resort spas, to enjoying the best of local culture and finding the best shopping bargains, its features not only "paint the picture" for you in words and quality photography, but also give you the inside knowledge on how to make the most of your dream getaway.
Subscribing to Ultimate Travel is free, and there are four new issues of Ultimate Travel Magazine each year - in January, April, July and October. As a subscriber, you will not only have free access to some of Australia's best travel writing and photography, but you will also benefit from a variety of exciting competitions and promotions we have planned for 2007 and beyond.
By subscribing, you will also doing your bit to help us help some good causes - for every new subscriber who signs up for our quarterly newsletter, we are donating $1 to four worthy charity partners (the Stroke Foundation, Look Good, Feel Better, Paradise Kids, the Gynaecological Awareness Information Network).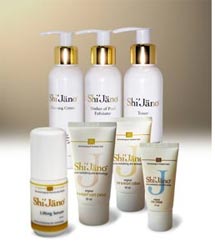 Win one of five Shi'jano Skincare Range Sets
Ultimate Travel's Special Offer To Subscribers Of Femail.com.au
In addition to our charity donation, Ultimate Travel Magazine would like to extend a very special welcome to subscribers of Femail.com.au with an exclusive offer.
Subscribe to Ultimate Travel from 8th May, and you will get the chance to win one of five complete sets of the luxury Swedish anti-ageing Shi'jano skincare range. The set includes Original Eye Creme, Original Day & Night, Original Soft Day & Night Creme (for sensitive skin), Lifting Serum, and three brand new products - Cleansing Creme, Toner, and Mother of Pearl Exfoliator. It's a prize worth $454.00!
All you have to do to enter is send an email to
femail@ultimatetravel.net.au
with your full name and email address, the state or country you are from, and your age range (19-25, 25-35, 35-45, 45-55, 55+), and tell us in 25 words or less "your definition of the ultimate holiday or travel experience". Entries close on 5th June 2007.
---
Other Travel Articles:
Acapulco
- Diving into Acapulco -
www.femail.com.au/diving-into-acapulco-ultimate-travel.htm
Andalucia Spain
- Andalucia - The Real Heart of Southern Spain -
www.femail.com.au/andalucia-heart-of-spain-ultimate-travel.htm
Canada
- Autumn Leaves -
www.femail.com.au/autumn-leaves-ultimate-travel.htm
Cayman Islands
- The Hidden Side of Grand Cayman -
www.femail.com.au/hidden-side-of-grand-cayman-ultimate-travel.htm
Hong Kong
- Escaping the Big City -
www.femail.com.au/escaping-the-big-city-ultimate-travel.htm
London
- Keeping an Eye on London -
www.femail.com.au/keeping-an-eye-on-london-ultimate-travel.htm
New York
- Romancing in the Big Apple -
www.femail.com.au/romancing-the-big-apple-ultimate-travel.htm
Spa Retreats
- A Pacific Spa Trek -
www.femail.com.au/a-pacific-spa-trek-ultimate-travel.htm
Tahiti
- Tahiti By Gauguin -
www.femail.com.au/tahiti-by-gauguin-ultimate-travel.htm
Whitsundays
- Wild On The Whitsundays -
www.femail.com.au/wild-on-the-whitsundays-ultimate-travel.htm