Its inspired generations of artists and writers, and a cruise of French Polynesia is a surreal and relaxing way to experience the natural beauty of this stunning region
By Joanna Hall (Photoraphy By Ben Hall)
Its just after 6pm and its time for the nightly sunset show. We mix a few cocktails in our stateroom suite and step onto the balcony as the first tinge of yellow permeates the horizon.
With the mythical peaks of Bora Bora as the backdrop, the show quickly moves into full swing. From yellow to orange, pink, red, blue, purple - and various outrageous hues in between - the multi-coloured palette moves through the sky and glassy ocean.
Its the end of a typical day in Tahiti, and on a private deck on a six-star cruise ship out in the middle of the ocean its hard to believe that somewhere out there is the -real world'.
Its not surprising that Tahiti attracted the attention of artists like Paul Gauguin. In addition to Frances greatest Post-Impressionist painter, many other artists, explorers and writers made the arduous journey to French Polynesia, sometimes spending months at sea to answer its alluring call.
Today these islands remain picture-postcard perfect: white-sand beaches, turquoise lagoons and jagged mountain peaks. And a leisurely seven-day cruise is the perfect way to sample some of their seductive highlights.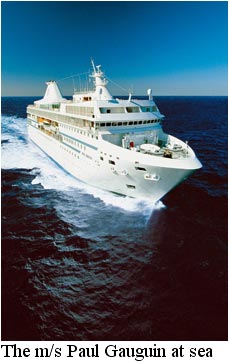 Aptly named The m/s Paul Gauguin, the 320-guest ship is built specifically to cruise these islands year-round thanks to a shallow draft and she can sail into bays and ports that other vessels cant access.
The m/s Paul Gauguin departs weekly from Papeete, the administrative capital on the main island of Tahiti, and as the only real city in French Polynesia it gets a bad rap in some travel guides.
True, it does have traffic, but what it lacks in the classic-island-postcard stakes it makes up for with a very authentic French colonial charm. This is a working city after all and a visit to the main market, or Le Marche as its known to the locals, is a must. Set out over two stories, the downstairs section features a massive and colourful food market with fruit and vegetables, meat and fish.
Upstairs, traditional arts and crafts are sold and local women work away on basket weaving and sculpting in between the lines of the colourful pareos, or Tahitian sarongs.
Most visitors bypass the main island of Tahiti and simply connect to the outer islands, and miss out on its charms. From the streetlife of Papeete, to a four wheel drive tour of the interior with its ancient marae, or archaeological sites, or simply catching some sun and snorkelling at white-sand resorts like Le Meridien at Punaauia, the main island possesses its own unique attractions.
As we prepare to set sail and leave the main island behind, were looking down over Boulevarde Pomare which runs along the harbourfront with Papeete tucked neatly between the towering peaks of Aorai and Te Taraomaiao.
Ahead of us is a cruise of the Society Islands - one of the five archipelagos that make up French Polynesia and the itinerary makes the most of the geographic diversity of the main island chain.
The Gauguin itself is the perfect way to experience the charm of the region. The ship boasts all of the passenger-pampering facilities which discerning cruisers have come to expect: three open-seating dining venues, a water sports marina, a full-service spa, and spacious, fully equipped staterooms - fifty per cent with private balconies.
Coupled with a relaxed atmosphere and dress code, it attracts a different type of cruise passenger. If youre into black-tie dinners, midnight buffets and dancing till dawn, this isnt the cruise for you. This experience features a laid-back elegance and style which fits in perfectly with the surrounds.
Our first stop, Raiatea, shares a coral reef and a protected lagoon with her sister island, Tahaa. Known as 'the Sacred Island', it was the centre of Tahitian royalty, religion, and culture, but today its main attraction is the massive Taputapuata marae - the largest and most sacred site in Polynesia.
Its also one of several places to visit a pearl farm and check out one of Tahitis most prized souvenirs and famous exports - black pearls.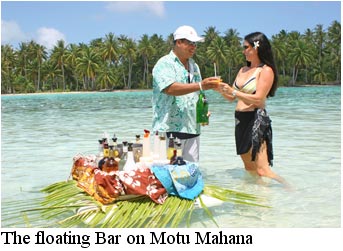 But its perhaps at the second stop on our itinerary - Motu Mahana - where the much-used word 'paradise' comes into its own. Its a private island for guests of the Gauguin only, this idyllic motu (which means an uninhabited coral islet) is flanked by Tahaas mountains on one side and Bora Boras cloud-piercing peaks on the other.
As the tender (or motorised transport vessel) drops us ashore at the motu, were greeted by the sight of lounge chairs dotted on the edge of a pristine beach, hammocks strung between shady palm trees, and colourful bougainvillea spilling over pathways. And the unavoidable lure of the warm, crystal clear waters turn even the most sedentary beach lover into a snorkeller or kayaker.
Sitting in the crystal clear water, Ramon the barman appears from around the corner with a floating bar. He instructs us not to move and wades towards us.
Ramon reckons his Pina Coladas are the best in Tahiti, and while he serves it up in a fresh coconut, colourful fish dart in and around our feet.
The other two destinations - Bora Bora and Moorea are both two-day visits affording a variety of experiences.
With its emerald-green hills and chameleon-like lagoons, its easy to understand why petite Bora Bora is a serious contender for the most beautiful and romantic island in the world.
James Michener, author of Tales of the South Pacific which inspired the movie Bali Hai, wrote of Bora Bora: "Anyone who has ever been there wants to go back."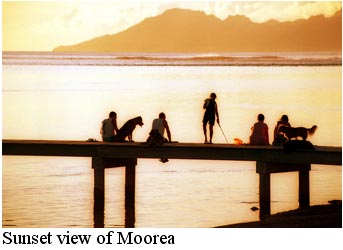 En-route to Moorea, we circumnavigate Tetiaroa, the island chain purchased by the actor Marlon Brando in 1966 after filming Mutiny On The Bounty.
But 'The Magical Island' of Moorea beckons; its also been credited for inspiring the mythical island of Bali Hai, and appropriately, its a dramatic heart-shaped island with a dramatic landscape which mirrors Bora Bora.
Before we know it, a magical week is coming to an end. As the ship heads back to Papeete, and Mooreas dramatic peaks melt into the distance, nature paints another magnificent sunset in a swathe of brilliant colours which would have made Gauguin himself proud.
On choosing this cruise wed hoped for an experience which would be peaceful, unhurried, romantic, and something new. Tahiti fired our imaginations and more than exceeded our expectations, but we had only one complaint - it was all too short.
FACT FILE
The Paul Gauguin operates seven, ten and fourteen night cruises year round. The longer voyages include a visit to the remote Marquesas Islands, and some destinations outside of French Polynesia. Fares are 'all inclusive' which covers accommodation, onboard cuisine, selected alcoholic beverages, all non alcoholic beverages, port charges, and tipping. For more information, visit
www.regentexperience.com
, or call Wiltrans on 1800 251 174.
Air Tahiti Nui flies to Papeete from Sydney in code share with Qantas. Qantas and Jetstar connect from most major Australian cities to Sydney. Visit
wwwairtahitinui.com/
call 02 9244 2799, or
www.qantas.com.au
/call 13 13 13.
Pre and post cruise accommodation includes the Radisson Plaza Resort Tahiti (www.radisson.com) or the InterContental Resort Tahiti (
www.tahiti.intercontinental.com
).
For more information on Tahiti, visit
www.tahitinow.com.au
.
For the best in luxury travel, visit
www.ultimatetravel.net.au
---
About Ultimate Travel Magazine
Ultimate Travel (
www.ultimatetravel.net.au
) is a new-concept online travel magazine designed to deliver the best in luxury travel worldwide. Dedicated to savvy travellers who want more from a magazine than just gloss and glamour, Ultimate Travel aims to provide readers with a unique combination of topical information, inspiring experiences, and practical advice presented in a contemporary "magazine" format.
Founded by husband and wife team, Ben and Joanna Hall, Ultimate Travel aims to take readers on an unforgettable journey. From cruising the high seas and taking time out in exclusive luxury resort spas, to enjoying the best of local culture and finding the best shopping bargains, its features not only "paint the picture" for you in words and quality photography, but also give you the inside knowledge on how to make the most of your dream getaway.
Subscribing to Ultimate Travel is free, and there are four new issues of Ultimate Travel Magazine each year - in January, April, July and October. As a subscriber, you will not only have free access to some of Australia's best travel writing and photography, but you will also benefit from a variety of exciting competitions and promotions we have planned for 2007 and beyond.
By subscribing, you will also doing your bit to help us help some good causes - for every new subscriber who signs up for our quarterly newsletter, we are donating $1 to four worthy charity partners (the Stroke Foundation, Look Good, Feel Better, Paradise Kids, the Gynaecological Awareness Information Network).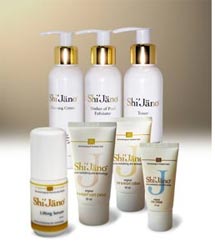 Win one of five Shi'jano Skincare Range Sets
Ultimate Travel's Special Offer To Subscribers Of Femail.com.au
In addition to our charity donation, Ultimate Travel Magazine would like to extend a very special welcome to subscribers of Femail.com.au with an exclusive offer.
Subscribe to Ultimate Travel from 8th May, and you will get the chance to win one of five complete sets of the luxury Swedish anti-ageing Shi'jano skincare range. The set includes Original Eye Creme, Original Day & Night, Original Soft Day & Night Creme (for sensitive skin), Lifting Serum, and three brand new products - Cleansing Creme, Toner, and Mother of Pearl Exfoliator. It's a prize worth $454.00!
All you have to do to enter is send an email to
femail@ultimatetravel.net.au
with your full name and email address, the state or country you are from, and your age range (19-25, 25-35, 35-45, 45-55, 55+), and tell us in 25 words or less "your definition of the ultimate holiday or travel experience". Entries close on 5th June 2007.
---
Other Travel Articles:
Acapulco
- Diving into Acapulco -
www.femail.com.au/diving-into-acapulco-ultimate-travel.htm
Andalucia Spain
- Andalucia - The Real Heart of Southern Spain -
www.femail.com.au/andalucia-heart-of-spain-ultimate-travel.htm
Canada
- Autumn Leaves -
www.femail.com.au/autumn-leaves-ultimate-travel.htm
Cayman Islands
- The Hidden Side of Grand Cayman -
www.femail.com.au/hidden-side-of-grand-cayman-ultimate-travel.htm
Hong Kong
- Escaping the Big City -
www.femail.com.au/escaping-the-big-city-ultimate-travel.htm
London
- Keeping an Eye on London -
www.femail.com.au/keeping-an-eye-on-london-ultimate-travel.htm
New York
- Romancing in the Big Apple -
www.femail.com.au/romancing-the-big-apple-ultimate-travel.htm
Spa Retreats
- A Pacific Spa Trek -
www.femail.com.au/a-pacific-spa-trek-ultimate-travel.htm
Tahiti
- Tahiti By Gauguin -
www.femail.com.au/tahiti-by-gauguin-ultimate-travel.htm
Whitsundays
- Wild On The Whitsundays -
www.femail.com.au/wild-on-the-whitsundays-ultimate-travel.htm